Demi Lovato Praises Bebe Rexha For Calling Out Designers Over Grammys Dress
By Emily Lee
January 23, 2019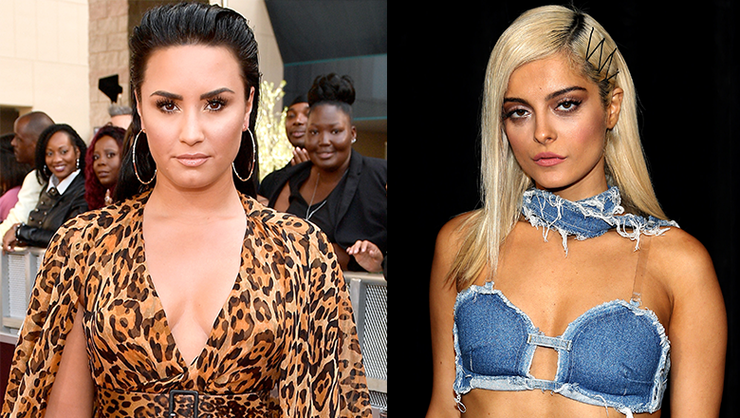 Bebe Rexha took to social media to blast fashion designers for refusing to dress her for the Grammys. According to the "In The Name of Love" singer, multiple designers refused to design a gown for her because she's a size 8. Bebe posted a selfie video, breaking down the situation:
I'm sorry, I had to get this off my chest. If you don't like my fashion style or my music that's one thing. But don't say you can't dress someone that isn't a runway size. Empower women to love their bodies instead of making girls and women feel less than by their size. We are beautiful any size! Small or large! Anddddd My size 8 ass is still going to the Grammys!
Bebe's fans were quick to comment on the video, applauding her decision to speak out about the body-shaming, as well as for spreading a message of self-love. Fans, though, weren't the only people leaving supportive messages in the comments section.
According to screenshots shared by E!, Demi Lovato praised Bebe for her video. "F--king preach!!!" Demi enthusiastically commented. "Love this and you for speaking your mind and using your voice!!!" Like Bebe, Demi has also used her platform to talk about her struggles with being body-shaming, as well as suffering from eating disorders. Neyo also added a supportive, "Amen" on the video.
While Bebe hasn't given an update on what she'll be wearing to the Grammys since posting the video, designers Christian Siriano and Michael Costello have voiced their support and offered to dress the Grammy nominee for her big night.
No matter what Bebe ends up wearing, there's one thing we know for sure: she's going to look fabulous!
Photo: Getty
Chat About Demi Lovato Praises Bebe Rexha For Calling Out Designers Over Grammys Dress