Cardi B & Nicki Minaj To Headline BET Experience Concerts: See The Lineup
By Hayden Brooks
January 30, 2019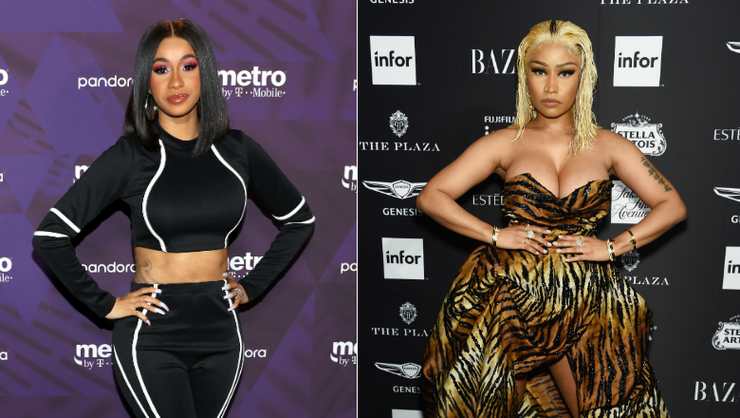 Cardi B and Nicki Minaj will headline concerts at the 7th annual BET Experience at L.A. LIVE just days before the 2019 BET Awards, as per the Associated Press.
On Wednesday (January 30), BET announced that the star-studded concerts will take place at the Staples Center. While Minaj, Lil Wayne, Tory Lanez, Trippie Redd and Bri Steves will perform on June 21, Cardi B, Migos, Lil Yachty, Lil Baby and City Girls will perform on June 22. It all happens just prior to the 2019 BET Awards, which are scheduled for June 23. V.I.P. tickets to the BET Experience go on sale today at 2 PM ET. Meanwhile, general tickets go on sale Friday, with additional performers to be announced in the near future. In addition to the concerts, the BET Experience will also include the BET Fan Fest at the Los Angeles Convention Center, which includes celebrity basketball game, celebrity meet and greets, and seminars.
Earlier this week, Page Six reported that Bardi will team up with Meek Mill to perform at the invitation-only Fanatics party on Saturday hosted by 76ers co-owner Michael Rubin at the College Football Hall of Fame. They're expected to perform individual sets, as well as their collaboration, "On Me," with one another. Among some of the star-studded guests include Kevin Hart, Jamie Foxx, Peyton Manning, Shaquille O'Neal, Gucci Mane, Aaron Judge, Browns QB Baker Mayfield, Ray Lewis and a number of NFL owners.
Photo: Getty Images
Chat About Cardi B & Nicki Minaj To Headline BET Experience Concerts: See The Lineup