Will Smith Reveals First Look At 'Bad Boys 3'
By Peyton Blakemore
January 30, 2019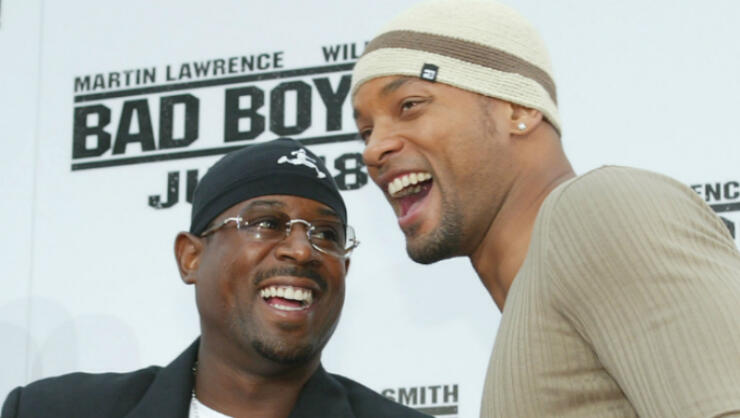 The boys are back!
On Wednesday (January 30), Will Smith (a.k.a Detective Mike Lowrey), shared the first look at his and Martin Lawrence's highly anticipated film Bad Boys 3. The crime fighting duo posed for a boomerang while on set, in what appeared to be a ransacked home, as P. Diddy's classic "Bad Boys For Life," played in the background. Will captioned the boomerang: "FIRST LOOK! Theeeeey're BAAAAaaaack! :-) @badboys."
As previously reported, Will and Martin announced the third installment of the Bad Boys films back in October. "It's official. Bad Boys for Life. #teammartymar #badboysforlife @willsmith #weback," Martin captioned a photo of him and Will on the beach. Will later shared a video of him shouting with excitement, while beside Martin: "Yo... I'm telling y'all. This is crazy, it's official. Bad Boys III. It's happening. It's official..." 
It's been 15 years since fans last saw the kick a** cops grace screens in Bad Boys II. The journey to the rumored final film was a bumpy one. There were reports that Will's busy schedule delayed the film's production; Martin was also accused of not being able to agree on a deal at one point; and there was the whole not being able to lock down a director thing that made it seem like the franchise would never get the grand finale it deserved.
Fans though should expect the best film yet with Bad Boys 3, according to Columbia Pictures president Sanford Panitch, who told Variety, "If we're going to make another 'Bad Boys' after 15 years, it's got to be next-level great."
Shooting for the third installment began earlier this month.
Photo: Getty Images
Chat About Will Smith Reveals First Look At 'Bad Boys 3'