Steve Morse Reveals Deep Purple Plans to Record New Album
By Andrew Magnotta @AndrewMagnotta
January 31, 2019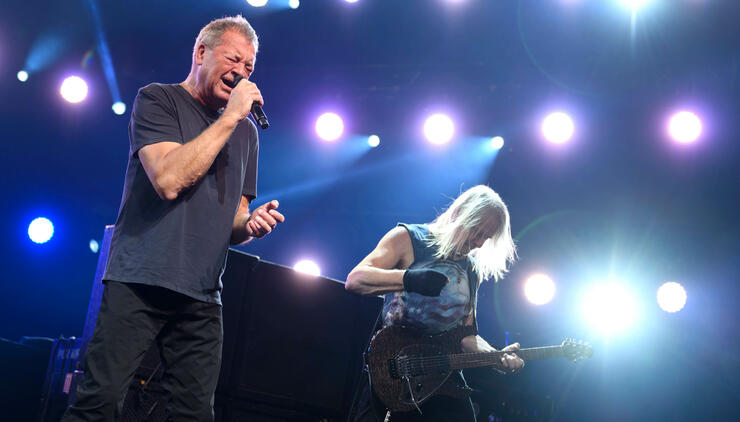 It's hard to say farewell, and though Deep Purple's Long Goodbye tour is over, the band isn't yet finished.
Guitarist Steve Morse revealed during an interview at last week's winter NAMM show in California that he'll be recording two new albums this year: one with Flying Colors — his band with Mike Portnoy, Neal Morse, Dave LaRue and Casey McPherson — and another with Deep Purple.
"And I know there's more Deep Purple gigs that they haven't announced yet, so don't tell them that I told you so," Steve told Andertons Music Co. before a signing at the Ernie Ball Music Man booth at NAMM.
He added that he's not yet certain where he'll be touring, clarifying, "I'm running on rumor power."
Last summer, Morse spoke somewhat longingly about his impending semi-retirement. "It's a farewell tour for me, personally," he said at the time of Purple's Long Goodbye tour. He added the he did not believe his Deep Purple band mates were convinced it was time to step aside.
"They would rather died on stage than in bed," he said.
(See also: Steve Morse Doubts Deep Purple Members Are Truly Retiring)
Deep Purple singer Ian Gillian said last fall that he thinks the band could have as many as four years left. While bassist Roger Glover revealed that he's not sure what he would do if he retired.
(See also: Deep Purple's Roger Glover Is 'Dreading' Retirement)
Deep Purple's last studio album was 2017's Infinite. The band has yet to announced any new tour dates, but fans can check here for updates.
Photo: Getty Images
Chat About Steve Morse Reveals Deep Purple Plans to Record New Album