Vinnie Vincent Blew Last Chance With Comeback Debacle, Says Carmine Appice
By Andrew Magnotta @AndrewMagnotta
February 4, 2019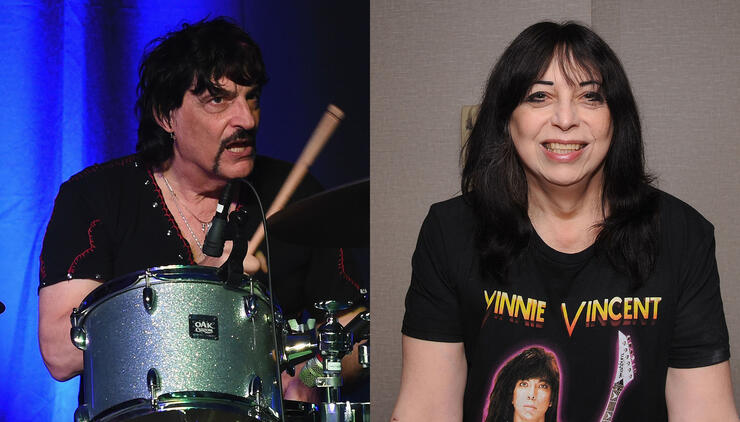 Troubled former KISS guitarist Vinnie Vincent is probably no closer to mounting a comeback today than he was before re-emerging last January at the Atlanta Kiss Expo.
Vincent last week short-circuited his long-awaited return to the stage by canceling his two Nashville comeback performances after an apparent disagreement with the promoter. The shows were originally set for December but were postponed about two weeks before they were set to take place.
Legendary drummer Carmine Appice, bassist Tony Franklin and singer Jim Crean were slated to make up Vincent's new band.
Appice suggested in a recent interview that he lost a lot of hope in Vincent after the December dates were pushed back. His concerned were confirmed with the news last week that the shows were being called off.
"I always thought that if Vinnie messed this up, or whoever messed it up, I don't know if there'll be another chance," Appice told Seton Hall's 89.5 FM WSOU.
Appice — who knows Vincent from their days coming up together in Brooklyn in the '70s — added that "nobody's gonna care anymore" if Vincent tries another reboot.
The comeback shows' promoters have assured fans that they will get full refunds on tickets.
Appice indicated that he was always wary about Vincent's vaunted comeback, but wanted to help out his old friend.
He said a major red flag for him was when Vincent got on stage with Four by Fate at an event prior to last fall's Kiss Kruise. Vincent performed three songs with the band, but according to Appice, the guitarist didn't look right.
"Vinnie's always been like a showoff kind of guy, and he just stood there," Appice recalled of the footage of Vincent's set. "He looked like he was scared to me."
Appice said he later pressed Vincent about whether he was still able to play like he used to. Vincent brushed off the concerns, noting that even during his hiatus, he's never stopped playing guitar.
"It's too bad, 'cause it would have been fun," Appice concluded.
Photos: Getty Images
Chat About Vinnie Vincent Blew Last Chance With Comeback Debacle, Says Carmine Appice