Cardi B, Nicki Minaj & More Defend 21 Savage, Pledge To 'Take Action'
By Peyton Blakemore
February 5, 2019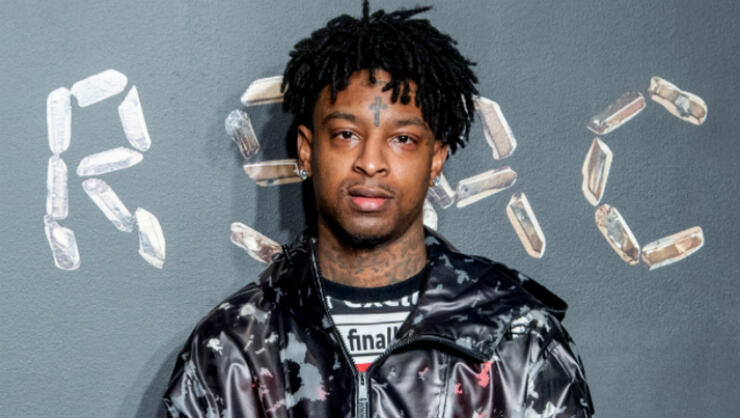 21 Savage has quite the support team behind him.
While the 26-year-old rapper remains in ICE custody, those closest to him, who also happen to be some of the biggest names in music, are fighting for his freedom. As previously reported, the father-of-three, whose real name is Sha Yaa Bin Abraham-Joseph, was taken into custody for possible removal from the U.S. early Sunday (February 3) morning. Following his arrest, an ICE spokesperson told TMZ , 21, who was believed to be an Atlanta-native, is "a U.K. national who is unlawfully in the country and has been since 2006 when his visa expired." However, 21's attorney Charles H. Kuck recently disputed those claims telling TMZ his client applied for a "U-Visa back in 2017" and his application is still pending. He added that ICE has known about 21's application, yet took no action until this weekend.
The rapper's attorney additionally argued that his client was brought to the U.S. as a child, and has called the U.S. home for nearly 15 years. "As a minor, his family overstayed their work visas, and he, like almost two million other children, was left without legal status through no fault of his own," Kuck explained. The "Bank Account" rapper's attorney also slammed ICE for bringing up 21's previous criminal charges when discussing his arrest, saying the rapper pled guilty to felony drug possession in 2014, but, the conviction was expunged last September.
In an effort to free 21 and stop his possible deportation, the co-founder of Black Lives Matter, Patrisse Cullors, started an online petition , which has garnered over 100,000 signatures since its creation earlier this week. Fans and celebrities alike have signed the petition, with big names like Cardi B , Post Malone , and more sharing the link to it on their personal social media accounts.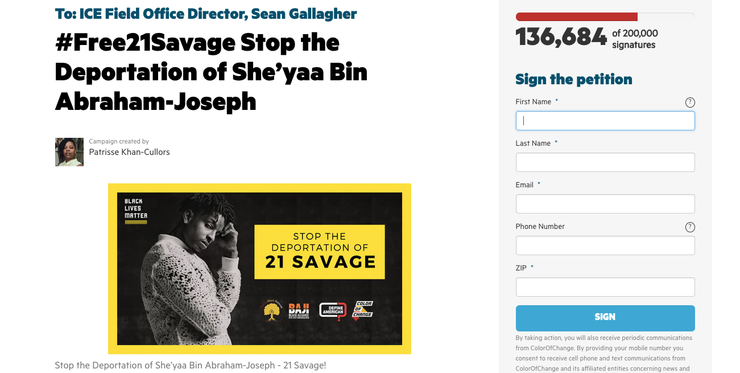 When Cardi shared her message of support for 21 she promised to take action. "We will read and educate ourselves on this situation and we will take action! 21 did not come here illegally and was not caught doing anything illegal or doing any mischief! in fact he have change his whole life around and as ya can see he's been very positive in his actions and music," she wrote on Instagram Monday (February 5). "Now let me get ghetto ....and for ya d*ck breath motherf**kers talking bout "sO hE nOt FrOm AtLaNta " he grew up there !his kids and family live there and BLEW UP there with the support of the community he was raised in.Thank you @21savage for being really good friend to me and @offsetyrn and always coming thru when we need you ."
Nicki Minaj also lent her support to 21 Savage conversation, however she came on in on the defense. When controversial conservative host Tomi Lahren took the opportunity to figuratively kick the rapper while he's down, by mocking his arrest on social media, Nicki came straight to 21's defense. "Your obsession w/our culture is scary to say the least," the "Barbie Dreams" rapper tweeted, referencing Tomi's countless instigated feuds with hip-hop artists on social media. "I hate giving you the attention you so desperately crave. Laughing @ ppl getting deported as if your ancestors discovered America. Are you Native American? You fkn clown."
Cardi also hopped in, telling Tomi, "Don't make me get my leash," referencing the last time she told the host that she would "dog walk her," if she continued to bash her online.
Check out more celebrities who have offered their support for 21 below!
Chat About Cardi B, Nicki Minaj & More Defend 21 Savage, Pledge To 'Take Action'