Lee Kerslake Describes Tearful Moment He Got Platinum Albums from Ozzy
By Andrew Magnotta @AndrewMagnotta
February 5, 2019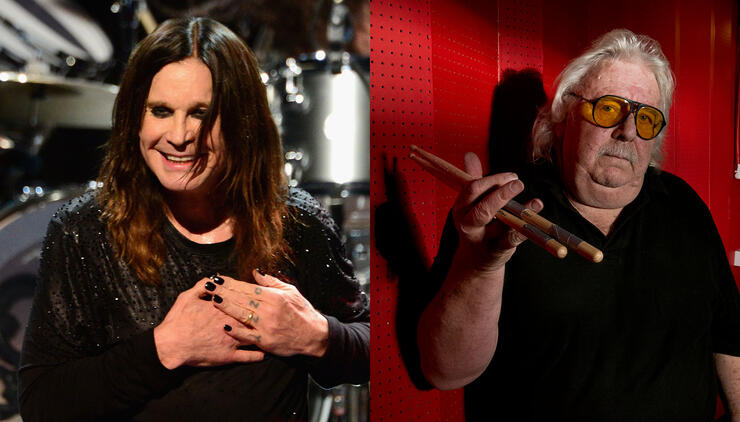 Bygones are gone for good between terminally ill Lee Kerslake and his former band mate/legal adversary Ozzy Osbourne.
Kerslake said in a new interview, following his recent induction into the Hall of Heavy Metal History, that Ozzy and Sharon Osbourne's recent gesture to gift him two platinum album discs in recognition for his work on Ozzy's debut solo album, Blizzard of Ozz, and his sophomore effort, Diary of a Madman, marked the end of their feud.
Kerslake, bassist Bob Daisley and the Osbournes feuded for decades over songwriting and performance credits on those two albums. As a result of the row, Kerslake never got his well-deserved hardware.
He described the moment he got the platinum albums to The Metal Voice.
"We were filming me packing for California on my upcoming autobiography documentary and them my manager came in and said, 'I have a surprise delivery for you,'" Kerslake recalled. "And he brought in these two big boxes and they were the two platinum Ozzy discs."
"It was a crying moment," he said. "We finally buried the hatchet between the Osbournes and myself. I respect Sharon and I love Ozzy to bits. Ozzy also sent back a beautiful letter, handwritten."
Kerslake was recently informed that he may have as little as one year to live after his cancer returned. He says he's trying to make the most of whatever time he has left.
"I am enjoying this moment and all the love," he explained. "I am having a great time. My doctor told me before I left, they will be putting me on a new drug, and I am hopeful."
In addition to the documentary, Kerslake says he's also working on a new studio album called, Eleventeen, which he hopes will be released this year.
Photo: Getty Images
Chat About Lee Kerslake Describes Tearful Moment He Got Platinum Albums from Ozzy