Cardi B Opens Up About Her Marriage, Admits She Refused Marriage Counseling
By Peyton Blakemore
February 7, 2019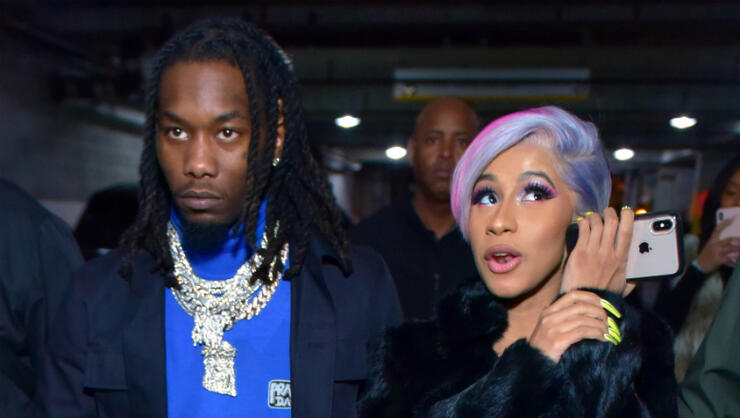 Cardi B and Offset may be giving their marriage another shot, but the 'Money' rapper recently revealed in her Harper Bazaar cover story the decision to call it quits on her relationship back in December was hers and hers alone.
"I decided on my own [to end the marriage]," she admitted. "Nobody makes my decisions about my life but me. I didn't want to go to marriage counseling. [Offset] suggested it, but it's like, 'I don't want to go.' There's no counselor or nothing that could make me change my mind."
As for her thoughts on dating, at the time of the interview Cardi said she wasn't ready to start anything new. "If you think Imma automatically hop onto you after a marriage, that just means you think I'm a sleaze. And I'm not. I have a kid — I have to show an example…Just because I'm out there and very sexual doesn't mean that I have to be whorish," she explained. "I like to have sex. That doesn't mean I have to have it with everybody. Not that I judge women who want to have sex with the world."
And while she considered herself a single woman, the "Twerk" rapper admitted that she didn't see herself as a single mom. "My daughter loves her dad. She really, really does. I don't feel like I'm a single mom because that's her dad," she shared. "I feel like a single mom is a person that don't have the dad around. He loves my kid. I don't feel single at all. Whatever Imma want, he's gonna give me, so I don't feel like a single mom."
Cardi also opened up about how motherhood has changed her . "I just wanna be home all the time," she said. "I don't care about going out anymore. The things that I thought matter, it didn't really matter. I'm just so focused on my kid. I don't be sad for long because whenever I'm with my baby, it's like, 'Yeah, whatever. F**k everybody.'"
And when it comes to the type of mom Cardi plans to be, the "Money" rapper said she's not here to be her daughter's friend. "My mom is very strict. I am gonna be strict because you wanna know something? If you're not strict, you don't know what your child's doin out there. If my mom wasn't strict… there was parties that I wanted to go to [where] there were shootings. I wanted to sleep over my boyfriend's house. I probably woulda ended up pregnant, f**ked up. I probably woulda jumped outta high school. So you gotta be strict," she admitted. "My mom raised me on some like, 'I'm not your friend. I'm your mom.' So that's how I'm gonna be with my daughter. She most likely gonna hate it, but she gonna appreciate it when she's older. I totally appreciate my mom."
While Cardi's parenting style may be traditional, she's definitely not your average mom, and doesn't think women should feel pressured to change who they are after having a baby. "I feel like when I'm half naked and when I twerk, people be like, 'You're a mom now,' and it's like, 'Well, I was doing it before I was a mom, so it's not like there's gonna be a difference,'" she shared. "One day, my daughter's gonna see my body and she's gonna see me twerking and it's like, 'Would it make a difference if I did it after or before her?' It's still out there. I feel like moms who do wanna feel sexy can be. I don't feel like once you become a mom, you supposed to be this nun."
Photo: Getty Images
Chat About Cardi B Opens Up About Her Marriage, Admits She Refused Marriage Counseling