Cardi B Teaches Her Signature 'Okurrr' In New Pepsi Commercial
By Peyton Blakemore
February 7, 2019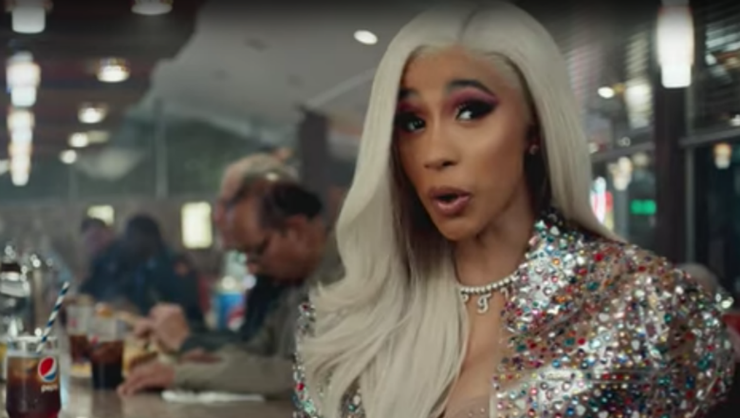 Cardi B is back with another okurrr-filled Pepsi commercial, but this time she's teaching the "okurrr" challenged how to mimic her signature sound.
For the "Money" rapper's latest Pepsi ad, Cardi is shown sitting at a crowded diner when a waitress appears, asking a patron, who asked for Coke, if Pepsi is okay. "Did you just ask if Pepsi's okurrr?" the "I Like It" rapper interjects, before adding, "of course Pepsi is okurrr." The playful commercial then shows other customers attempting to copy Cardi's infamous sound. While at first, saying "okurrr" appears to be quite the challenge for the room, everyone eventually catches on, and Cardi is left saying, "that's what I'm talking about!"
Over the weekend, Cardi opened to People about how honored she felt becoming one of the legendary performers to have starred in a Super Bowl Pepsi commercial. "The biggest of the biggest stars have done Pepsi," she said. "So it's like, 'Da*n, I'm a bright star like them too.'"
For Cardi's first Pepsi Super Bowl ad, she starred alongside Steve Carell and Lil Jon. And given that it's only a short commercial spot, Cardi said she relied heavily on her big personality to stick out. "It's really small words, so you gotta like pop," she said. "You gotta make good face expressions. You gotta make your presence be felt, so if you don't even say nothing, your presence gotta be felt." Cardi added that working with Pepsi "just sounds like an official stamp... If money see you as money then that means you're money, you know what I'm saying? Like, Pepsi's money."
Photo: Getty Images
Chat About Cardi B Teaches Her Signature 'Okurrr' In New Pepsi Commercial