Cops Claim 21 Savage Had Fully Loaded Gun During His Arrest
By Peyton Blakemore
February 7, 2019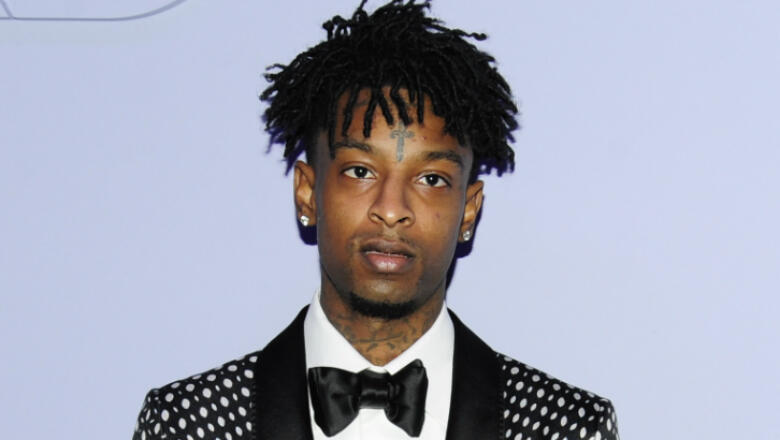 21 Savage was allegedly in possession of a gun at the time of his Sunday (February 3) arrest.
According to TMZ , the 26-year-old rapper, who remains in ICE custody, was "driving recklessly" and nearly slammed into a marked police car, causing officers to pull him over the day he was taken into custody. 21, whose legal name is She'yaa Bin Abraham-Joseph , was also reportedly in possession of a fully loaded gun.
The gossip site obtained three police reports that detailed the father-of-three's initial arrest. Authorities claim 21 was driving a red Dodge Challenger that "drove across the sidewalk in an attempt to get onto another street." Cops say "they pulled the car over and ATF agents — who were also on scene — ordered 21 to stop and throw the keys out the window." The "Bank Account" rapper reportedly agreed and threw the keys of the vehicle out of the car, along with a bottle containing an unknown substance. After being instructed to get out of the car, 21 was "immediately handcuffed and taken away by ATF." After he was arrested officers reportedly searched the vehicle and found a fully loaded Glock in the glove box, along with an extended magazine. However, 21's attorney, Brian Steel, told TMZ the gun and the vehicle his client was driving were not 21's.
Despite the police reports play-by-play of the rapper's arrest, it does not explain how ICE got involved. In the number of police documents obtained by TMZ there is no mention of ICE despite the various docs listing the six other agencies/units present at the time of 21's arrest — DeKalb K-9 Unit, Vice Unit, Narcotics Unit, ATF, Georgia State Patrol and the DeKalb 90. An ATF source, however, told the gossip site that ICE was there, but for some reason, the agency is not listed on the report.
It also must be noted that the police reports list the target of the operation as rapper Young Nudy , who, as TMZ reported "was in a separate car driving alongside of 21 Savage." Three cars were allegedly involved in the arrest, and cops claim that that "all of the people inside [the vehicles] were connected."
As fans know, it was previously reported that 21 was arrested on Sunday for allegedly staying in the U.S. illegally. The 26-year-old rapper's legal team have been on a mission to dispel this claim, saying, their client is a "dreamer," whose "legal status expired at no fault of his own."
Many in the hip-hop community have rallied around 21 during this time, promising to take action to get him released. Most recently, Jay Z hired attorney Alex Shapiro to assist with 21's on-going legal battle with ICE , calling 21's arrest "an absolute travesty."
Photo: Getty Images
Chat About Cops Claim 21 Savage Had Fully Loaded Gun During His Arrest