2019 Grammys: Dolly Parton Gets Honored, Cardi B Makes History & More
By James Dinh, Lauren Crawford, Zack Massey, Nicole Mastrogiannis, Sierra Marquina
February 11, 2019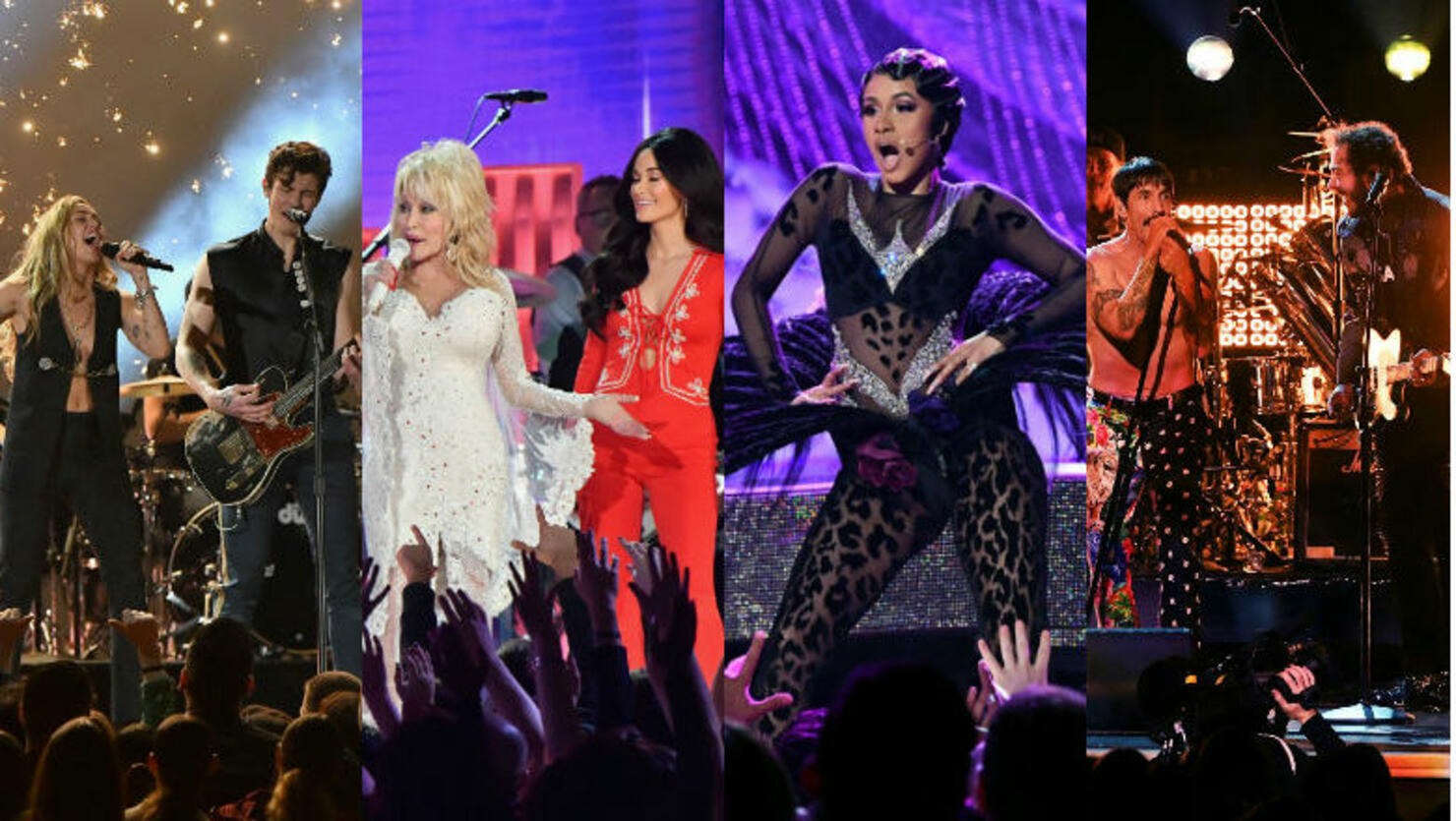 The 61st Annual Grammy Awards was truly an unforgettable night as the show was packed with so many incredible performances and powerful moments.
This year's Grammys included performances from artists like Cardi B , Lady Gaga , Post Malone with Red Hot Chili Peppers , a Shawn Mendes and Miley Cyrus duet, and so much more. The show also featured a tribute to 2019's MusiCares Person of the Year, Dolly Parton , with Maren Morris , Little Big Town , Katy Perry , Miley Cyrus and Kacey Musgraves .
In case you missed anything during this year's Grammy Awards, we got you. Take a look at some of the best moments below.
Michelle Obama Makes A Guest Appearance
Surprise! Michelle Obama brought the house down after making a surprise appearance alongside some of the biggest names in the entertainment industry. The Former First Lady shocked viewers and the entire Staples Center when she hit the Grammy stage with Lady Gaga, Jennifer Lopez , Jada Pinkett Smith, and Grammy host Alicia Keys , to discuss the huge role music has played in their lives.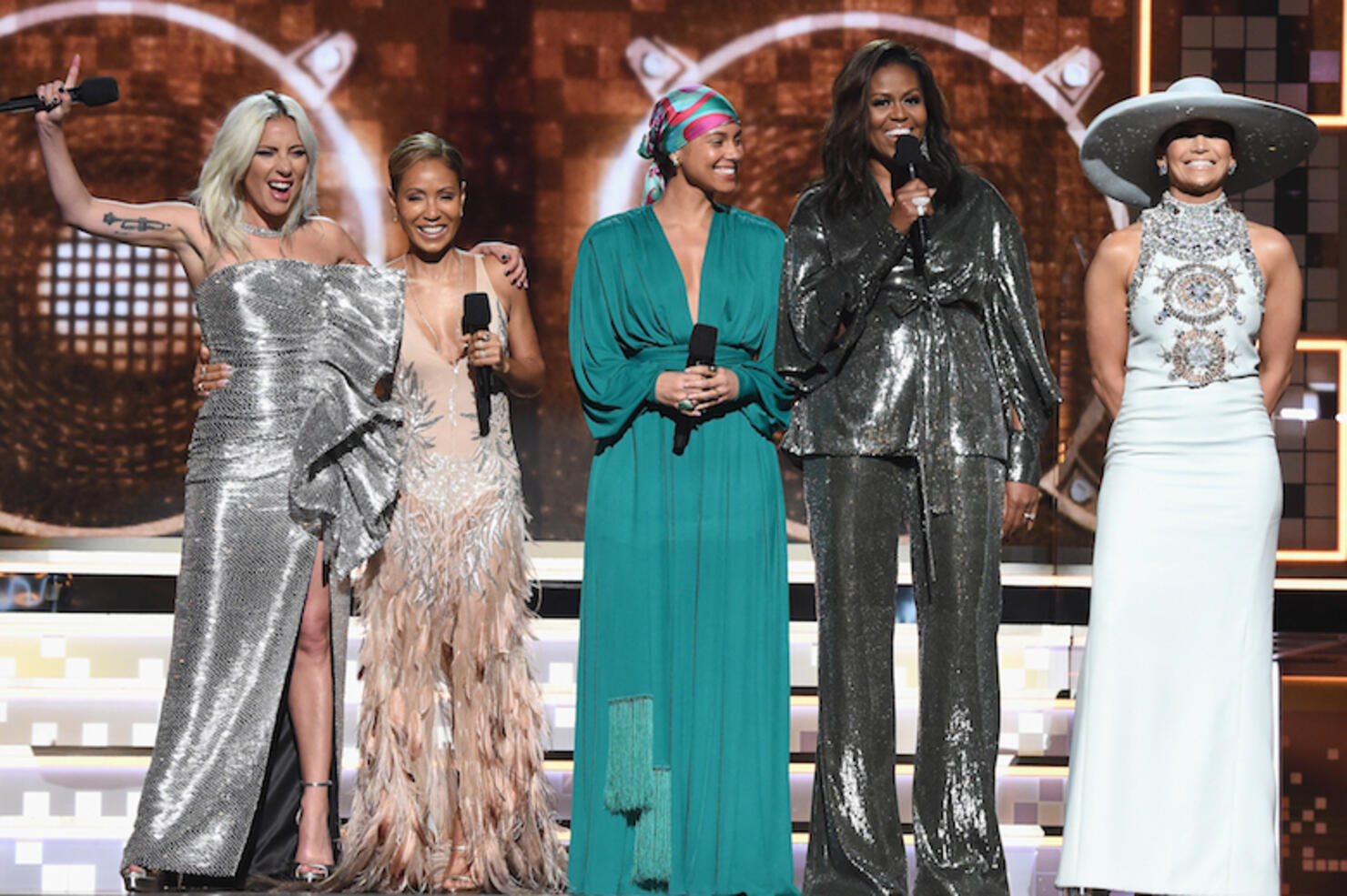 Dolly Parton Honored in All-Star Tribute
Dolly Parton received plenty of love during the MusiCares Person of the Year celebration, but the adoration kept on coming during the 2019 Grammy Awards when she performed during her special tribute alongside Katy Perry, Kacey Musgraves, Maren Morris, Little Big Town and even her goddaughter Miley Cyrus.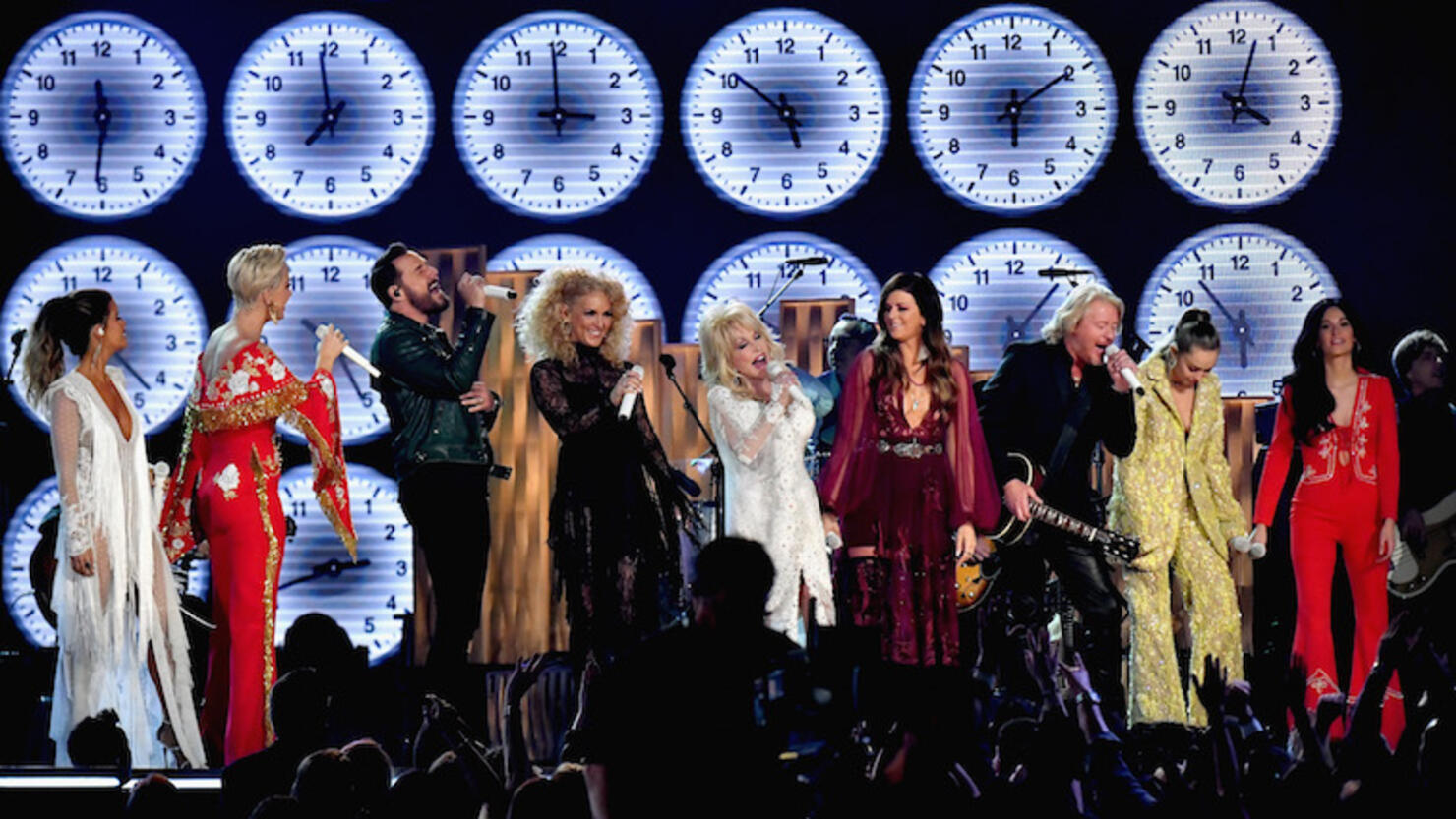 Miley Cyrus Joined Shawn Mendes for an "In My Blood" Duet
Can Miley Cyrus and Shawn Mendes do a duet at every awards show? Hot on the heels of their first collaboration ever at the MusiCares gala, where they performed a musical tribute to Miley's godmother Dolly Parton, they joined forces again at the Grammys to singShawn's hit "In My Blood."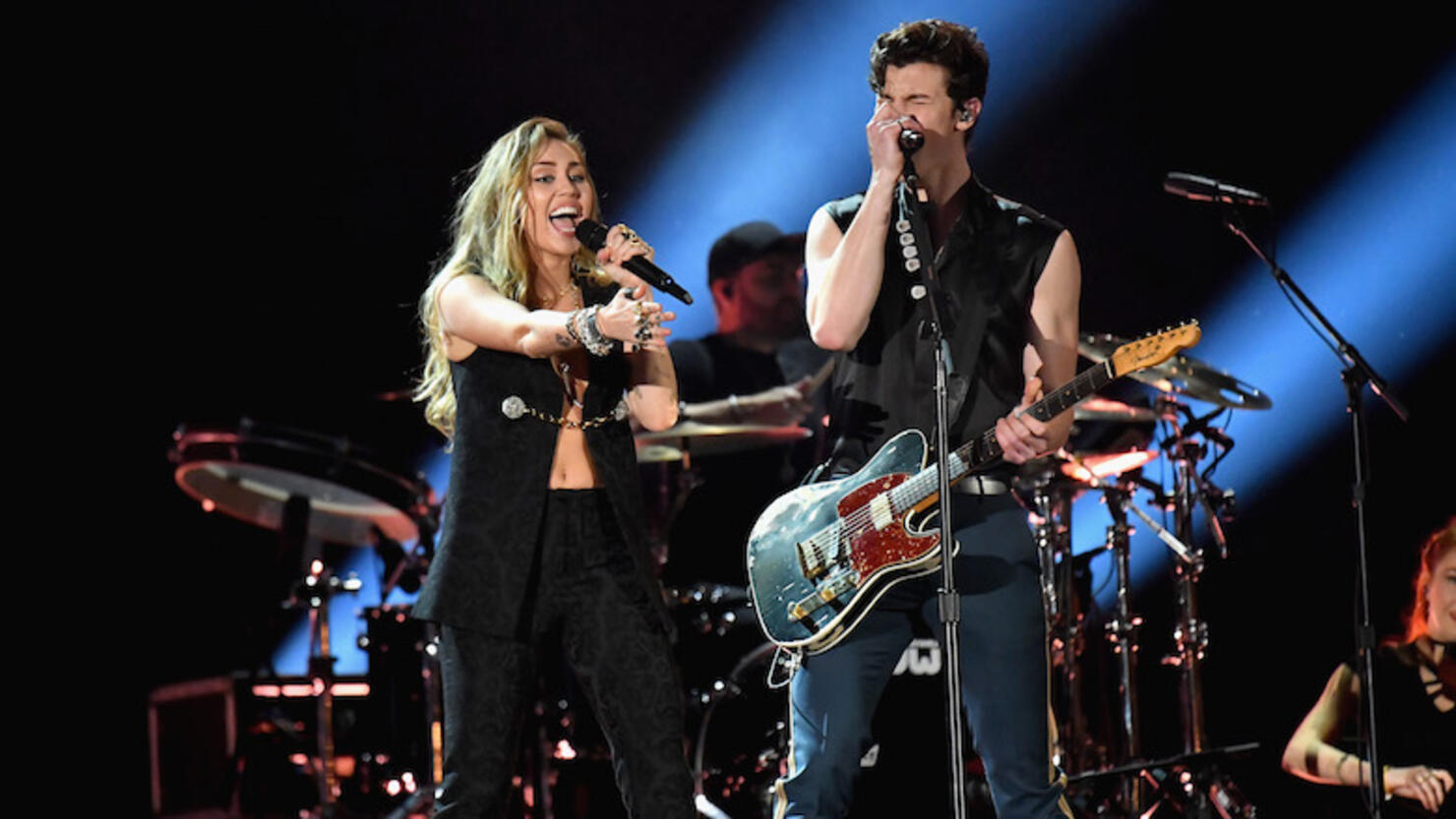 Post Malone & Red Hot Chili Peppers Rock The Stage
Post Malone is living his best life. For the second time in less than a year, the "Better Now" rapper was able to perform alongside one of his favorite rock bands and hit the 2019 Grammy stage with the Red Hot Chili Peppers . Before giving the people the collaboration we didn't know we needed, Post came out solo, performing his hits "Stay" and "Rockstar." He was then joined by the Red Hot Chili Peppers, who performed their famous track "Dark Necessities."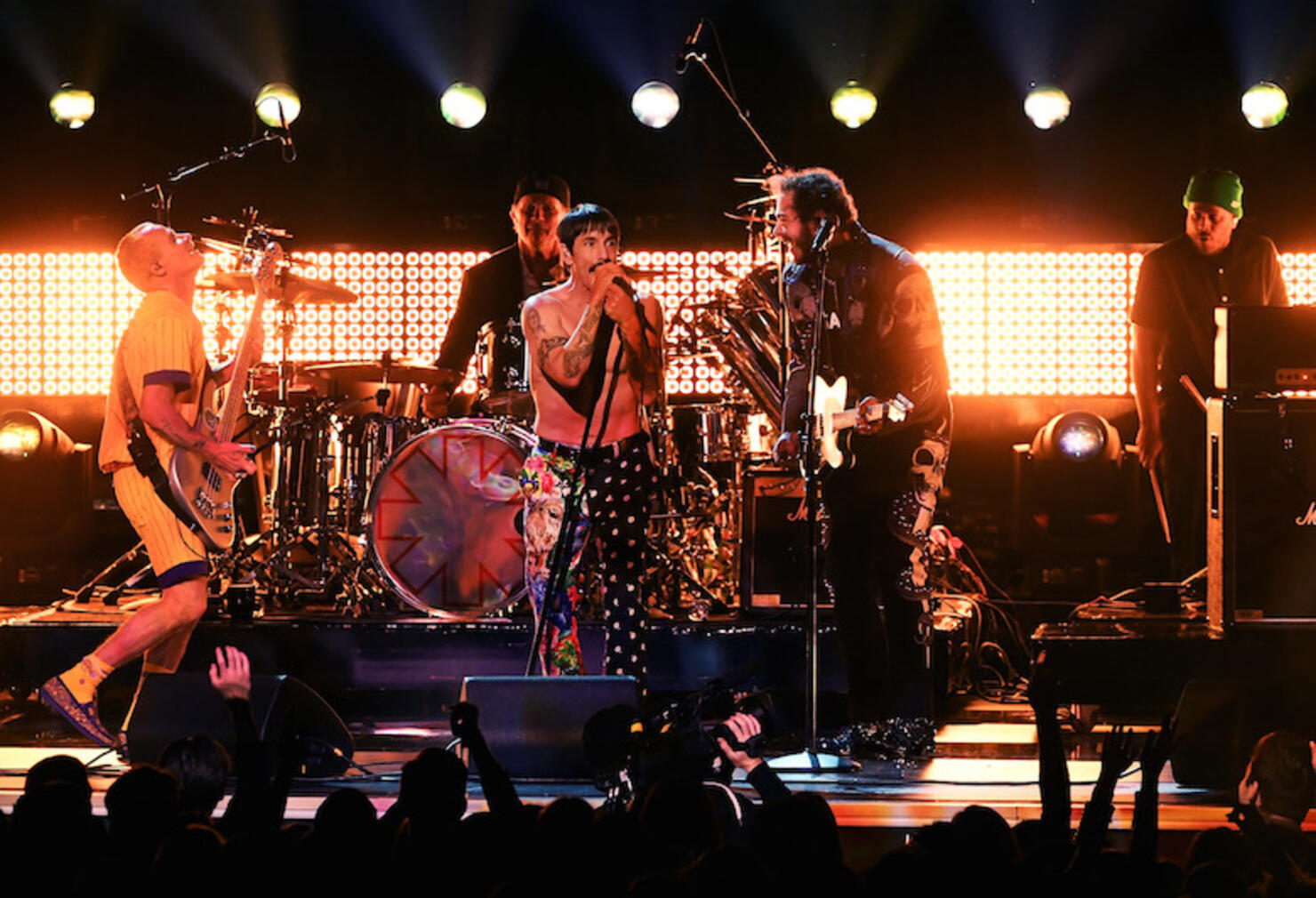 Camila Cabello Reps For Her Roots During Opening Number
Camila Cabello opened up the show a multi-color house to perform "Havana," before leaving the elaborate set, venturing to the front of the stage and letting Young Thug have his shine for his verse. While the chaos of the performance circled the singer, there were plenty of clues that Cabello snuck in to show her appreciation for her culture and the current political landscape. Not only did she feature two separate fake newspapers with headlines referencing President Donald Trump's crusade to build a wall along the Mexico-United States border, as well as J Balvin 's Reggaeton takeover, Cabello made sure to let the audience know that she also reps for her peers with a reference to the Dreamers. Elsewhere in the set, she shimmied her way to the spotlight to sing "Pegate" with Ricky Martin and "Mi Gente" with Balvin. Cabello's set also marked the very first time that a Latin woman has ever kicked off the big show.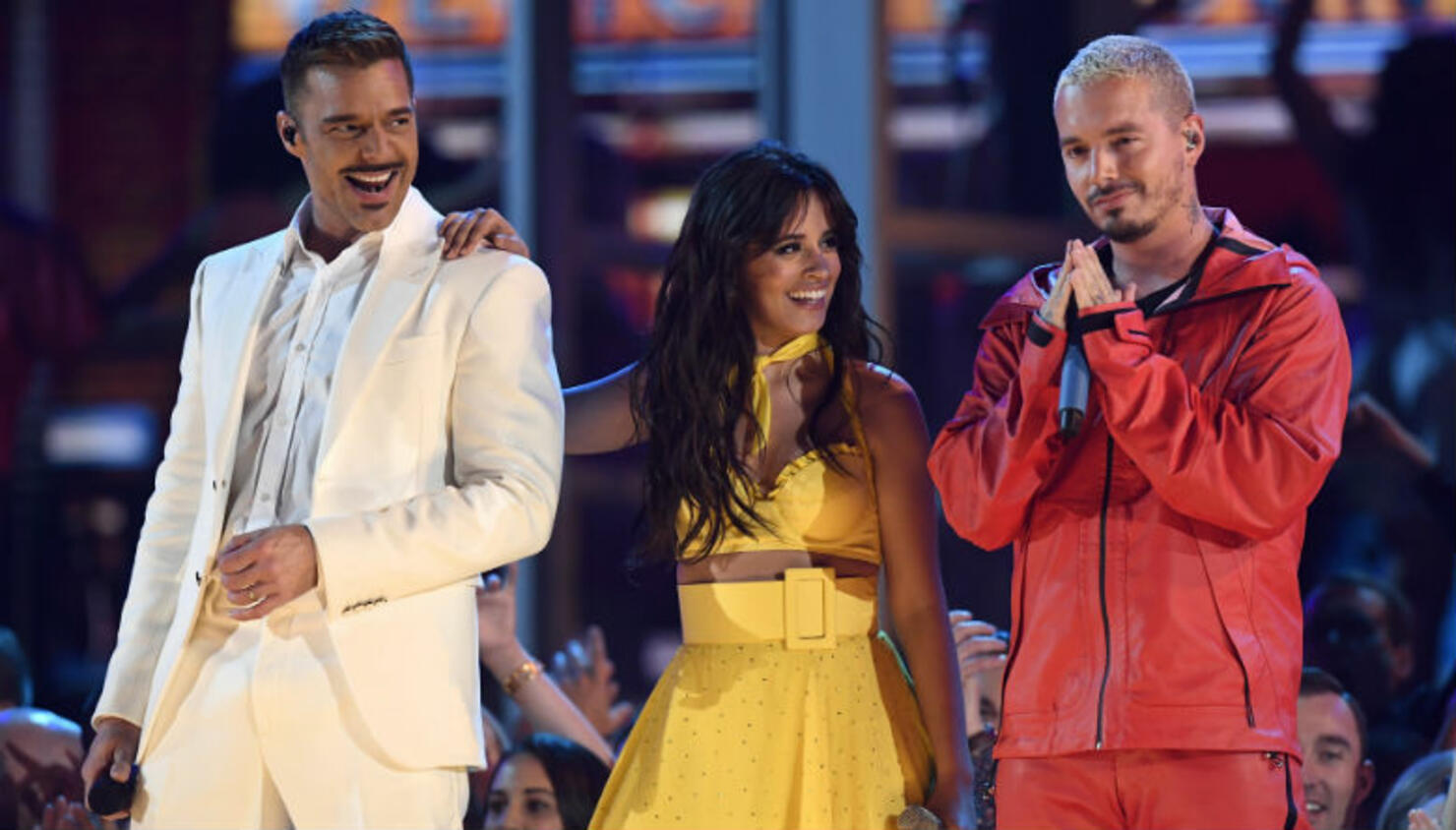 Cardi B Wins Best Rap Album, Delivers Show-stopping Performance
Cardi B may have been performing in front of some the most prestigious folks in the music industry, but that didn't stop the hip-hop titan from delivering an electric performance of "Money" that kept true to her brand and Offset was feeling the number. However, Bardi's win for Best Rap Album was the bigger focus to come from the evening as she became the first female solo artist to win the title.
H.E.R. Leaves Her Mark On The Grammy Stage
The 21-year-old songstress made her mark at the 2019 Grammy Awards with a truly unforgettable Grammys debut. H.E.R. hit the stage in her signature sunglasses, wearing an embellished, purple jumpsuit. While playing a clear and just downright bad a** guitar she belted out her soulful track "Hard Place."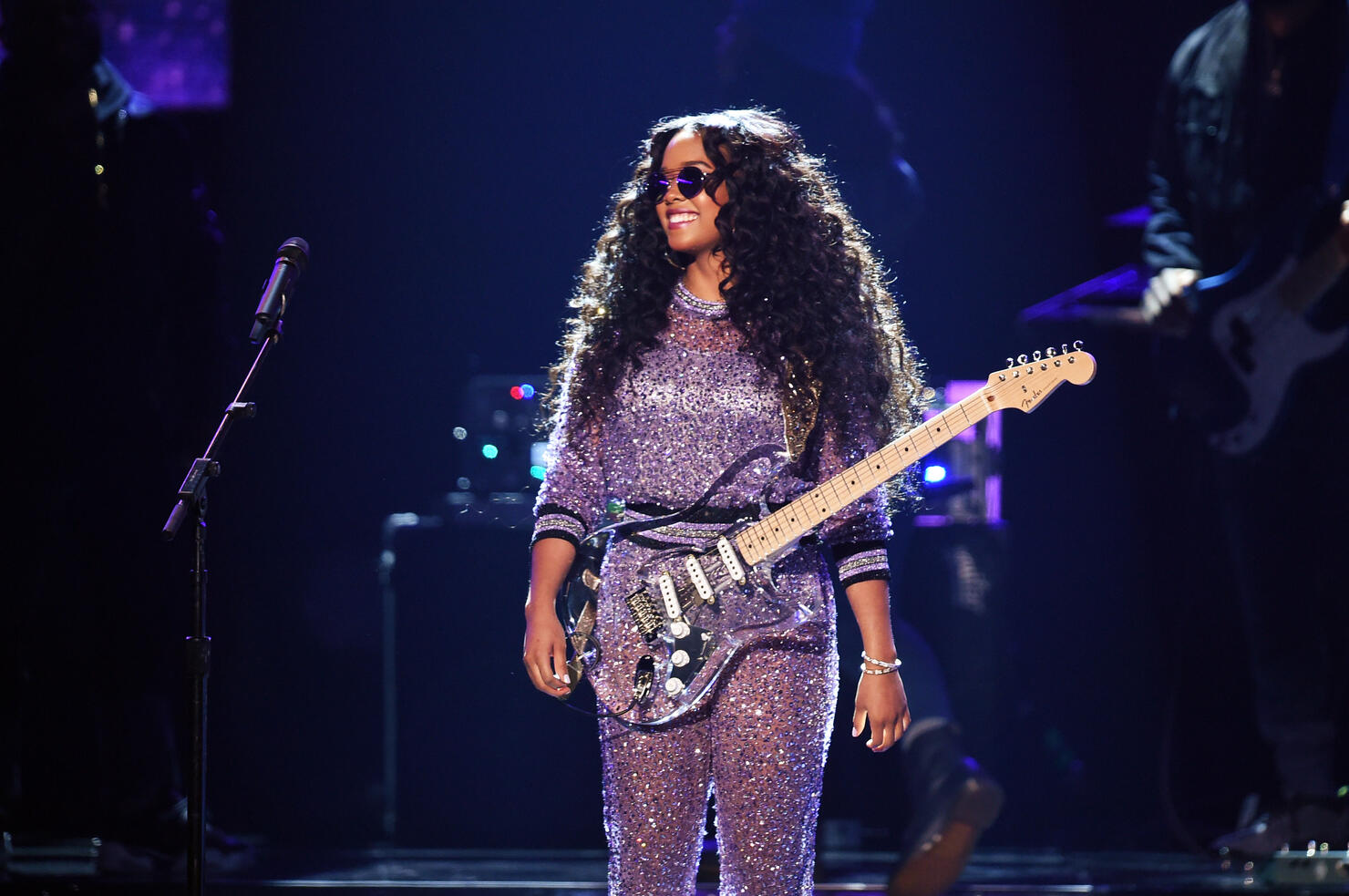 Diana Ross Proves Why She's The Queen Of Everything
In honor of the legendary singers's upcoming 75th birthday, Miss Ross hit the 2019 Grammy Award stage with a performance like none other. Diana hit the stage in a show-stopping red ball gown to perform "The Best Years Of My Life," which immediately brought the crowd to its feet. Next up the lead singer of The Supremes sang her solo hit "Reach and Touch." The moving performance led the audience to hold hands as they rocked back and forth to the beat. While singing the heartfelt track, Diana came into the audience where she reached out and touched her daughter Tracee Ellis Ross , and even got Jaden Smith to sing the song on the mic. Diana capped off her iconic performance with a message, telling the audience: "Together we have no limits. There's only success ahead. And you can lead the way, learn – dream, unlock new doors. All is possible…"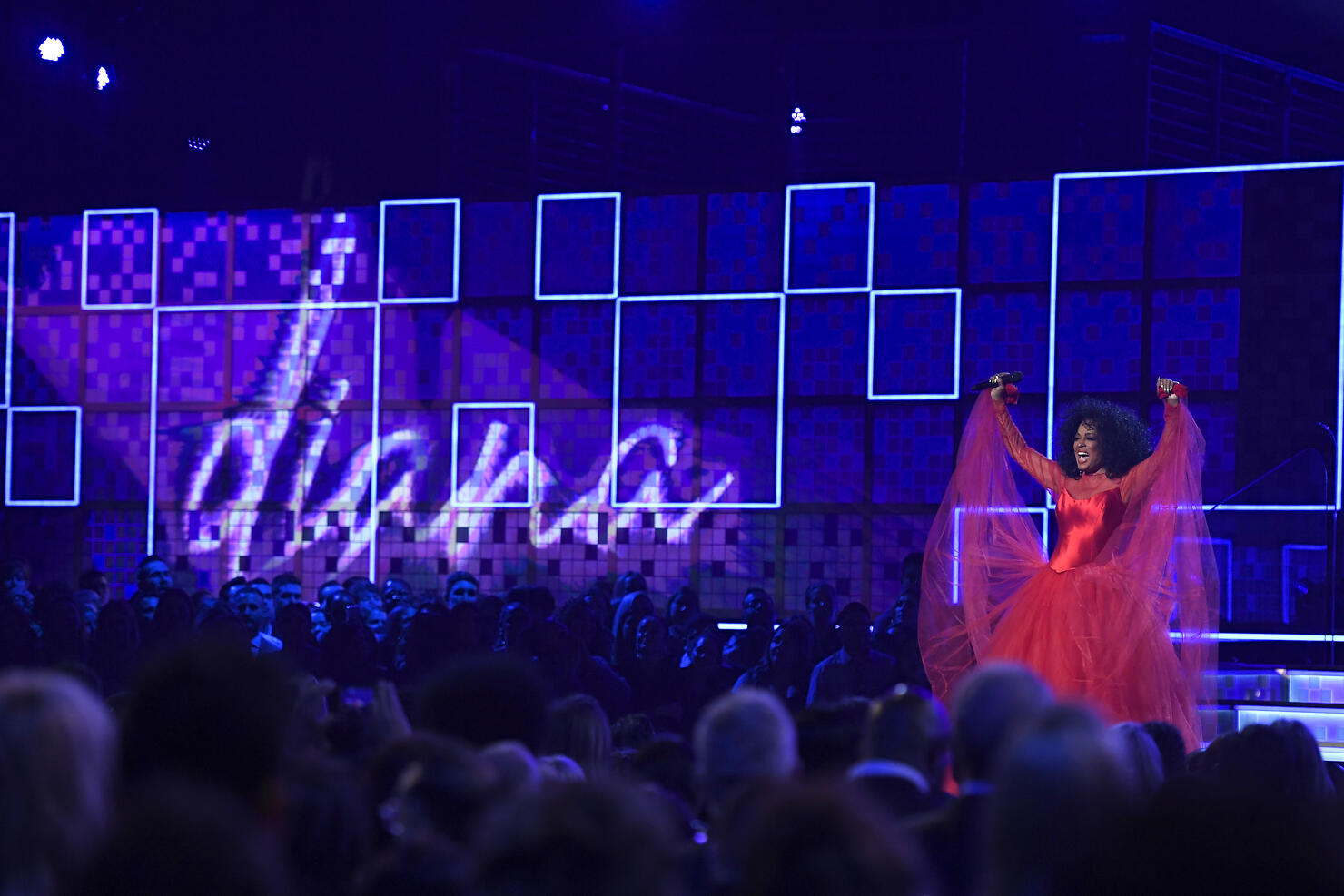 Lady Gaga Delivers Powerful Speech After Grammy Win
Lady Gaga took home several Grammy Awards this year including Best Song Written for Visual Media for "Shallow" and Best Solo Pop Performance for "Joanne." And early on in the show, "Shallow" withBradley Cooper also took home the award for Best Pop Duo/Group Performance, and after tearfully accepting the award, Gaga gave a powerful and emotional speech .
After thanking God and her family, Gaga said, "I just want to say I'm so proud to be part of a movie that addresses mental health issues. They're so important and a lot of artists deal with that, and we gotta take care of each other. So, if you see somebody that's hurting, don't look away. And if you're hurting, even though it might be hard, try to find that bravery within yourself to dive deep and go tell somebody, and take them up in your head with you. I love you, thank you so much to the Grammys."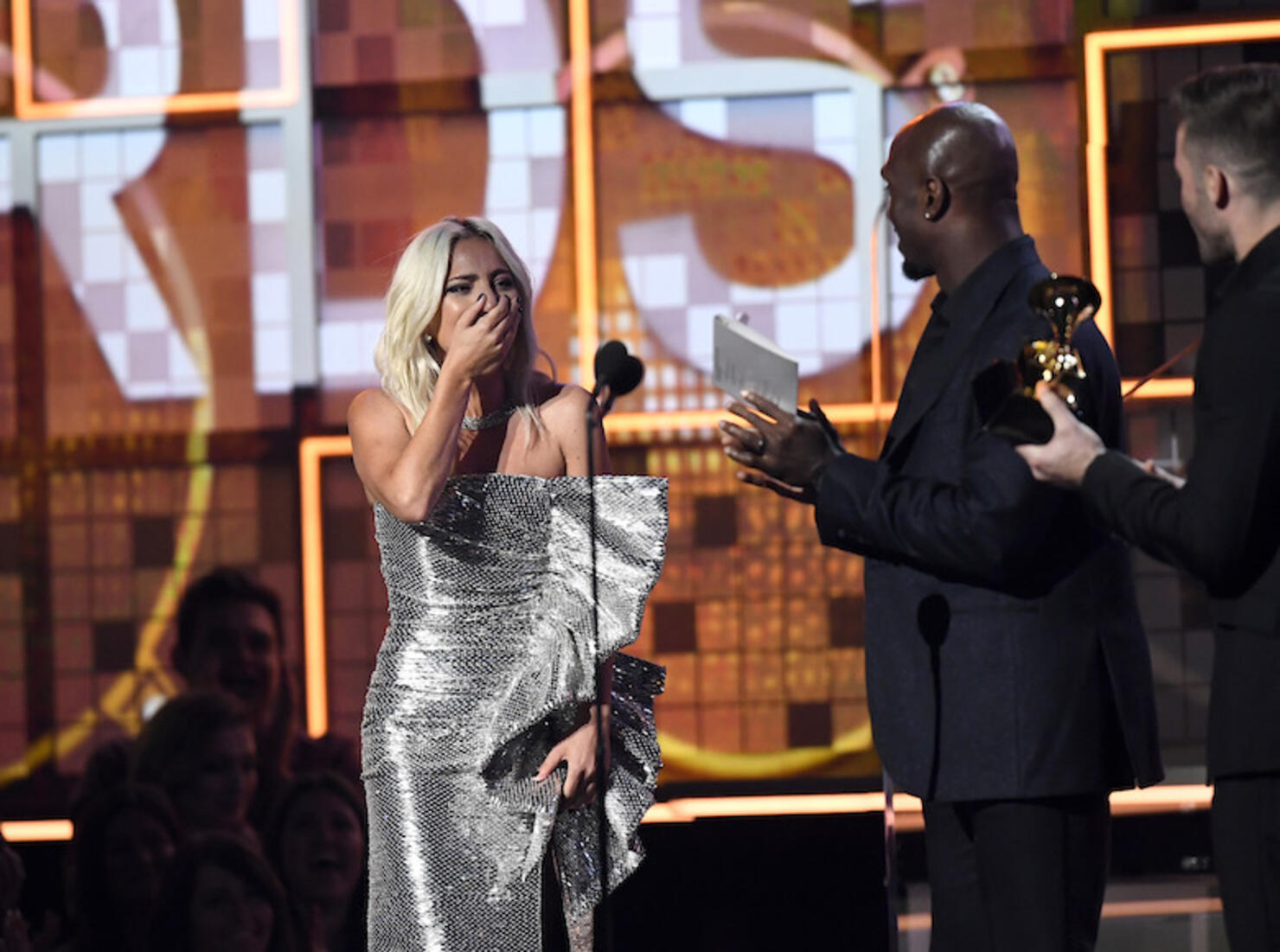 St. Vincent & Dua Lipa Were Twinning During Their "Masseduction"/"One Kiss" Mashup
St. Vincent and Dua Lipawere twinning during their one-of-a-kind collaboration at this year's Grammy Awards. To kick off the special performance, St. Vincent took the stage with her guitar, rocking over-the-knee-boots and a strapless black bodysuit as she sang her song "Masseducation," which won the Grammy for Best Rock Song that night. Then, Dua Lipa emerged on stage and walked up right behind St. Vincent wearing a floor length black and white gown with gold details, and both girls sporting the same hairstyle. The two kept performing "Masseduction" before moving on to an awesome rock version of Lipa's hit collab with Calvin Harris, "One Kiss."