Did Nikki Sixx Just Call Out Kiss For Lip-Syncing?
By Andrew Magnotta @AndrewMagnotta
February 13, 2019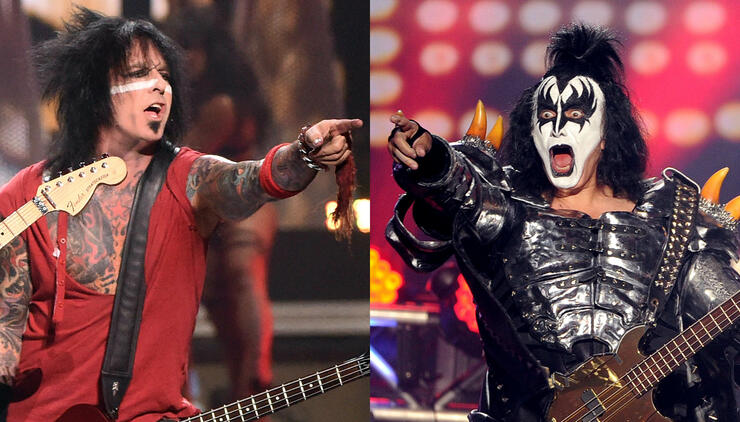 Nikki Sixx says Mötley Crüe has a long history of using technology to buoy its live sound, but that's okay because they've never tried to hide it.
Sixx says he doesn't think there's anything wrong with trying to reproduce some of the added production elements of a studio recording in a live setting using backing tracks. Where artists go wrong, he says, is when they deny what other musicians and many fans know to be true.
"Certain band out on the road right now putting other bands DOWN and saying that they are a REAL rock band, no background singers, and other old people cranky comments," Sixx wrote in a Tweet sent out Tuesday. "[E]xcept his lead vocals are on tape. People in glass houses shouldn't throw rocks."
The bassist concluded the Tweet with the hashtags #GetOffMyLawn and #WizardOfOz, a presumed reference to the proverbial 'man behind the curtain.'
The post was greeted with a flood of replies, suggesting the "certain band" Sixx referred to was KISS.
Sixx later clarified that Crüe has been using "sequencers, sub tones, background vox tracks plus background singers and us" during live shows since at least 1987. It just doesn't make sense for a hard rock band to tour with a string quartet only to have them perform one or two songs a night.
"Same as [Nine Inch Nails] and everybody else," Sixx continued, indicating the prevalence of backing tracks in modern rock. "We love it and don't hide it. It's a great tool to fill out the sound."
Kiss was criticized last September and October for playing to backing tracks at a number of television appearances, including America's Got Talent and The Late Late Show With James Corden.
In each performance, fans noted the eerily perfect vocals from Paul Stanley — who's suffered from severe vocal issues in recent years — and Gene Simmons that remained the same volume regardless of how far the singers were from their respective microphones.
There have also been parts of each performance in which the notes coming from Simmons' bass and Stanley's guitar do not appear to be what they are actually playing, based on what their hands are doing.
But performing with a full band on television is an infamous technical challenge. Sometimes artists have to choose between laying down a backing track the day of the show or canceling the appearance.
The Red Hot Chili Peppers didn't even bother plugging in their instruments when they made a surprise appearance at the Super Bowl in 2014. The band readily admitted that vocals were live but the instruments were pre-recorded.
Backtracking during one's own concert is more of a grey area, especially for rock bands who pride themselves on musicianship.
In the past, Simmons has complained about exactly what Kiss is now accused of doing. He once called the Rolling Stones and U2 "dishonest" for their supposed use of backing tracks in concert. Simmons has said he takes pride in Kiss being the real deal, despite once admitting to using backing tracks to perform its 2014 single "Samurai Son."
If Sixx was thinking Kiss when he posted his Tweet, it wouldn't be the first time he's criticized the Rock and Roll Hall of Famers.
Sixx has called out Simmons by name before, perhaps most famously for the Kiss co-founder's insensitive comments about people with drug addiction issues.
More recently, Sixx lobbied on behalf of Ace Frehley, saying the guitarist should be back in Kiss for the band's farewell tour.
Mötley Crüe drummer Tommy Lee recently accused Kiss of stealing stage production ideas from Crüe's final tour.
Photos: Getty Images
Chat About Did Nikki Sixx Just Call Out Kiss For Lip-Syncing?