Mike Shinoda Would Consider Finding New Linkin Park Front Man
By Andrew Magnotta @AndrewMagnotta
February 19, 2019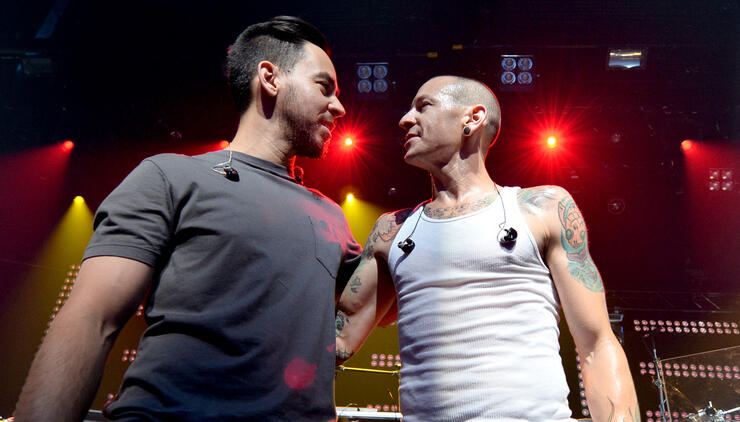 The members of Linkin Park have been honest about their desire to continue the band since not long after the death of front man Chester Bennington in 2017. How that would work, however, has remained unclear.
Linkin Park performed a few songs as a five piece with multi-instrumentalist Mike Shinoda on vocals at its One More Light concert in memory of Bennington, but the band has yet to perform live since.
The idea that Linkin Park would find a lead singer to succeed Bennington has been in the ether for a while, though no one in Linkin Park itself has suggested that is their plan moving forward. The most clarity Shinoda has offered on the subject was to say that there will never be a Bennington hologram. That changed recently.
Shinoda confirmed in an interview with German music outlet Rock Antenne that the band is getting closer to discussing the nuts and bolts of a Linkin Park return. The producer and songwriter, who launched his solo career last year, says it's important to each of his band mates to continue making music in the future. It's just been a question as to whether that could happen with Linkin Park or in other projects.
"We all thrive making and performing music," Shinoda said. "I know the other guys, they love to be on stage, they love to be in a studio, and so to not do that would be like ... I don't know, almost like unhealthy."
He says the band members are driven to "figure out Linkin Park." But it's complicated. If Linkin Park reconvenes it has to be with integrity and in consideration of the fans who are also hurting from losing Bennington two years ago.
"It's not my goal to look for a new singer," Shinoda explained. "If it does happen, it has to happen naturally. If we find someone that is a great person and good stylistic fit, I could see trying to do some stuff with somebody. I would never want to feel like we are replacing Chester."
As Linkin Park's primary songwriter, Shinoda demoed vocals on the early versions of most of the band's songs. He says he's comfortable singing himself and has revisited some Linkin Park material on his solo tour.
Shinoda heads to Europe on tour in March. You can see his tour dates here.
Photo: Getty Images
Chat About Mike Shinoda Would Consider Finding New Linkin Park Front Man