Cardi B Speaks Out On Khloe Kardashian, Tristan Thompson Cheating Scandal
By Peyton Blakemore
February 21, 2019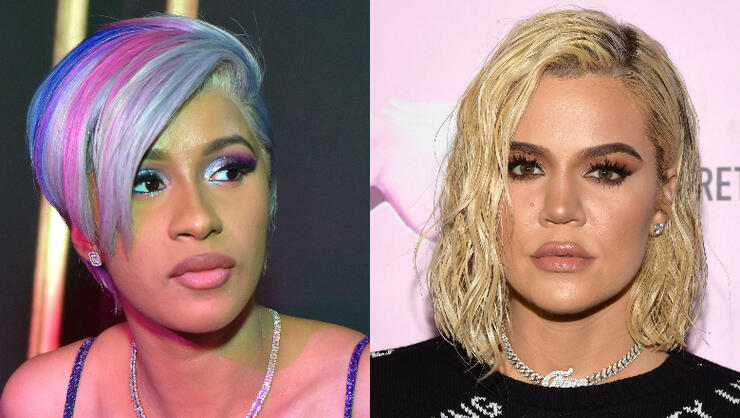 Cardi B is giving her two cents on the latest Kardashian-Jenner drama.
On Wednesday (February 20), the "Money "rapper weighed in on the Tristan Thompson, Jordyn Woods cheating scandal. As fans know, Khloe Kardashian's boyfriend and Kylie Jenner's best friend were caught caught snuggled up at a house party on Sunday (February 17). Witnesses told TMZ Tristan and Jordyn were all over each other and even made out. Khloe reportedly found out on Monday and immediately broke things off with Tristan.
Amid the drama, fans and haters alike have shared their opinions online, many calling Khloe's unfortunate situation karma, which Cardi said is a low blow. "Y'all know I've been through some sh*t ... clearly everything I've been through has been public," the 26-year-old rapper said on Instagram Live before addressing the Good American designer. "I'm seeing this whole Khloe Kardashian thing ... everybody is just like celebrating that that happened to her and it's like why?" The rapper then pointed out that Khloe has been through enough, referencing Tristan's cheating scandal last year. "Whatever karma that y'all felt like they deserve, I think they already have it, so it's like why do you guys keep wishing that on a woman?" she asked. "Especially a woman that has a daughter?"
"We know how it is when a ni**a f**k up. Y'all know that your heart shatters in pieces. Y'all know it feels like your heart is literally bleeding and you just want to die and you can't even sleep. You actually can't even escape it when you sleeping because you actually dream about it," she added. "It's like it's mainly the women in the comments. It's like why do you guys like manifest and be happy off of that?"
Cardi then brought up how Tristan was caught cheating on Khloe just days before she gave birth to their daughter True in April 2018. "I feel like, alright she already learned her lesson, something real f**ked up happened before she gave birth, so it's like why do you guys keep I don't know like enjoying other people's pain? Enjoying other people misery, knowing how much it hurts when a guy that you're in love with, especially the father of your child, does something wrong. It's just so sad," she continued. "I feel like everybody always want to talk about how they want to uplift women [...] but it be like the same women that be laughing in the comments when another woman is going through some sh*t and it's all the time [...] I feel like that sh*t is whack."
"I be feeling bad because I think everybody been in those shoes," Cardi said. "I've been through it. Friends been through it. Family been through it. A lot of y'all b*tches been through it. That's why y'all always commenting on their comments like, 'I would never allow a man to do that to me,' 'That happened to me.' A lot of y'all be saying 'Ni**as ain't s*ht.' A lot of y'all saying 'Ni**as ain't sh*t' because y'all been through some sh*t like that, so why is it that y'all laugh and 'live,' 'Oh I live' for another woman's pain—you know what I'm saying?"
Photo: Getty Images
Chat About Cardi B Speaks Out On Khloe Kardashian, Tristan Thompson Cheating Scandal