Lori Loughlin Hints 'Fuller House' Might Get Picked Up By Another Network
By Emily Lee
February 21, 2019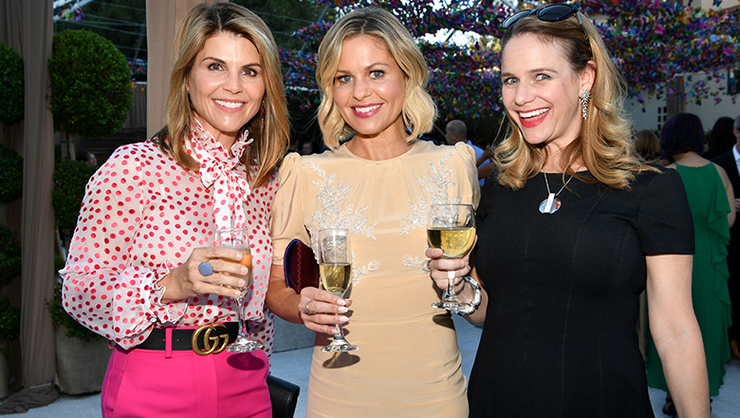 Fans of Fuller House, the popular sequel series to the beloved sitcom Full House, were disappointed to learn that the show's fifth season would be its last. Not only were the fans saddened by the cancellation news, the main cast has expressed their wish the show could continue, as well. Candace Cameron Bure wrote on Instagram that the cast "would love to do the show forever and ever" and promised they "saved the best for last." While Bure seems to have come to peace with the news, Lori Loughlin is holding out hope that the show will be picked up by another network.
"I don't understand why it's the final season, I have to be honest with you," Loughlin told The Hollywood Reporter In Studio. "I think it does really well for Netflix and I don't know their business model. I'm not sure how it all works because it's not like network television, but I was surprised. I know it was 18 episodes, which is a bigger order than usual, but I'm still surprised that they're ending it at season five."
"I think there's still so many great stories to be told, and who knows, maybe if Netflix says no more, maybe someone else will pick it up. Who knows?" Loughlin hinted during the interview. There's currently nothing to suggest that a new deal for Fuller House is in the works, however, it's not totally out of the realm of possibility. Many other shows that have been cancelled by their original network have gone on to find a second wind at other networks. Just recently Fox cancelled popular sit-com Brooklyn Nine-Nine only for NBC to successfully revive the show on their own network.
"I always knew we were this beloved show, and generations had grown up on the show, but I think when it really came back as Fuller House, and that initial response was so overwhelming and it was so big, that I think that's when it finally really hit me," Loughlin said of the show's revival. Now that Fuller House is coming to a close, the 54-year-old actress is keeping her fingers crossed the show will get a third life on a new network.
Should Fuller House get picked up for a sixth season on another network, will you be tuning in?
Photo: Getty
Chat About Lori Loughlin Hints 'Fuller House' Might Get Picked Up By Another Network