Yungblud and Halsey Prove They're Emo With Death Cab For Cutie Cover
By Katrina Nattress
February 22, 2019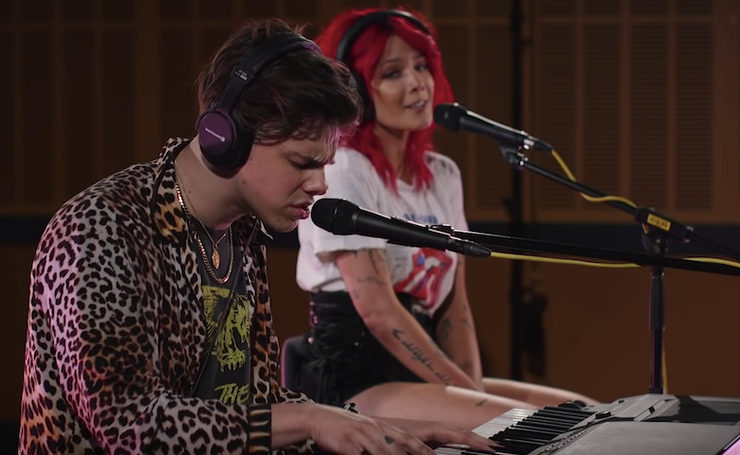 Halsey and Yungblud continue to prove they're emo kids at heart with a cover of Death Cab For Cutie's "I Will Follow You Into The Dark." Though the song is admittedly emotional to begin with, the heart-wrenching lyrics become even more powerful when harmonized. The UK alt-rocker shows his softer side by gently stroking the piano as he sings, while the pop star's soothing voice gives us the sense that everything's going to be alright. Halsey and Yungblud beef up the original's sparse production by adding a strings section. The result is a chill-inducing version of an already beautiful song.
Watch Halsey and Yungblud cover Death Cab For Cutie's "I Will Follow You Into The Dark" below.
This isn't the first time the young stars have collaborated together. They recently released "11 Minutes," which features blink-182 drummer Travis Barker.
During a recent interview with ALT 98.7, Halsey and Yungblud both admitted they grew up listening to rock music—the UK-based musician loved bands like Oasis and Arctic Monkeys, while the American singer was a blink-182, Taking Back Sunday, and Fall Out Boy girl.
"I grew up on the Warped Tour scene and I had my ears stretched like an inch wide. I was all over Myspace," Halsey said. "I was like, not even a scene kid, like a hardcore kid."
Watch the full interview below.
Halsey will be the recipient of the 2019 Fangirls Award, presented by L'Oréal Paris, which recognizes a female artist who has pushed boundaries with her music and message while inspiring her fans around the globe. She is also nominated for multiple this year, including Female Artist of the Year, and the socially chosen Best Lyrics and Best Cover Song for her rendition of Juice WRLD's "Lucid Dreams." Fans can vote via Twitter using the appropriate category and nominee hashtags, or by visiting through March 7th. Find out who will be taking home an award this year by tuning into FOX on March 14th where the show will be broadcast live from the Microsoft Theater in Los Angeles from 8-10pm ET/PT.
Chat About Yungblud and Halsey Prove They're Emo With Death Cab For Cutie Cover