Gary Clark Jr. on Bonding with Jimmy Page, Performing with Beyoncé & More
By Nicole Mastrogiannis
February 28, 2019
Gary Clark Jr. recently released his third full-length studio album, This Land, his first LP in four years.
This Land follows 2015's The Story of Sonny Boy Slim and showcases 15 new songs including the politically charged title track. The song was inspired by Woody Guthrie's "This Land Is Your Land" and recently told American Songwriter, "It's one of the first songs we learn, and we sing it together. It's like the Pledge of Allegiance ... And when you're kids, everybody's together. You don't see differences until you get older, and older people influence you to think about other people a certain way. I just want to get back to singing that song like we were kids again, you know?"
To celebrate This Land, we took a look back on Gary's incredible career so far via the iHeartRadio Box and inside were pictures and artifacts tied to some of his biggest milestones. Gary opens up about all of memories including performing for President Obama with Beyoncé, bonding with Jimmy Page, performing with B.B. King and so much more. Read on below.
His First-Ever Album Worry No More
"Wow. This right here is my first record cover ever. I recorded my first album when I was a junior in high school. I remember I printed up a bunch of copies and passed them around my school. I mean, I'm just looking at an innocent kid, I'm thinking about playing in these old blues bars and this woman came up to me and she said, 'You're not gonna know anything about playing the blues until you get your heart broken. So, what do you know about the blues?' I was 16 and I was like, 'Whatever.' But she was right."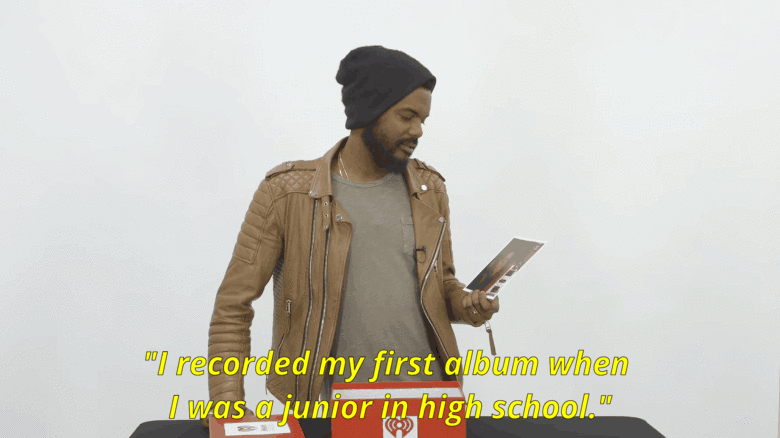 Performing for President Obama with B.B. King
"This right here ... Wow. The White House. Playing in front of President Obama. This right here was a proud moment, to have B.B. King, Buddy Guy, Booker T. Jones, all these legendary musicians who have put in work [is] one of my proudest moments in my musical career [and] in my life."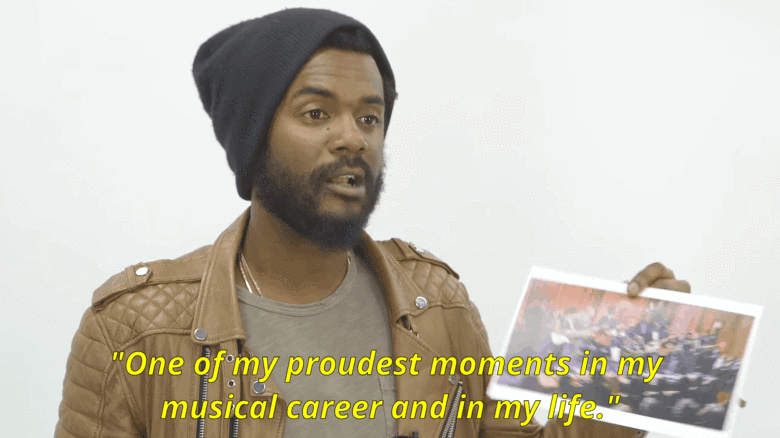 Performing with Beyoncé to Tribute Stevie Wonder
"I mean, Texas, Beyoncé. Ever since I was kid, seeing people from Houston, Texas, I'm from Austin, so seeing people who are in an entertainment business, are successful, and being near to my neighborhood is always inspiring for somebody who had a dream. To be able to get up on stage with her, in front of Stevie Wonder, we were doing a tribute to Stevie Wonder, so to be able to play one of the greatest musicians of all time music in front him with one of the greatest singers and entertainers of all time, to be included in that, was very special."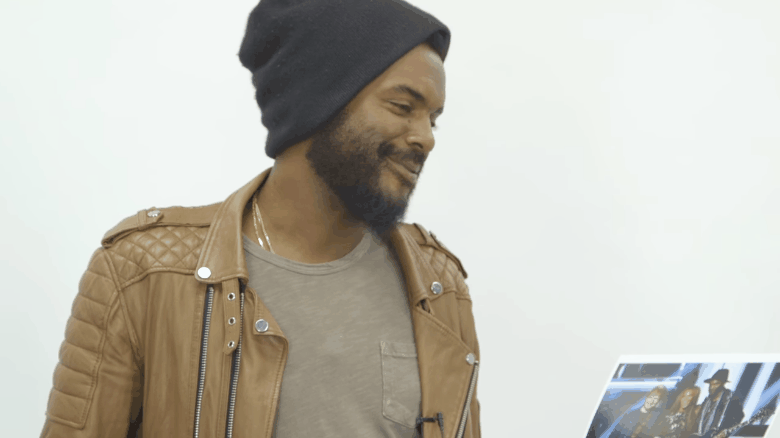 Being Presented with a Grammy by Jimmy Jam
"First off, Jimmy Jam presented me with a Grammy. Man, that's not bad. Y'all got me on this one. In 1996, to get a guitar and say, 'I want to be a part of something.' I watch the Grammy's every year, see the performers, go, 'I want to be a part of that,' [and] have my named called and get that was a lot of work, a lot of blood, sweat, and tears, and all that. So, that's a good moment."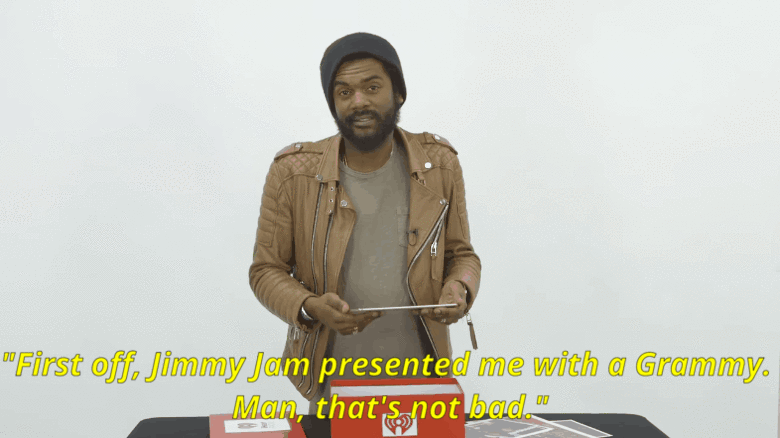 Bonding with Jimmy Page
" Bam. I'm also a model, I guess. John Varvatos, wear their clothes if they pay me or not. Jimmy Page, one of the greatest guitar players of all time, scared the hell out of me when I first walked into the session, because he just looked like this for like two hours and didn't say much. So, I didn't know if he hated me, if he liked me, if he didn't think anything of it. So, we finally started talking about blues guitar players, and specifically Skip James, the Muddy Waters, and we started talking about our history and how we came up playing guitar, and it was very similar. So, we had a nice bonding moment, he cracked a smile, and it was cool to see that this music and this guitar playing stuff can take two guys from two opposite sides of the world, different generations, [and] come together and appreciate something."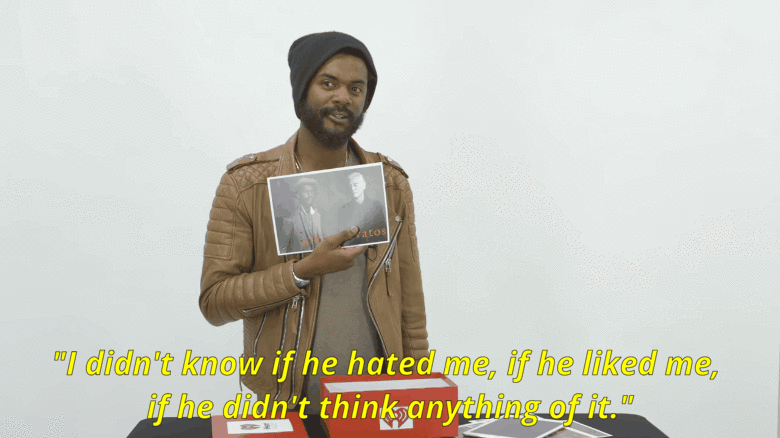 How Stevie Ray Vaughan Inspired Him
"All right, Stevie Ray Vaughan, Texas, baby. This is one of the first albums I got when I started playing guitar. In '96 I went over to my friend [Heath's house and her next door neighbor, Brett, both played guitar, sent me home with a Hendrix CD and a Stevie Ray Vaughan, Texas Flood, record. And when I first heard the sound of Fender Stratocaster, like really what it could do, how powerful it could be, and how powerful you could express yourself with a guitar, really playing Texas blues was this guy. This was a good day, right here."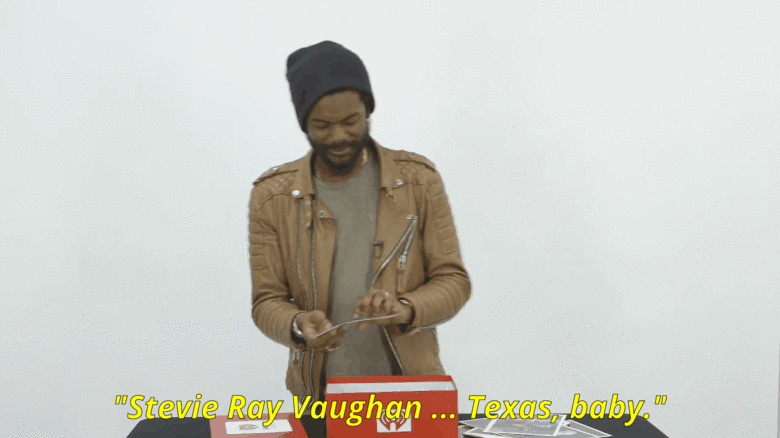 His Wedding Day
"This was a good day, right here. This was probably the most heart-pounding, exciting, and scary moment ever. I could do the music thing, I love that. But to, you know, we're going to do this for real, that's the stuff that matters. That's game changing right there."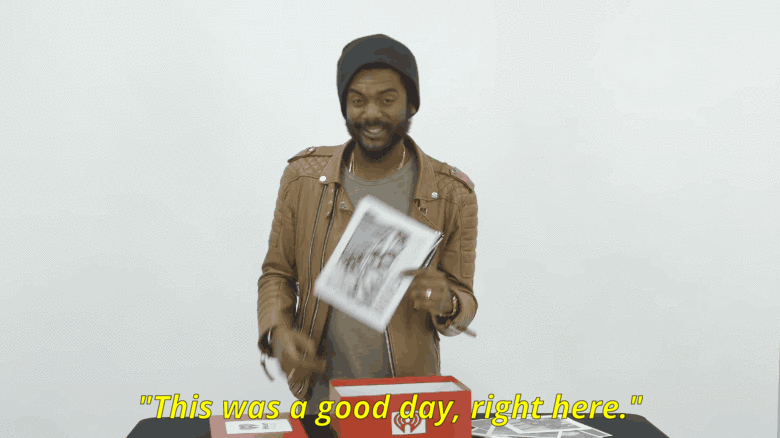 His New Album This Land
"Gary Clark Jr. announces genre bending new album. This is true. This album is coming, This Land, video's dropping, it's happening."