5 Revelations From Jordyn Woods' 'Red Table Talk' Interview
By Sierra Marquina
March 1, 2019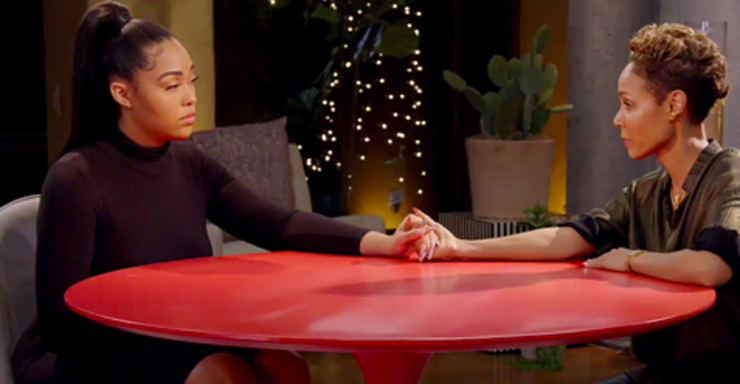 Jordyn Woods shared her side of the Tristan Thompson cheating scandal on Jada Pinkett Smith's "Red Table Talk" on Friday, March 1. The model and former BFF of Kylie Jenner's claims that she never slept with the basketball player and that in her mind, it was safer to prevent Khloé Kardashian from getting hurt than detail exactly what went down. Khloé has since tweeted that the model is "lying" and never tried to contact her. (Scroll down to read Khloé's reaction.)
In the 25-minute sit-down interview, Woods spills her side of the story, revealing that yes, she and Thompson did kiss, but no, they never slept together and weren't all over each other as reports have claimed. 
According to Woods, whose late father was a television sound engineer for the Fresh Prince of Bel-Air and has known the Smith family for years, she went to Thompson's house party after partying at a club with friends. 
"I was minding my business, dancing, drinking," she said. "Tristan was there, he was doing his own thing. That was it."
Woods claims that she felt "safe" and didn't think twice about being at Khloé Kardashian's ex and baby daddy's house.
"I'm like, cool, that's okay. It feels like a safe environment," she said. "I'd rather it be his house than a random stranger."
That said, Woods now understands that was her first mistake.
"I'm not thinking I shouldn't be here," she said. "That's my first step where I went wrong. [I wasn't thinking about] how I would feel if someone close to me is hanging out at my ex's house or the father of my child. I didn't think about that. That's the first part of the problem. … I should have gone home after the party," she said. "I shouldn't even have been there."
"Never once was I giving him a lap dance, making out with him, sitting all over him," she continued. "It's just, we're all together, we're in a group. Never once did we leave a public area, go to a bedroom, go to a bathroom. We're all in plain sight."
So what did happen?
According to Woods, Thompson kissed her as she was leaving in the early morning.
"I finally look outside and I'm like, 'Look, the sun's coming up. I need to take myself home,'" she explained, adding this is "where the story gets tricky."
"I feel like I can't point fingers. I can't say you did this, because I allowed myself to be in that position," she shared. "I allowed myself to be there. I never was belligerently drunk to where I can't remember what happened. I was never blacked out. There was alcohol involved. I was drunk, I was not tipsy, I was drunk, but I was not beyond the point of recollection. I know where I was. … On the way out, he did kiss me," she said, clarifying that there was "no passion, no nothing … he just kissed me."
Woods claims it wasn't a makeout or anything. 
Jordyn Woods Shares The Truth

Jordyn Woods comes to The Red Table for an emotional first interview about the public scandal involving NBA Star Tristan Thompson, the father of Khloe Kardashian's daughter. She addresses the rumors and accusations. What really happened that night? It's an RTT exclusive.

Posted by Red Table Talk on Friday, March 1, 2019
"It was like a kiss on the lips, but no tongue kiss, no making out," she said. "Nothing. But I don't think that he's wrong either, because I allowed myself to be in that position. And when alcohol's involved, people make dumb moves or people get caught up in the moment."
Woods said she left feeling shocked that it had happened and opted to not tell the Kardashian-Jenners about the kiss to avoid causing more hurt and drama for Khloé.
"I had talked to Kylie and Khloé in the morning and I told them I was there," she said. "I had talked to Khloé and she asked me what was going on, if everything was fine. In my head, in trying to forget that part of the story … I was honest about being there but I wasn't honest about the actions that had taken place," she continued. "I just knew how much turmoil that was going on that I was like, let me not just throw more fuel on the fire."
Woods concluded the interview by expressing that she'll do anything to prove she's "no home wrecker" and that she only wants to speak her truth. She also shared that her family has been affected by the public backlash and she fears for their safety. 
Khloé has since taken to Twitter to accuse Woods of lying. 
"Why are you lying @jordynwoods ?? If you're going to try and save yourself by going public, INSTEAD OF CALLING ME PRIVATELY TO APOLOGIZE FIRST, at least be HONEST about your story. BTW, You ARE the reason my family broke up!" Khloé tweeted after the interview. "Tristan is equally to blame but Tristan is the father of my child. Regardless of what he does to me I won't do that to my daughter. He has been addressing this situation PRIVATELY. If Tristan were to lie publicly about what conspired,then yes I would address him publicly as well."
Updates to come.