Lizzo Recreates Epic 'Anchorman' Flute Scene In A Very Lizzo Way
By Hayden Brooks
March 6, 2019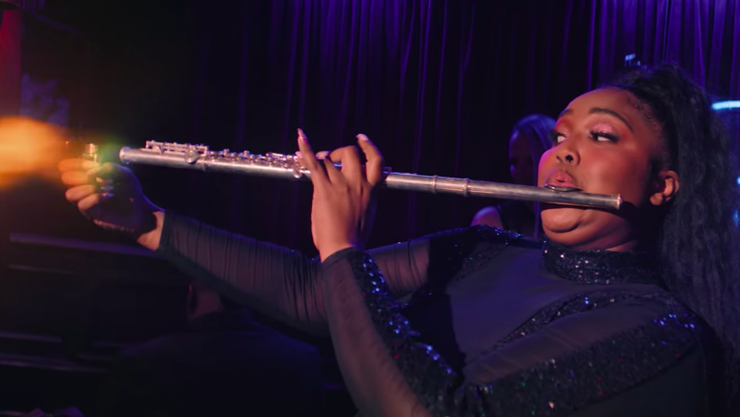 Just as she warned, Lizzo one-upped Ron Burgundy in his challenge to take their flute-playing skills to the streets and recreated the epic flute jazz scene from Anchorman, where Ron nails his performance at Tino's with an impromptu performance.
Similar to the 2004 film, the budding star is seen at a cafe named Lizzos, where she's recruited to hit the stage by guest star Rightor Doyle. She's hesitant at first (even with dinner companion Este Haim encouraging her), but once she raises the flute to her lips, it's game over. "Honesty, guys, I'm not even prepared," she sarcastically says, before beginning the number. The skit also includes the same popping under the bathroom stall gag and fire bit that are features in the film. In early January, Burgundy took to Twitter to accept the star's challenge over flute skills. ".@LIZZO CHALLENGE ACCEPTED! YOU WANT ME? YOU GOT ME," he captioned a video of him showing off his own skills with the instrument. Unsurprisingly, Lizzo was all too ready for his rebuttal. "OH ITS ON LIKE HOT BUTTA ON POPCORN, BURGUNDY," she replied. "LETS TAKE IT TO THE STREETS 😤."
In the most recent episode of "The Ron Burgundy Podcast," Burgundy ranked his list of the top ten greatest women of all time, along with special guest, the one and only RuPaul. Among the names on their list included Diana Ross, Tootsie and, yes, even Xena, the Warrior Princess.
Photo: YouTube/Lizzo Music
Chat About Lizzo Recreates Epic 'Anchorman' Flute Scene In A Very Lizzo Way