R. Kelly's Girlfriends Defend Him Against Sexual Abuse Charges
By Peyton Blakemore
March 6, 2019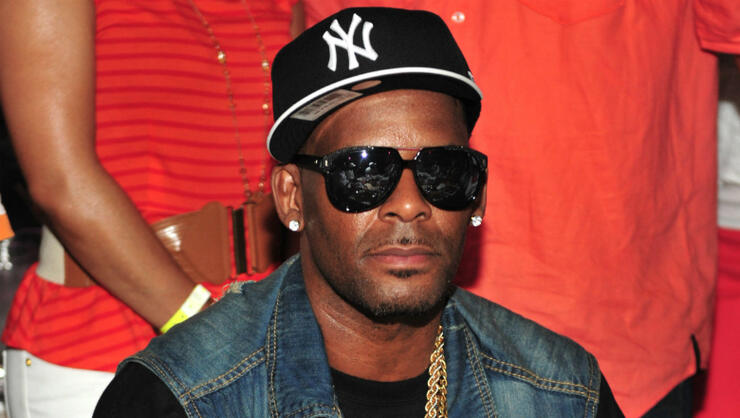 Joycelyn Savage and Azriel Clary have come to R. Kelly's defense.
The young women — whose families allege Kelly has brainwashed them — spoke out in their first joint interview since the airing of Surviving R. Kelly.
Azriel, who is 21-years-old, couldn't hold back tears as she addressed the multiple sexual abuse charges against her 52-year-old boyfriend. "I am crying because you guys don't know the truth and you guys believe in some f**king facade that our parents are saying for money and if you can't see that then you're ignorant and you're stupid!" she yelled at Gayle King (who conducted the interview) while Joycelyn, who is 23-years-old and is also Kelly's girlfriend, rubbed her back. 
The ladies' full interview with Gayle airs Friday (March 8).
As previously reported, Joycelyn and Azriel's families appeared in the gut-wrenching documentary series Surviving R. Kelly, which sent shockwaves throughout audiences with its gripping and harrowing recounts of Kelly's alleged sexual abuse — told by seven alleged survivors — over the last 20-plus years. In the documentary, Joycelyn and Azriel's parents alleged their daughters are victims of the disgraced singer's brainwashing. Azriel's parents additionally claimed that Kelly began having a relationship with their daughter when she was only 17-years-old.
Joycelyn and Azriel's sit down follows Kelly's explosive interview with Gayle, in which he addressed claims he met and started dating the young women, who he called his "girlfriends," as minors.
"I don't look at much younger than me. I just look at legal," he said when asked to address the age difference between himself, Joycelyn and Azriel. "I just look at you're you, I'm me. Now, I don't know if you're married. I don't know. I don't know if you have a relationship. I don't know what you -- you know, I don't know. But one might be older than the other. One might be younger than the other, okay? So I just look at legal, okay? People. There are older men that like younger women...there are younger women that like older men."  
Kelly additionally spoke on claims he holds women hostage in his home for, what many have called, his sex cult. "What kind of love is it that keeps these young women away from their families?" Gayle asked.
"What kind of father, what kind of mother would sell their daughter to a man?" he responded.
"So you're saying the parents handed their daughters, Azriel and Jocelyn, to you?" Gayle asked. "Is that what you're saying?"
He replied, "Absolutely."
Kelly went into further detail about his claim, saying he met Joycelyn when her dad brought her to one of his concerts when she was 19. "I didn't go looking for a Joycelyn Savage. I was doing my show...he brought her and asked a friend of mine to put her on the stage with R. Kelly, make sure she's on the stage."
He also discussed how he met Azriel, saying he too met Clary at one of his 2015 shows when she was 17 years-old was pulled on stage. However, the disgraced singer said didn't start "seeing her," until she was of age. "Absolutely not. Absolutely not," he said when Gayle asked if he'd had sex with Azriel when she was 17. "Although her parents wanted me to."
While CBS reported that Azriel's parents claim to have text messages that prove Kelly had sex with their daughter before she turned 18, Kelly brushed it off as a lie. "Claim, claim," he said.
Kelly is currently out on bond after pleading not guilty to 10 counts of aggravated criminal sexual abuse last month.
Photo: Getty Images
Chat About R. Kelly's Girlfriends Defend Him Against Sexual Abuse Charges