The Jonas Brothers Admit 'Necessary Healing' Led To Their Reunion
By James Dinh
March 6, 2019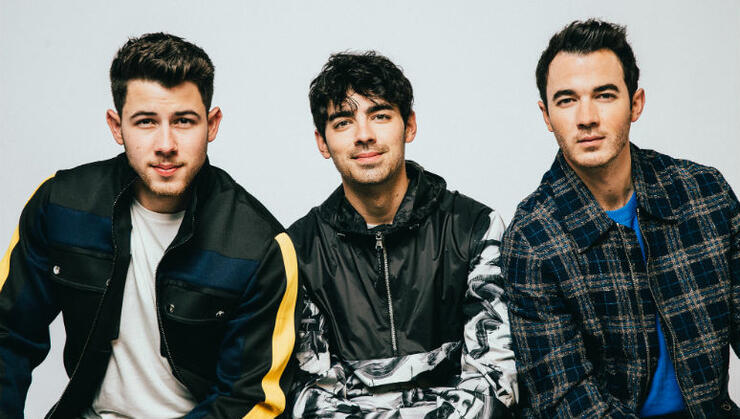 Days before the kickoff of their 2013 tour, the Jonas Brothers called it quits, citing a "deep rift within the band" over differences in the collective's creative direction. And just like that, the pop trio, who jumpstarted their career with Disney, endured the purity rings scandal and sold millions of records as part of a teenage phenomenon, was over. Now, six years since the breakup, Nick, Joe and Kevin have reunited and found healing through therapy, all while reflecting on their long history as a band and, more importantly, as family.
For the initial mission of their upcoming Amazon documentary, which is currently awaiting a release date, the former child stars wanted to take a trip down memory lane to discuss their early years as a teen band and how they've gone their separate ways. It was during that production of the film that the trio contemplating giving things another shot. Years have passed. Lessons have been learned. That's when pop guru Ryan Tedder came in to assist with their comeback hit, "Sucker," a catchy pop/rock anthem that skews more DNCE than Nick's solo discography, but manages to keep in line with the JoBro blueprint. On the day of the single release, the newly-reformed group spoke to iHeartRadio about their decision to reunite, the new track and just why they felt the need to call it quits. Scroll on below to read our Q&A with the group!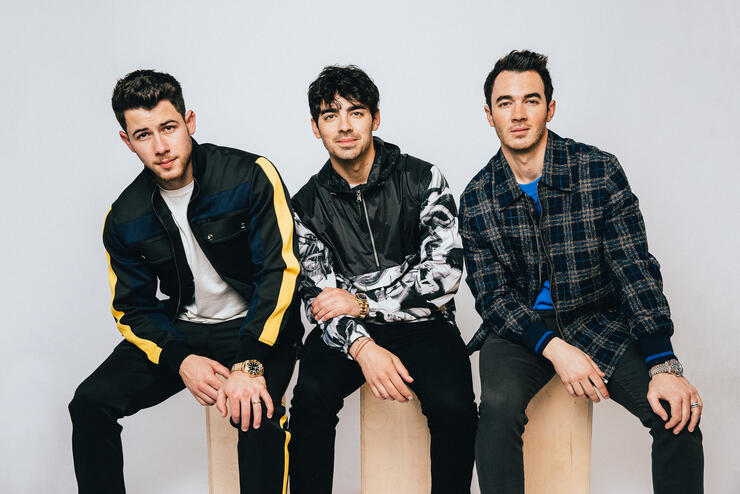 How did the initial talks of the reunion begin?
Nick: The initial talks began about a year and a half ago. Initially, it was just to shoot a documentary, which we've done, but in that process I think we did a lot of necessary healing and working through some things as family and brothers first. That opened that door for us to even think about working together again. There's a magic that we feel we have when we're together that we all wanted to feel again, and it's been pretty incredible this reaction already. [We] just have to say thank you to the fans who have been so supportive over the years in our individual stuff, but then when we come back together ... just that love that we're feeling is just unbelievable.
Was it the business that drove a wedge between you all?
Joe: There's a lot of things. For us, we started so young that growing up in this industry, and being family as well, there's a lot of stress that you might feel. There's a lot of complications in the band. [It's] kind of a laundry list of things that was going wrong, and maybe we were kind of blind to it at times. So calling it quits before I think it really exploded, and it was worse, so we made sure in its own timing, it was the right timing.
Let's move onto "Sucker." What's inspiring the JoBros in 2019?
Nick: Ryan Tedder was really important in this process. He came on to executive produce it, and he actually wrote this song. When he played it for us, we were thrilled because it felt like the perfect mesh between what Joe was doing with DNCE, what I was doing with my solo stuff, and it kind of had that traditional rock sense that we love for the brothers but it was also progressive. It sounded new and refreshed to us. As far as influences, I think there's the stuff we've been inspired by forever ... people like Stevie Wonder, and the Bee Gees, Fleetwood Mac, Sting, and then newer stuff like Khalid and Post Malone. [They're] all big influences for us, and we've got three different voices and stories to tell. We come back together and we feel like we've been able to find what sounds we like and what that feels like in 2019.
The video dropped simultaneously and it features all of your leading ladies. How was that bringing them into your music world?
Joe: It was incredible. Most comfortable shoot we've ever had. Most fun, and having our significant others be a part of it was like just a party all day, or the two days that we shot it. It was early mornings [and] late nights but they are definitely the stars of this video.
As you mentioned, the fans are very excited and clamoring for all information on Twitter. They have mentioned two single titles: "Roller Coaster" and "Every Single Time." Is there any truth to those names?
Nick: I don't know how they know that, but those are songs. That's part of the fun in this whole thing. We're learning in real time who the fans are today and what their stories are. I think that we'll have a better sense of what should come next as far as the next single goes after we let "Sucker" live for a little bit and do its thing. But we're so excited. We feel really proud of what we've made and we want to share it all with people as soon as possible, but we also want to stick to our plan and see what happens. This first reaction's just been incredible!
You guys mentioned a documentary. What kind of stories are you telling in that project?
Kevin: The doc really covers everything, how we started, from not just a band, but as people growing up, to where we ended, and where we are going today, everything in between. [It] just touches on all of it, and it was powerful for us to go through. We haven't even seen fully seen all of it yet, so it's gonna be exciting to see.
Lastly, if you guys were to have your dream band reunite, who would it be?
Nick: Oasis
Joe: Oasis [is] probably on the top of the list, I would say.
Nick: I think there's a very small chance that they'd get back together, like the smallest.
Photo: Rachel Kaplan for iHeartRadio
Chat About The Jonas Brothers Admit 'Necessary Healing' Led To Their Reunion