Jon Anderson Reunites With Former Yes Band Mates On New Album
By Andrew Magnotta @AndrewMagnotta
March 8, 2019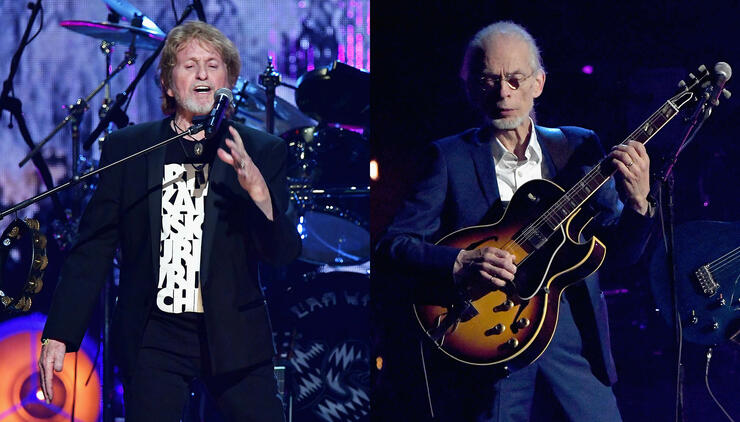 Any hard feelings about front man Jon Anderson's split from Yes are way behind him.
While you could dedicate hours of study into the tumult and numerous fissures in the Rock and Roll Hall of Fame band's history, all you need to know now is that Anderson and the Steve Howe-led version of Yes are happy enough on their own paths.
For Anderson, convergence between himself and Howe is welcome at this point — like a reunion with any old friend — even if they haven't yet talked about reuniting their fragmented band. After seeing his longtime band mate at Yes's Rock and Roll Hall of Fame induction in 2017, Anderson was convinced that the two were bound to work together again somehow.
He was right. Anderson is now preparing to release his 15th solo album, 1,000 Hands, on March 31. The album includes contributions from dozens of musicians, including Howe.
"I was gonna ask if he would like to play on the last song, which is 'Now And Again,'" Anderson tells Ken Dashow's Beatles Revolution podcast. "He played this beautiful guitar work on it. We met up at the Hall of Fame and everything. I kept looking at him, saying 'We're gonna sing together. We're going to work together again.' He said, 'Yeah, yeah, yeah.' Life carries on, you know."
Anderson followed up, and Howe lent his talents to the song. Anderson explains that while there is distance between the two, there's an enduring mutual appreciation that's been in place since they first were band mates in the '70s.
The first sessions for 1,000 Hands took place nearly 30 years ago. The album also includes contributions from Anderson's Yes co-founder the late-bassist Chris Squire and Yes drummer Alan White, among many others.
Going back to the record after so many years felt natural for Anderson. He says everything comes back in time, and he never forces songs, feeling that all good ideas will come back to him.
"There's an interesting thought: that you're surrounded by music," Anderson says. "All these little themes keep popping in your head, and you get it a lot. Some of them you write down, some of them — you're walking down the street and you hear this melody or whatever, this rhythm. You think, 'What is that? Oh, I should put that down when I get home.' And you forget.
"But then a month later, 'Oh, there it is again!' Whatever it is. You never lose all this energy that surrounds you. So I've learned to over the years, never worry about getting it down; it'll come back to you."
You can listen to the full podcast via the player above or here on iHeartRadio.
Anderson's tour begins this month. For tour dates and more information, go here.
Photo: Getty Images