TOOL Shares Encouraging Photo From The Studio
By Andrew Magnotta @AndrewMagnotta
March 8, 2019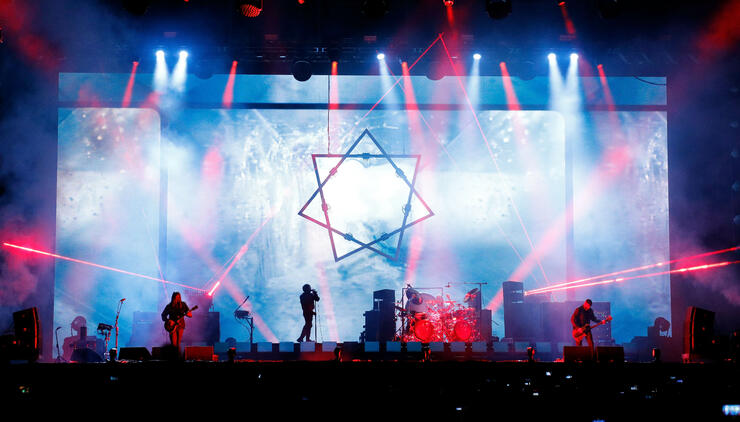 A captionless photo recently shared by Tool suggests the band is finally mastering its long-awaited new album.
The photo in question depicts band members Adam Jones, Danny Carey, Justin Chancellor and producer Joe Barresi surrounding Grammy-winning mastering engineer Bob Ludwig behind a console in what looks like the cavernous control room at Gateway Mastering Studios in Portland, Maine.
Ludwig also handled mastering on Tool's last album, 10,000 Days.
Band members Jones, Carey and singer Maynard James Keenan have delivered a series of hopeful updates surrounding the progress of the new album.
The most recent update by Keenan (which he gave not long after contradicting one by Carey) projected the new album would arrive between late-spring or mid-summer of this year.
"Update- Midway through mixing," he wrote at the time via Twitter. "Most likely be a few recalls. Then some arguing. Then mastering, artwork, video, special packaging, etc. Best ballpark guess — release date somewhere between mid-May and mid-July. More focused updates to follow as we progress."
The trio of Jones, Carey and Chancellor had reportedly been composing the music for the new album on and off for about nine years. 10,000 Days was released in April of 2006.
Keenan expressed frustration with the tedious process along the way, explaining that as his band mates revised the music, he had to throw out several drafts of lyrics and vocal ideas.
While Tool has never worked quickly, Keenan suggested the band felt additional pressure when it came to making the new album.
Photo: Getty Images
Chat About TOOL Shares Encouraging Photo From The Studio