New Tool Album Will NOT Be Released in April, Says Maynard James Keenan
By Andrew Magnotta @AndrewMagnotta
February 5, 2019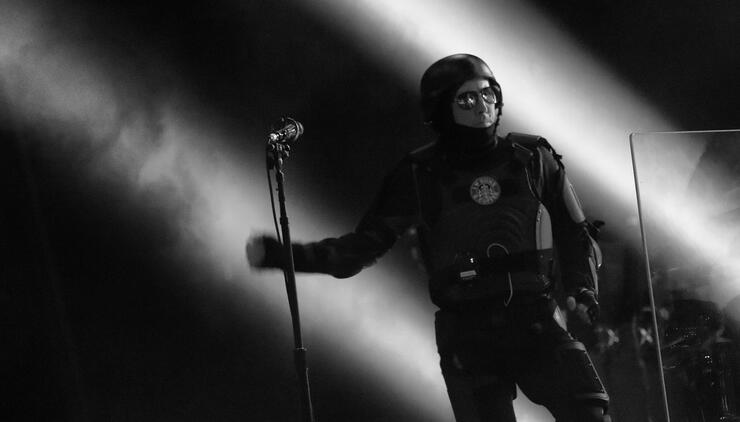 Tool vocalist Maynard James Keenan is, yet again, contradicting his band mates' statements about the status of their upcoming album.
Drummer Danny Carey sent waves of optimism throughout the Tool-i-verse weeks ago when he speculated that the long-awaited new album would be released by "mid-April."
"That's the plan anyway," Carey said in an interview from the winter NAMM show in Los Angeles.
When a fan asked Keenan via Twitter whether the "rumors" were true, MJK replied with all the brevity and terseness you would expect from one of the most guarded figures in music.
"No."
Well, that one hurts a lot. Especially since we doubt Keenan is saying that because the record is coming out any earlier than April.
We know this about Keenan: he loves shutting down eager Tool fans via Twitter.
There are many examples of the famously sardonic singer quashing optimism and offering updates with precious details omitted. He once jokingly compared the lengthy period between Tool's last album, 10,000 Days, and its upcoming one to that of Guns N' Roses' Chinese Democracy.
But that's almost not a joke anymore.
Chinese Democracy was 15 years removed from GNR's previous studio album (the band broke up and had been remade in the interim). The new Tool record — assuming it comes out this year — will be 13 years removed from 10,000 Days. (I just whipped out my calculator to double-check; that gap is only 4,745 days, so we don't have to go down that rabbit hole.)
While Keenan is often the bearer of bad news, one thing we can credit him with is that he's yet to be wrong with one of his denials. The new Tool album might not be released by April, but maybe the band will publicize a release date by that time and put an end to the rumors.
Keenan assured fans in January that his vocals have been complete for months and that the "long" process of mixing was about to begin. So it's hard to believe there are many more barriers to the record being released other than the physical production of its CD and vinyl versions and ironing out the band's press and tour obligations.
He also promised last June at the Revolver Golden Gods Award that the new Tool album would be out in 2019.
Hopefully he's right about that.
Photo: Getty Images