Here's How Kylie Jenner & Jordyn Woods Are Working On Their Friendship
By Peyton Blakemore
March 9, 2019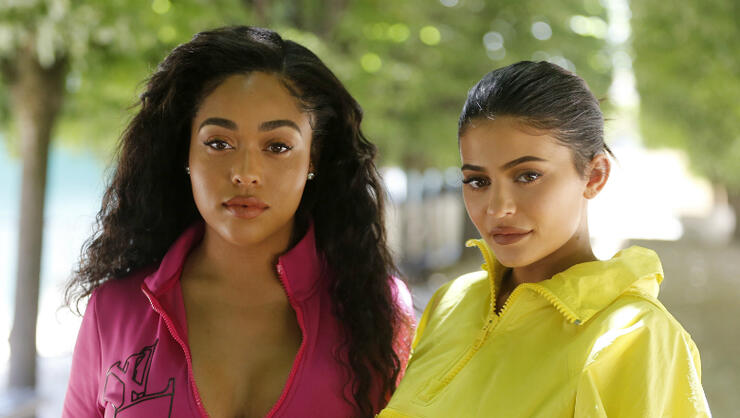 There may be hope for Kylie Jenner and Jordyn Woods' friendship after all.
According to People, the 21-year-old billionaire hasn't shut the door on a possible reconciliation between her and her longtime bestie. "Their friendship is not 100% over," a source told the entertainment news site, adding, Kylie and Jordyn haven't spent any time together since the scandal broke, but they've been texting. "Although she doesn't live at Kylie's, Jordyn still has things there. She and Kylie aren't socializing, but are in contact. They are texting each other."
"It's still a tricky situation for Kylie," the insider explained. "And no one is actually putting too much pressure on her. Her family is aware that she is in contact with Jordyn. They are letting Kylie figure things out for herself."
A second source told People the longtime friends, who were attached at the hip, are "working on rebuilding their friendship."
As fans know, Kylie and Jordyn's friendship has been on the rocks after news broke that Jordyn and Kylie's sister Khloe Kardashian's boyfriend, Tristan Thompson, kissed at a house party late last month. Since the betrayal, Jordyn has moved out of Kylie's guesthouse, she has reportedly been cut off from all of her current and future business deals with the Kar-Jenners, and she's been unfollowed on social media by the entire Kardashian-Jenner family, excluding Kylie.
The 21-year-old model gave her side of the story on the Red Table Talk earlier this month, explaining that Tristan kissed her after a house party thrown at his house. "On the way out, he did kiss me," she told Jada Pinkett Smith. "No passion, no nothing, on the way out. He just kissed me. Like a kiss on the lips, no tongue kiss, no making out, nothing."
"I'm no home wrecker," she continued. "I would never try to hurt someone's home, especially someone that I love. And someone that I've seen — has a beautiful daughter. I never was trying to steal someone's man."
While Khloe initially bashed Jordyn on social media, claiming she lie and "broke up" her family, following Jordyn's interview, she later put the blame on her now ex-boyfriend Tristan. "This has been an awful week & I know everyone is sick of hearing about it all (as am I). I'm a rollercoaster of emotions & have said things I shouldn't have," she wrote on Twitter. "Honestly, Tristan cheating on me & humiliating me, wasn't such a shock as the first time."
"What's been harder & more painful is being hurt by someone so close to me. Someone whom I love & treat like a little sister," she added. "But Jordyn is not to be blamed for the breakup of my family. This was Tristan's fault."
Photo: Getty Images
Chat About Here's How Kylie Jenner & Jordyn Woods Are Working On Their Friendship