Jussie Smollett Indicted On 16 Felony Counts, Maintains His Innocence
By Peyton Blakemore
March 9, 2019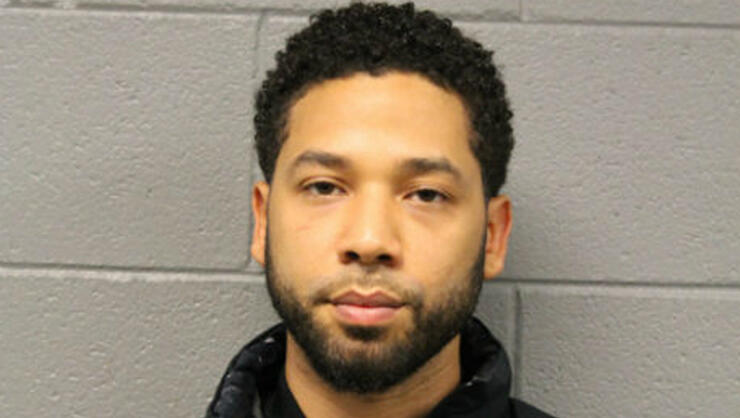 A Cook County grand jury has indicted Jussie Smollett on 16 felony counts of disorderly conduct for filing a false police report.
Despite the additional chargers — the Empire actor was initially charged with one count of disorderly conduct on February 20 — Jussie, who is out on bail, maintains his innocence.
In a statement released to People, the 36-year-old actor's attorney, Mark Geragos, said, "The fact of an indictment is not unexpected. We knew that there is no way they would expose their evidence to a public airing and subject their witnesses to cross-examination."
"What is unexpected however, is the prosecutorial overkill in charging 16 separate counts against Jussie," the statement continued. "This redundant and vindictive indictment is nothing more than a desperate attempt to make headlines in order to distract from the internal investigation launched to investigate the outrageous leaking of false information by the Chicago Police Department and the shameless and illegal invasion of Jussie's privacy in tampering with his medical records. Jussie adamantly maintains his innocence even if law enforcement has robbed him of that presumption."
As previously reported, Jussie claimed he was assaulted in Chicago on January 29 by two men wearing ski masks. He said he had just arrived in the city from New York and made a late-night run to a Subway when someone yelled: "Aren't you that f**got 'Empire' n**ga?" He claimed the two attackers, later identified as brothers Abel and Ola Osundairo, then proceeded to jump him, put a rope around his neck and poured bleach on him. Jussie additionally claimed his attackers shouted, "this is MAGA country!"
Last month, the Superintendent of Chicago PD, Eddie Johnson, accused the Empire actor of staging his January attack because he was "dissatisfied with his salary." During a press conference, Eddie claimed Jussie took "drastic and illegal tactics to gain attention," adding the actor "concocted a story" about an alleged hate crime that "took advantage of the pain and anger of racism to promote his career." The Chicago PD is accusing the actor of paying his attackers — Ola and Abel — $3,500 by check before the attack and sending them the rest of their payment after the job was done.
If Jussie is found guilty, he faces a potential sentence of up to three years in prison.
The 36-year-old actor is due back in court March 14, when he is expected to enter his plea.
Photo: Getty Images
Chat About Jussie Smollett Indicted On 16 Felony Counts, Maintains His Innocence