Backstreet Boys & More Join iHeartRadio Music Awards Performance Lineup
By Taylor Fields
March 12, 2019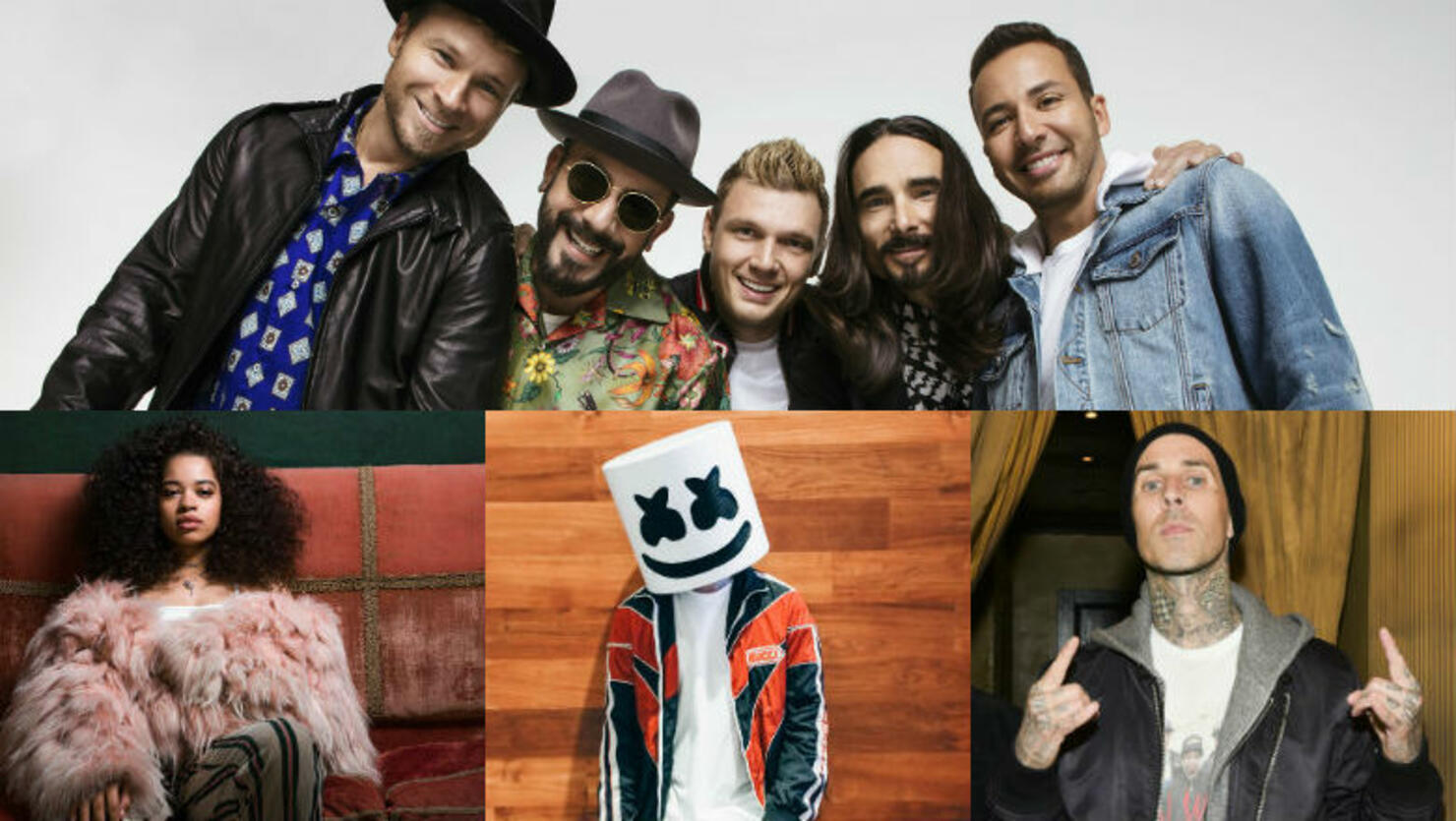 The 2019 iHeartRadio Music Awards coming up on Thursday, March 14th, and the show just got even better. Backstreet Boys, Ella Mai, lovelytheband, and Marshmello with special guest Lauv have been added to the previously-announced, star-studded lineup of performers, which include Alicia Keys, Ariana Grande, Halsey, Garth Brooks, John Legend, and Kacey Musgraves. Yungblud and Travis Barker will also be taking the stage at the Microsoft Theater to join Halsey as special guest performers.
If that's not enough star power for you, Award presenters for the evening's festivities include Bebe Rexha, Elle Fanning, Jamie and Corinne Foxx, Katy Perry, Maren Morris, Nicole Scherzinger, Pharrell Williams, Robin Thicke, Shay Mitchell, Steven Tyler, Zedd and more ... and it's all hosted by T-Pain.
The 2019 iHeartRadio Music Awards takes place on Thursday, March 14th and will air live from the Microsoft Theater on FOX at 8pm ET/PT, as well on the FoxNow streaming app. The show will also be broadcast live on iHeartMedia radio stations nationwide and iHeartRadio.
Fans can also tune in to a stream of the red carpet right before the show begins. The iHeartRadio Music Awards red carpet live stream will be available on iHeartRadio's Facebook page and hosted by TikTok's Nick Tangorra and iHeartRadio's Elvis Duran, Danielle Monaro, Medha Gandhi and Maxwell, as well as iHeartRadio's social correspondent Ellie Lee. 
Nominees for this year's awards were revealed on January 9th and artists who received multiple nominations include stars like Cardi B, Drake, Ariana Grande, Shawn Mendes, Post Malone, Maroon 5 and Imagine Dragons.
Several honors will be presented throughout the night. Garth Brooks will be recognized with the first-ever iHeartRadio Artist of the Decade Award, while Alicia Keys will receive this year's iHeartRadio Innovator Award. And L'Oréal Paris and iHeartRadio will also present Halsey with the 2019 Fangirls Award, which recognizes a female artist who has pushed boundaries with her music and message while inspiring her fans around the globe. 
Additionally, Taylor Swift will receive the honor for Tour of the Year Award for her "reputation" Stadium Tour. Last year, T-Swift traveled across the world in support of her sixth studio album reputation, and the tour broke the singer's own record for highest-grossing tour by a woman with over 2 million tickets sold in the U.S. alone and grossing $266 million (it's the highest selling U.S. tour in history by any artist). And if you went to any of Taylor's "reputation" Tour dates or saw the Netflix special, then you already know all about her impressive stage setup and special effects.
For updates throughout the night, visit iHeartRadio.com/Awards and join the conversation on social media by using the hashtag #iHeartAwards. Make sure you tune in on March 14th! You won't want to miss it.