Jussie Smollett Confidently Struts Into Court For Hearing
By Peyton Blakemore
March 12, 2019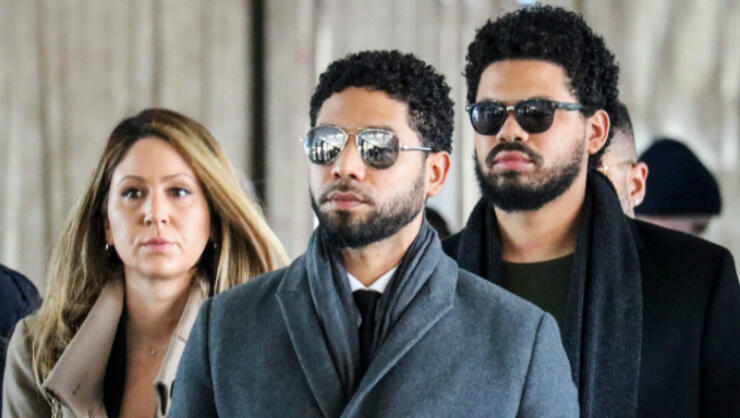 Jussie Smollett kept his head high as he strutted confidently into a Cook County Courthouse on Tuesday (March 12).
In video captured by CBS Chicago producer Charlie De Mar, the Empire star along with his legal team and a few of his family members entered the Chicago courthouse for a hearing Jussie wasn't even required to attend.
According to TMZ, "the hearing is really for his attorney, Mark Geragos, to file the paperwork so he can rep Jussie in Illinois and also to determine if cameras will be allowed in court for the case." Sources told the gossip site, Jussie, who's been keeping a low profile, chose to attend because he intends to be an active participant in his defense and he's done hiding.
As previously reported, the 36-year-old actor is set to appear in court on Thursday (March 14), where he is expected to enter his plea in connection to his on-going disorderly conduct case. Earlier this month, a grand jury indicted Jussie on 16 felony counts of disorderly conduct for filing a false police report for his January attack.
Jussie claimed he was assaulted in Chicago on January 29 by two men wearing ski masks. He said he had just arrived in the city from New York and made a late-night run to a Subway when someone yelled: "Aren't you that f**got 'Empire' n**ga?" He claimed the two attackers, later identified as brothers Abel and Ola Osundairo, then proceeded to jump him, put a rope around his neck and poured bleach on him. Jussie additionally claimed his attackers shouted, "this is MAGA country!"
In the weeks after Jussie's attack, his story was torn a part by both the media and authorities. Last month, the Superintendent of Chicago PD, Eddie Johnson, accused the Empire actor of staging his January attack because he was "dissatisfied with his salary." During a press conference last month, Eddie claimed Jussie took "drastic and illegal tactics to gain attention," adding the actor "concocted a story" about an alleged hate crime that "took advantage of the pain and anger of racism to promote his career." The Chicago PD accused the actor of paying his attackers — Ola and Abel — $3,500 by check before the attack and sending them the rest of their payment after the job was done. "Smollet paid $3,500 to stage this attack and drag Chicago's reputation through the mud in the process," Eddie said during the press conference.
However, TMZ reported earlier this week that the $3,500 check authorities said Jussie paid the brothers to attack him was actually payment for a training program, which the brothers confirmed. The update contradicts Chicago PD's initial claim that the Empire star paid them off with said check. Abel and Ola's attorney, Gloria Schmidt, also told TMZ the $3,500 check was compensation for a training and nutrition program designed to get Jussie in shape for a music video shoot.
If Jussie is found guilty, he faces a potential sentence of up to three years in prison.
Photo: Getty Images
Chat About Jussie Smollett Confidently Struts Into Court For Hearing