Will Meghan Markle's Baby Have Dual U.S.-U.K. Citizenship?
By Emily Lee
March 12, 2019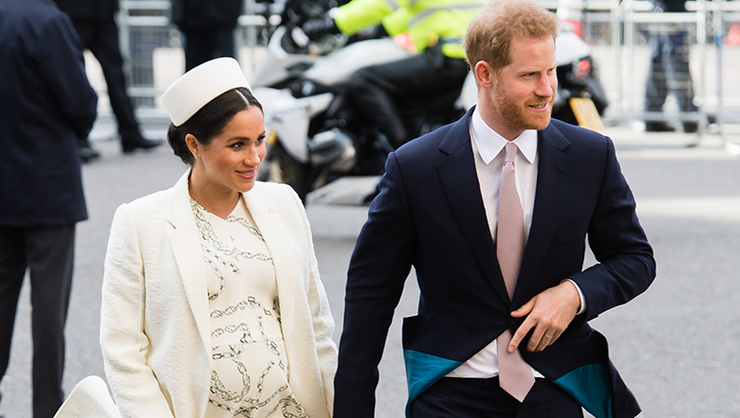 Meghan Markle's due date is fast fast approaching. While some royal watchers are busy placing bets on the gender and possible names for the next royal baby, others have started to wonder whether Meghan and Prince Harry's first child together will have dual U.S.-U.K. citizenship.
Despite being married the man sixth in line for the British throne for almost a year now, Meghan is not yet a British citizen herself. Even though she's a Duchess now, Meghan isn't getting any special treatment when it comes to the immigration process. Jason Knauf, Prince Harry's communications secretary, confirmed to the BBC that Meghan does "intent to become a UK citizen and will go through the process of that, which some of you know takes a number of years."
When Meghan and Harry welcome their first child together in late April/early May, Meghan will still only be an American citizen. Even though Meghan is American, it doesn't necessarily mean her child will automatically be an American citizen, as well. According to the New York Times, the U.S. government doesn't "affirmatively embrace" dual citizenship.
Doris Meissner, commissioner of the former Immigration and Naturalization Service under President Bill Clinton, revealed to the Times that if Meghan and Harry want their child to hold an American citizenship there's a lengthy process they must go through. The U.S. also requires naturalized citizens to forswear "absolutely and entirely all allegiance and fidelity to any foreign prince, potentate, state, or sovereignty of whom or which the applicant was before a subject or citizen," according to the law. Though those laws have become more lax over the years in order to accommodate American citizens who choose to work and live abroad, it seems unlikely that Queen Elizabeth would be cool with her great-grandchild forswearing all allegiance to England.
Ultimately, only time will tell whether Meghan and Harry choose to obtain dual citizenship for their child.
Photo: Getty