Tom DeLonge Explains The Real Reason Why He Left Blink-182
By Katrina Nattress
March 15, 2019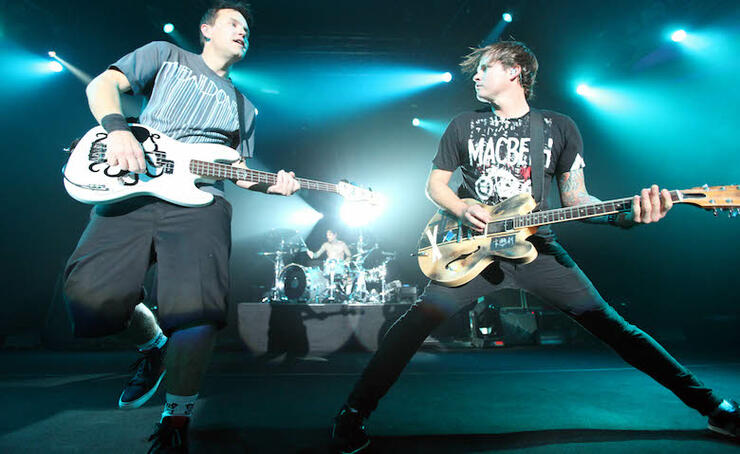 Tom DeLonge has been known as the guitarist, singer, jokester, and founding member of blink-182 for over two decades. In 2015, he left the band. At the time, many thought it wasn't his choice and the breakup wasn't amicable, but now he's setting the record straight, explaining what prompted him to drop music and pop-punk celebrity.
In a video explaining his UFO research firm, To The Stars Academy of Arts & Science, DeLonge brings up his band. And why he decided to leave it. "The last show I played was in front of 100,000 people," he says in the clip. "They wonder why I'm not doing that now, and I'll say because this is the one moment in my life where I'll be able to look back as an old man and say, 'Oh, my God, I was a part of the team that changed the world.'"
He goes on to detail what his company is structured to do, and why it was so important for him to be a part of it. He talks about the firm's different facets—entertainment, aerospace, science—and how they all play a part in investigating and educating the world in UFO and other studies that have generally had stigmas attached to them.
"I wanted to make a quick message to let you know that, from the heart, I left my band and all that I was known for because this is the moment and time where I can change the world for my kids and everybody else's," the 43-year-old says to conclude the video. "I would love for you to consider doing that with us."
Watch the video and learn more about To The Stars Academy of Arts & Science below.
DeLonge also recently announced he's executive producing a mini-series on the History Channel called Unidentified: Inside America's UFO Investigation.
"With this show, the real conversation can finally begin," he said in a statement. "I'm thankful to History for giving the To The Stars Academy team of world-class scientists, engineers and intelligence experts the opportunity to tell the story in a comprehensive and compelling way. I think everyone that watches the show will walk away with questions answered and a feeling of, 'Wow, I get it now.'"
Photo: Getty Images