Red Hot Chili Peppers Cover Radiohead's 'Pyramid Song' At Egyptian Pyramids
By Katrina Nattress
March 17, 2019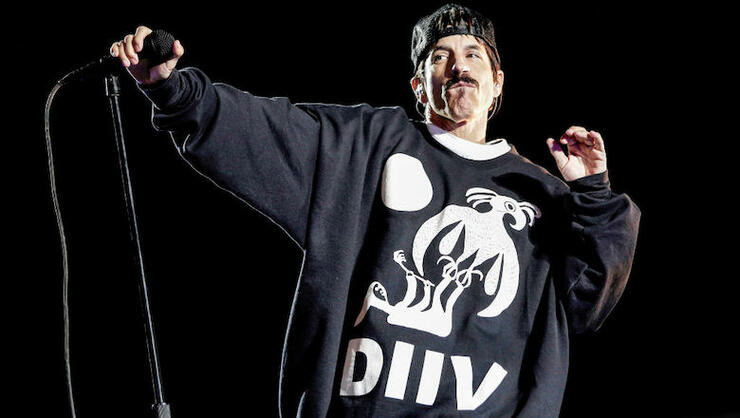 On Friday (March 15), Red Hot Chili Peppers became one of only a handful of bands to say they've played a show at the great pyramids of Giza. The SoCal rockers put on an energetic, eclectic show for those lucky enough to make the trek to Egypt; however, any fan was able to stream the set live from the comfort of their own home, too.
The band's 20-song set consisted of hits like "Give It Away," "Californication" and "Under The Bridge," as well as a smattering of covers. Of course, they played their rendition of Stevie Wonder's "Higher Ground," which is featured on their 1989 album Mother's Milk, but they also included covers of The Stooges' "I Wanna Be Your Dog" and Radiohead's "Pyramid Song"—an appropriate choice given the concert's locale. Guitarist Josh Klinghoffer played the Radiohead cover solo on piano as the first song of the band's encore.
Watch the "Pyramid Song" performance, as well as the full live stream, below. While you're down there, check out the set list, too.
Red Hot Chili Peppers Live at the Pyramids set list
'Can't Stop'
'Fortune Faded'
'The Zephyr Song'
'Dani California'
'Dark Necessities'
'Hey'
'I Wanna Be Your Dog' (The Stooges cover)
'Right On Time'
'Snow ((Hey Oh))'
'Pea'
'Californication'
'Go Robot'
'Don't Forget Me'
'Higher Ground' (Stevie Wonder cover)
'Under The Bridge'
'By The Way'
Encore:
'Pyramid Song' (Radiohead cover)
'Goodbye Angels'
'Give It Away'
Photo: Getty Images
Chat About Red Hot Chili Peppers Cover Radiohead's 'Pyramid Song' At Egyptian Pyramids