Slash Didn't Care That Lemmy Hit On His Girlfriend The First Time They Met
By Andrew Magnotta @AndrewMagnotta
March 18, 2019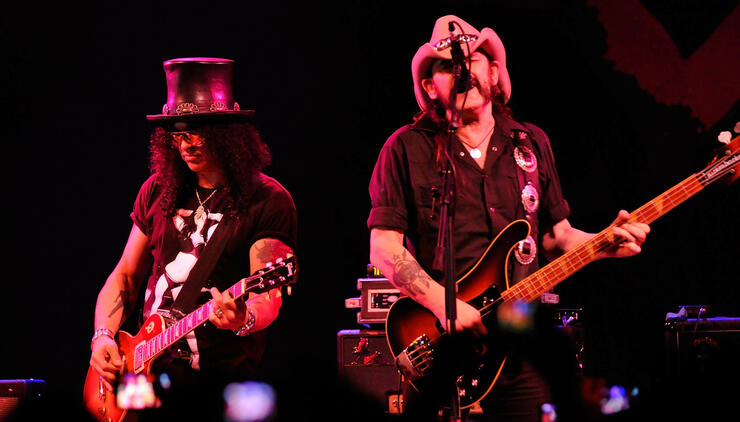 Slash's first run-in with iconic Motörhead front man Lemmy Kilmister was about as Lemmy as it gets.
It was at Lemmy's favorite bar, The Rainbow, in Los Angeles before Guns N' Roses got off the ground, Slash recalled.
"I was there with a girlfriend," the guitarist told Kerrang! in a new interview. "We're sitting in this booth, and I'm not anybody, right? So I get up to take a piss and when I come back, Lemmy's there. He's on the outside seat, she's on the inside, and I get on her other side. I'm so enamored that Lemmy is there that I'm completely oblivious to the fact that he's chatting up my girlfriend."
Slash said his girlfriend was bewildered. She had no idea who the sweet-talking pirate was or why her beau was making conversation as Lemmy made a pass at her.
"And she's in this weird state, thinking, 'Who the f--k is this guy? And why aren't you doing something about it?' Lemmy finally realizes that he's become the third wheel in this situation and it's not going anywhere for him, so he gets up."
When the young lady asked Slash why he didn't brush off the guy, the future Rock and Roll Hall of Fame replied, "'Do you know who that was?'"
Slash eventually got to know Lemmy, after meeting him properly in 1987 on GNR's first trip to London.
Lemmy was part of a throng of musicians to contribute to Slash's 2010 solo debut.
Photo: Getty Images
Chat About Slash Didn't Care That Lemmy Hit On His Girlfriend The First Time They Met