Princes William & Harry Are Feuding, Not Meghan Markle & Kate Middleton
By Emily Lee
March 19, 2019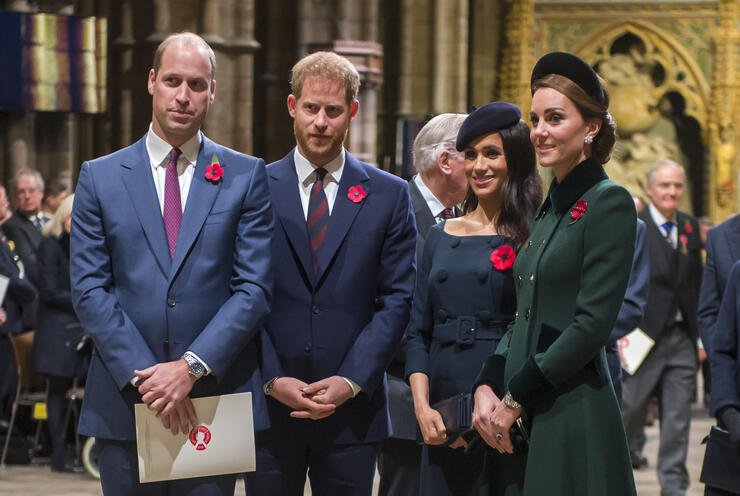 Rumors swirled for months that Meghan Markle and Kate Middleton were feuding behind the scenes at Kensington Palace. The speculation became so intense that the Royal Family issued an uncharacteristic statement denying the claims. Now it's being reported that there really was a feud all along. The bad blood wasn't between the Duchesses, though. It was between their husbands.
Royal filmmaker Nick Bullen, who's worked closely with Prince Charles, spoke with Fox News about the rift between Prince William and Prince Harry. "It's actually that William and Harry have had a rift," he said. "All brothers fall out. All families fall out. Their fallout at the moment is becoming public."
According to Bullen, the rift between the Wales brothers has gotten so bad that Prince Charles and Queen Elizabeth "are working incredibly hard to try and make sure everybody reunites." As for why it was first suggested Meghan and Kate were feuding? Bullen suggests those rumors took off because it's "a much sexier story to have two duchesses at war. 'Let's have these two super-glamorous women—one British, one American. One an actress, one sort of an English rose. Let's put them against each other.'"
Dan Wooton, a royal reporter for The Sun, also claims that William and Harry are at odds. "Many want to believe the bond between the two lads who grew up in the brutal spotlight of their mother's death is unbreakable, which is the case when taking the big picture into account," he said. "But a gulf has developed between them since Meghan empowered Harry to be the new-age celebrity royal he's tried to become for years."
"As a future king, William wants to take a more serious approach, anchored in realism and keeping away from gimmicks," Wooton continued.
Perhaps the arrival of Meghan and Harry's first child will help heal any rifts between the royal brothers.
Photo: Getty
Chat About Princes William & Harry Are Feuding, Not Meghan Markle & Kate Middleton