Why Kylie Jenner 'Finds It Hard To Trust' Travis Scott Amid Cheating Rumors
By Paris Close
March 20, 2019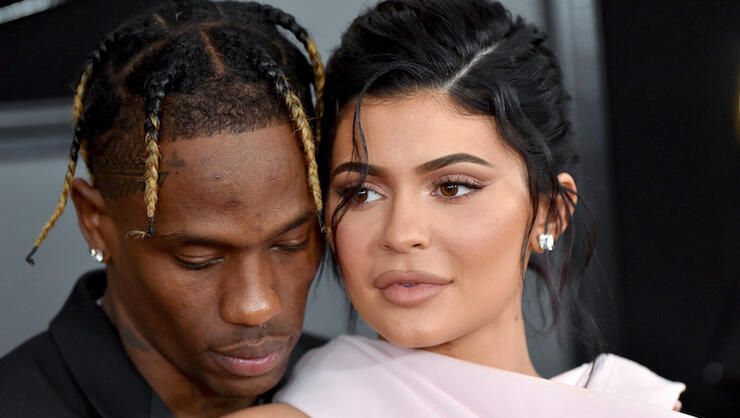 Kylie Jenner is apparently having a hard time trusting Travis Scott while he's away on tour.
As the rapper proceeds with his "Astroworld Tour," an insider told PEOPLE that Scott's jaunt obligations have hampered his relationship with the Kylie Cosmetics businesswoman, who evidently feels most unsure about her boyfriend's fidelity to her in his absence.
"Travis' tour has been hard for Kylie. They spend very little time together," the source told PEOPLE. "When he's around, things are great with them. But when he tours, Kylie finds it hard to trust him."
"Travis keeps telling Kylie that she can trust him," the insider continued. "He has been doing everything he can right now to regain her trust. He will soon be off for a few weeks and keeps saying he can't wait to spend time with Kylie and Stormi."
Earlier this month, it was reported that the Keeping Up with the Kardashians star discovered "evidence" of Scott's supposed infidelity at their Calabasas home in late-February. The alleged fallout caused the musician to postpone his February 28 show in Buffalo, New York, and remain in Los Angeles to sort things out with Jenner instead.
Scott subsequently deactivated his Instagram account days later, although his reps have refuted the cheating rumors on his behalf.
As of late, the couple is still experiencing a rough patch. On Monday (March 18), sources told TMZ the pair are hardly in contact, adding that their relationship "isn't even close to what it used to be" and mentions that Jenner's developed "serious trust issues" because of it. While Scott's touring has made it difficult for them to have a "serious sit-down," the insider said she "doesn't want Travis to cancel any shows or skip out on commitments to work things out."
Photo: Getty Images
Chat About Why Kylie Jenner 'Finds It Hard To Trust' Travis Scott Amid Cheating Rumors