X Ambassadors Show Resilience In 'Boom' Video: Watch
By Katrina Nattress
March 20, 2019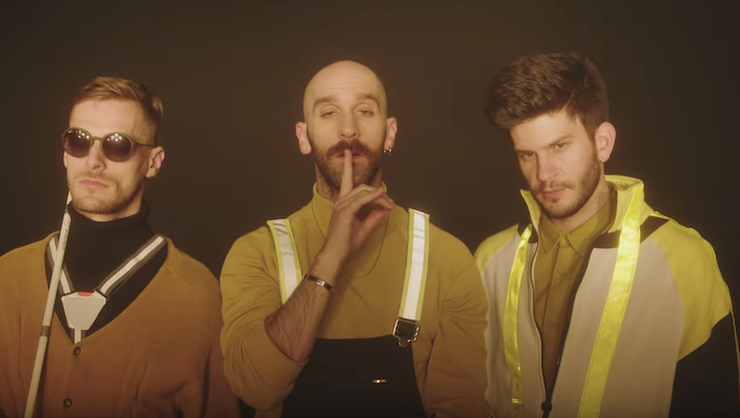 X Ambassadors' new single "Boom" is all about showing resilience in the face of toxic relationships, and the song's video showcases that sentiment visually. The clip follows the trio during a live performance of the song while playing around with split screens and other visual aesthetics. At one point, singer Sam Harris gets clobbered by a falling light fixture and collapses to the ground, but he doesn't stay down for long. The frontman gets himself up, head bloodied, and sings the rest of the song despite being disoriented and staggering. "My feet go boom boom boom," he sings before giving the final message: "Walking away from you."
Watch the "Boom" video below.
"Boom" is X Ambassadors' first single of 2019, and is all about the disposal of toxic people in your life. "I've had to break off a few of them recently myself, and I was writing all these sad songs because of it," Sam said of the song in a statement. "I needed to write one to give me confidence again. To turn my pain into my power."
His brother and keyboardist Casey Harris was born blind, and the artwork for this track was written in braille. According to a statement, "it is the first physical manifestation of his work that he has been able to experience visually."
Although the band has yet to reveal details about its sophomore album, it's slated to come out sometime this year. "Boom" follows X Ambassadors' 2018 singles "Joyful" and "Don't Stay."
Photo: YouTube
Chat About X Ambassadors Show Resilience In 'Boom' Video: Watch