Bob Saget Speaks Out About Lori Loughlin's College Cheating Scandal
By Emily Lee
March 31, 2019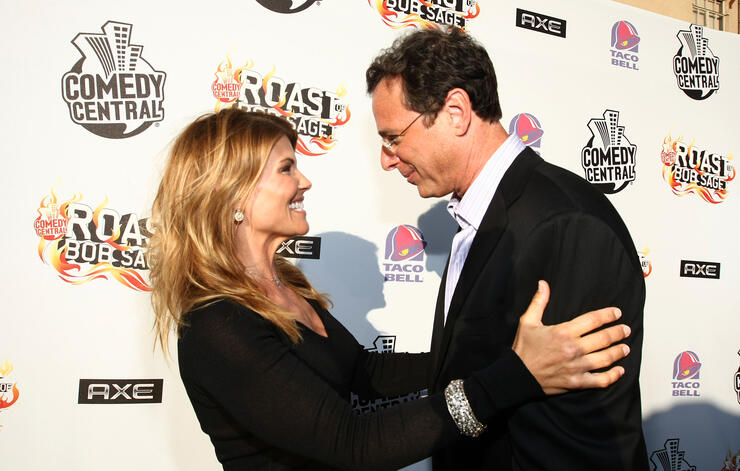 Lori Loughlin has been laying low ever since news of her involvement in a college admissions scam broke a few weeks ago. The 54-year-old actress allegedly paid bribes of $500,00 to secure her two daughters admission to USC. After being implicated in the crime, Loughlin was dropped by the Hallmark Channel where she starred in the period drama When Calls the Heart. Rumors began swirling then that she'd be fired from Netflix's Fuller House, as well.
Recently, though, Loughlin's Fuller House cast mates have begun speaking up about the scandal. While accepting an award the Kids Choice Awards, Candace Cameron Bure made a thinly veiled reference to Loughlin's involvement in the scandal and throwing her support behind the actress. "A loving family sticks together no matter what," Bure said during their acceptance speech. "They stick together through the hard times, they support each other, they encourage one another, they pray for each other, and they stand by their side no matter how tough it gets."
Now Bob Saget is echoing Bure's sentiments, as well. "You love who you love in your life," Saget told TMZ. "I just love who I love. Candace said it really good at the Kids Choice Awards…You love who you love." He then added that he's "on the team of people that I love, but life's complicated. I don't like talking about it."
Netflix has not yet made an official statement on whether or not the actress will be returning for the show's fifth and final season, though it seems she has the full support of her cast mates.
Photo: Getty
Chat About Bob Saget Speaks Out About Lori Loughlin's College Cheating Scandal