The Jonas Brothers Play It 'Cool' On Cover Artwork For Their New Single
By Paris Close
April 2, 2019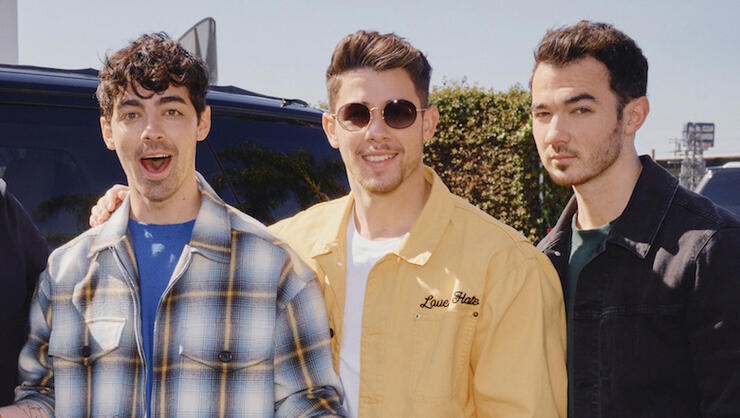 The Jonas Brothers have announced their next single. The band — consisting of Kevin, Joe and Nick Jonas — revealed their second song, "Cool," will release this Friday (April 5). The musicians made the announcement via Twitter, along with an image of the members sporting fancy, reflective shades, and beach-ready attire.
The forthcoming track follows the group's previously released "Sucker," which was met with wide acclaim when it arrived last month. The tune made history as the first record by a group to debut at No. 1 on the Billboard Hot 100 chart this century, and also became the Jonas Brothers' first music release in six years. Their last full-length, Lines, Vines And Trying Times, was issued in 2009.
See the cover art for the JoBros' new single "Cool" below.
The group's sudden comeback this year came as a shock to their devoted fanbase. Though, as the trio detailed in our interview, the reunion came to fruition while they were working on a documentary with Amazon Studios, slated for future streaming on Amazon Prime Video.
"Basically, about a year ago, we started talking about making a documentary together. That was how it started. Just to tell our story, you know, childhood into our career together," Nick explained. "And in that process, we did some very necessary healing 'cause, you know, when things ended it wasn't the best. Forced therapy on camera. And then in that, we started saying there was a magic when we were together that we would all love to feel again."
Photo: Getty Images
Chat About The Jonas Brothers Play It 'Cool' On Cover Artwork For Their New Single