Taraji P. Henson Reveals Jussie Smollett's Future On 'Empire'
By Peyton Blakemore
April 4, 2019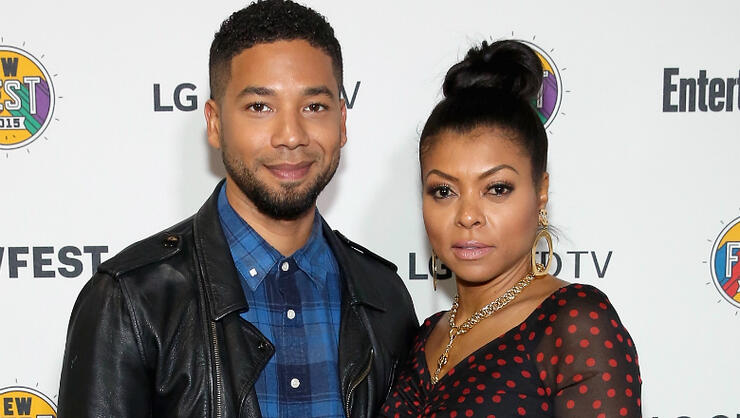 Jussie Smollett is here to stay, at least according to Taraji P. Henson.
While on The View Thursday (April 4), the actress confirmed that her controversial Empire star is set to return to to the Fox drama following their hiatus. "I talk to Jussie all the time and he's doing well," Taraji said when asked if she's in communication with 36-year-old actor. "We're all doing well. The show is doing well. We're on hiatus right now. The writers are trying to figure out what the next season will look like, what our storylines are going to be. They're trying to drum up some really good juicy stuff for you guys. So that's where we are right now."
Joy Behar then straight-up asked if Jussie is going to be on the next season of the show, which wrapped filming for its fifth season last week. "Yes, I haven't heard anything else," the 38-year-old actress replied.
Jussie's seemingly official return to the hit series may come as surprise to some given the last three months. Most recently, the Chicago State Attorney's office dropped all 16 felony counts of disorderly conduct against him in connection to his alleged "staged" attack.
As previously reported, Jussie's Empire co-workers were divided over the situation as some reportedly believe he's innocent and others believe he was guilty. According to TMZ, "there are still people on the set — especially writers — who believe the dismissal of charges is a vindication, proving Jussie was a victim." However, "there are a number of people on the Empire set who [believe] Jussie staged the attack and are shocked by the lack of consequences and don't want him back on the show. They are especially offended Jussie allegedly faked the attack to squeeze more money out of producers."
Taraji spoke out in Jussie's defense soon after the chargers were dropped against him, saying she was glad the truth was finally released. "I'm happy that the truth has finally been set free because I knew it all along," she told USA TODAY . "We're all happy for him, and thank God the truth prevailed."
"I know him and I know his track record," Taraji continued. "I'm not going to jump on clickbait just because someone says something derogatory about a person I know and love. I'm not easily swayed like that. Those little clickbait (reports) weren't enough to deter me from his immaculate track record. I know the type of activism this young man does in his community, I know that he's a giver – he's not an attention-seeker."
Photo: Getty Images
Chat About Taraji P. Henson Reveals Jussie Smollett's Future On 'Empire'