How Carrie Underwood Challenged Herself With Lively ACM Awards Performance
By Hayden Brooks
April 7, 2019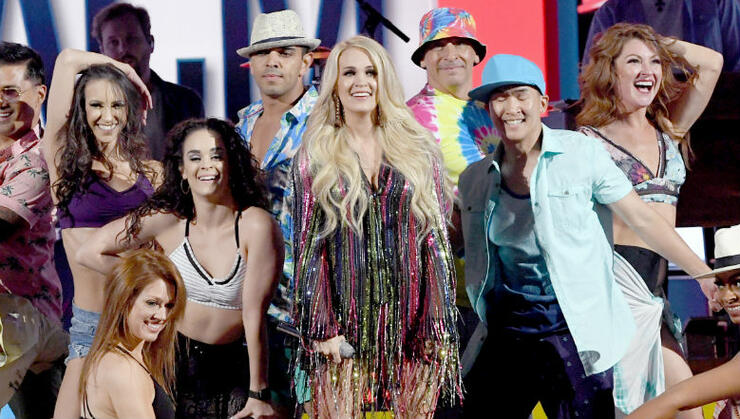 Carrie Underwood may still be adjusting to her post-pregnancy body, but you wouldn't have guessed otherwise when the country chart-topper rocked a sparkling number at the 2019 ACM Awards on Sunday (April 7) to perform her Cry Pretty cut, "Southbound," and stepped out of her comfort zone to do so.
After introductions from host Reba McEntire, the American Idol champ appeared in the sparkling dress outside of the arena at the pool. Yes, Underwood worked her way around a pool of party-goers for the beginning of "Southbound" and moved her way inside the MGM Grand Garden Arena for the rest of the number. Prancing down the aisle with dancers behind her, the 36-year-old singer playfully marched her way to the front of the arena and we appreciate the enthusiasm. From one set to another, Underwood's rendition was a refreshing move from her typical set and she had that mentality going into the ceremony.
"The performance is all about this party vibe and getting me into the audience, which is another thing that is a little bit new for me," she previously said of her performance with the Tennessean. "I watch performers like Keith Urban and Brad Paisley doing their thing going through the audience and I'm like, 'How do you do that?' It stresses me out. So much of awards shows is us standing on stage, and there's this separation, and I want to get in there."
Audiences for the Academy of Country Music Awards spectacle are set to get a double dose of Underwood when she joins This Is Us star Chrissy Metz for a special collaborative performance of "I'm Standing With You," a track off the soundtrack to the actress' new film, Breakthrough, which hits theaters on April 17. Stay tuned for even more from the 54th ACM Awards, including an up-to-date list of winners, as well as recaps of all the other buzzworthy performances from the McEntire-hosted ceremony!
Chat About How Carrie Underwood Challenged Herself With Lively ACM Awards Performance