See Aerosmith's First 'Deuces Are Wild' Las Vegas Residency Set List
By Andrew Magnotta @AndrewMagnotta
April 8, 2019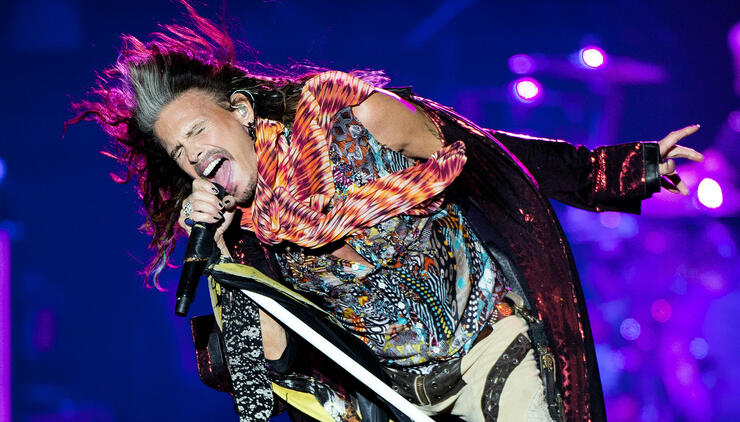 Aerosmith's "Deuces Are Wild" 50th anniversary residency in Las Vegas kicked off Sunday at the Park MGM's Park Theater.
The band tore through a set list loaded with hits and fan favorites, pulling equally from its most successful periods in the '70s, '80s and '90s.
The band members promised last August when the Vegas residency was announced that the shows would be the most pristine and polished of Aerosmith's career, while also maintaining the iconic band's roadhouse roots.
You can check out the full set list below.
Aerosmith has 17 more dates in Vegas before it takes up residency at a few East Coast MGM properties in August. The band then returns to Vegas in the fall.
The first "Deuces Are Wild" gig kicked off with the band's classic take on Tiny Bradshaw's "Train Kept A-Rollin'" and then launched into its first-ever single, the blues-rocker "Mama Kin."
A brief acoustic session in the middle of the set between Steve Tyler and Joe Perry was followed by a deluge of the band's '90s and '80s pop hits.
It was then back to the '70s with the epic closers "Dream On" and "Walk This Way."
Aerosmith 'Deuces Are Wild' Set List - Opening Night
"Train Kept 'A-Rollin"
"Mama Kin"
"Back in the Saddle"
"Kings and Queens"
"Sweet Emotion"
"Hangman Jury"
"Seasons of Wither"
"Stop Messin' Around" (Fleetwood Mac cover, Joe Perry on vocals)
"Cryin'"
"Livin on the Edge"
"I Don't Want to Miss a Thing"
"Love in an Elevator"
"Toys in the Attic"
"Dude (Looks Like a Lady)"
"Dream On"
"Walk This Way"
Photo: Getty Images
Chat About See Aerosmith's First 'Deuces Are Wild' Las Vegas Residency Set List