Los Angeles Intersection To Be Renamed In Honor Of Nipsey Hussle
By Lauren Crawford
April 10, 2019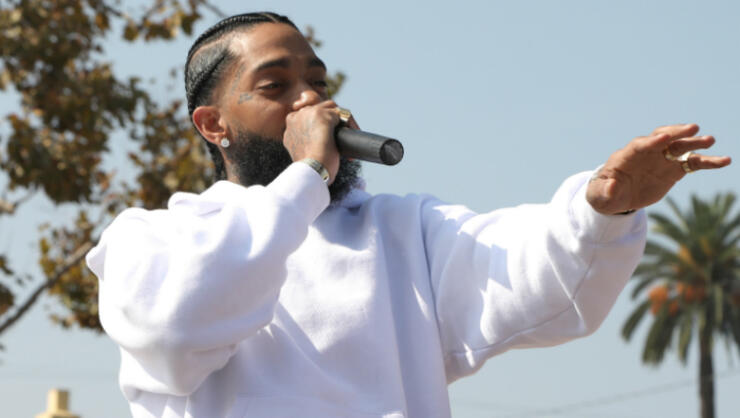 Nipsey Hussle will never be forgotten.
The late rapper will remain a fixture of the South LA community as Los Angeles City Councilman Marqueece Harris-Dawson announced on Tuesday (April 9) that the intersection of Crenshaw Boulevard and West Slauson Avenue will now be known as Ermias "Nipsey Hussle" Asghedom Square, the Los Angeles Times reports.
"Ermias Asghedom, known as 'Nipsey Hussle,' was an icon and West Coast hero," Councilman Harris-Dawson said in a statement to the Times. "Nipsey's genuine nature allowed him to be a light to everyone he interacted with, from family, friends, fans and his larger community."
"As a father, brother and son, Nipsey was a rock helping to build an empire that will continue through generations," he continued. "Nipsey will always be remembered for delivering a pure, authentic Los Angeles sound; his numerous philanthropic efforts; his innovative, community-focused business mindset; and his humble heart."
The streets' renaming came after more than 500,000 fans signed an online petition to rename the intersection, which is in the center of an area Nipsey called home.
The 33-year-old rapper and activist was killed on March 31 in front of his Marathon Clothing store, which is near the intersection that will now have his name.
In addition to the intersection's renaming, Nipsey's philanthropic efforts were made part of United States History on Wednesday (April 10). The chairwoman of the Congressional Black Caucus, California Rep. Karen Bass, commemorated Nipsey on the House floor, saying, he "used the platform he created with his music to lift our community as he climbed," The Hill reports. She added, Nipsey "had a sole purpose of bettering the community" and he will be remembered "as an inspiration."
"His business ventures, his investments, his philanthropy, his community engagement — every step of the way, he had a sole purpose of bettering the community he came from," Rep. Bass continued. "A humble visionary, he saw the overlooked and welcomed the dismissed. He reminded our community that the power we hold is the power of where we come from and that the awareness of that power can never be taken from us."
"He will be remembered by South Los Angeles as a protector, as an inspiration, as a father, as a brother and as an unabashed son of South Los Angeles," she shared. "For all he was given, he gave back. And for that legacy, South Los Angeles has been changed forever."
Nipsey will be laid to rest on Thursday (April 11). His memorial service, which will be held at the Staples Center, is open to the public.
Photo: Getty Images
Chat About Los Angeles Intersection To Be Renamed In Honor Of Nipsey Hussle