Snoop Dogg, YG, Jhene Aiko & More Attend Nipsey Hussle's Memorial Service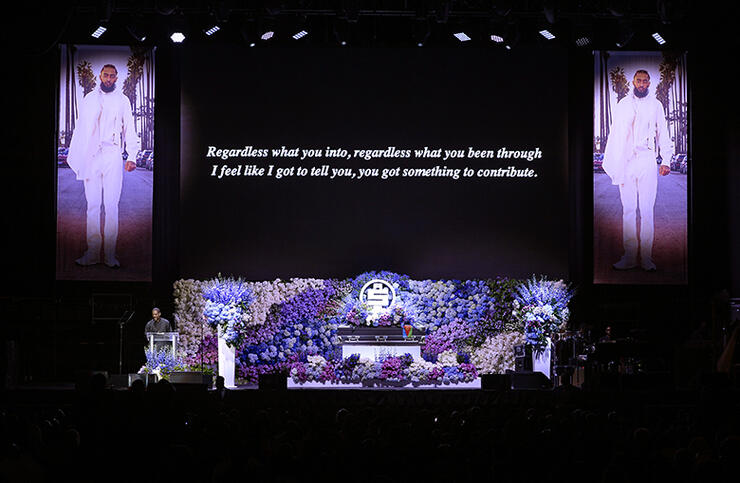 Gone but not forgotten.
Nipsey Hussle's family, friends, and fans gathered to say their final goodbyes to the 33-year-old rapper and activist on Thursday (April 11). Nipsey's memorial service, which his family called a celebration of his life, was held at Los Angeles' Staples Center.
The service brought out some of the biggest names in entertainment, including James Harden, Big Sean,Meek Mill, G-Eazy, DJ Khaled, Kendrick Lamar, LeBron James,The Game,Marsha Ambrosius, Snoop Dogg, Jhene Aiko, YG, Stevie Wonder, Big Boy, and many more.
Hundreds of fans also mourned the late rapper, who was gunned down outside his clothing store on March 31, outside the arena, as Staples only houses 21,000 people. 
Nipsey is survived by his longtime girlfriend, Lauren London, two children, Kross and Emani, parents, Angelique Smith and Dawit Asghedom, and siblings, Ermias Asghedom and Samantha Smith.
Scroll down to see who paid their final respects to the late, great Nipsey Hussle.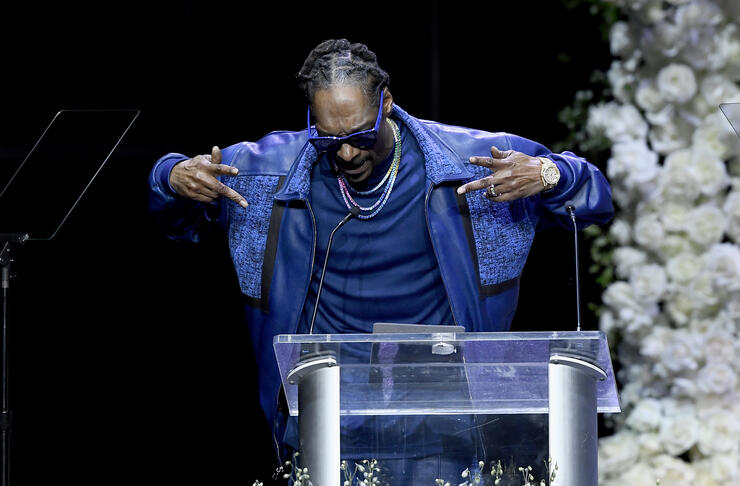 Snoop Dogg recalled his many memories of Nipsey Hussle onstage during his Celebration of Life at STAPLES Center on April 11, 2019 in LA.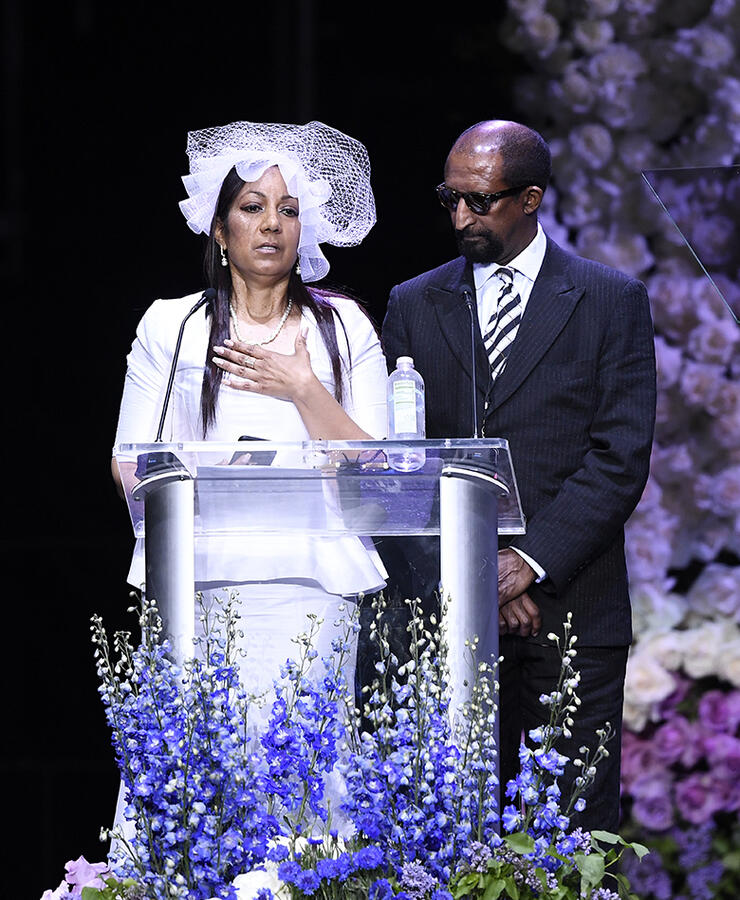 His parents, Angelique Smith and Dawit Asghedom, honored their son together.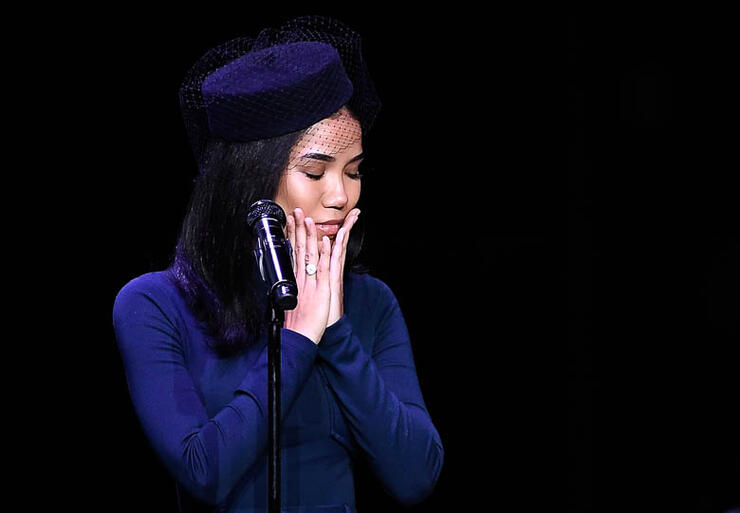 Jhene Aiko performed onstage to honor him at his Celebration of Life ceremony.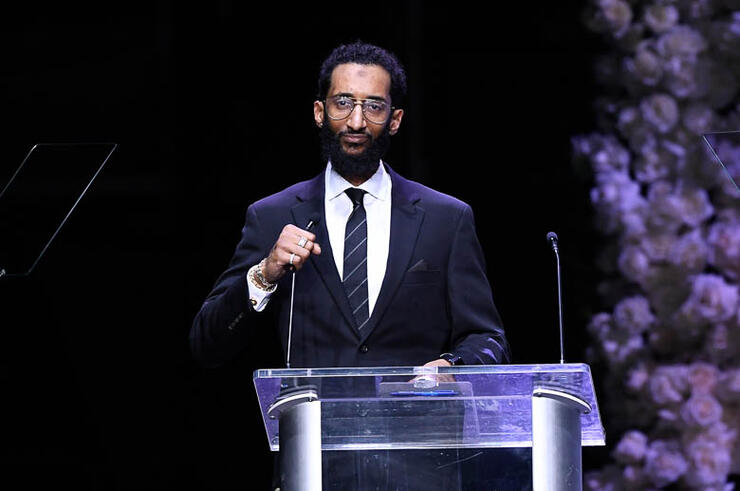 His brother Samuel Asghedom gave an emotional tribute to his late brother on stage. Asghedom recalled memories of their childhood together and said that Nipsey "just wanted to inspire his community".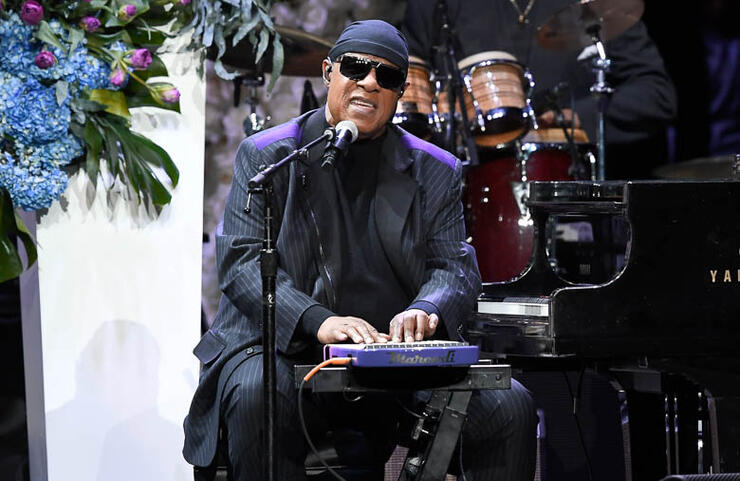 Stevie Wonder was told his song, "Rocket Love", which he performed at the memorial, was one of Nipsey's favorites.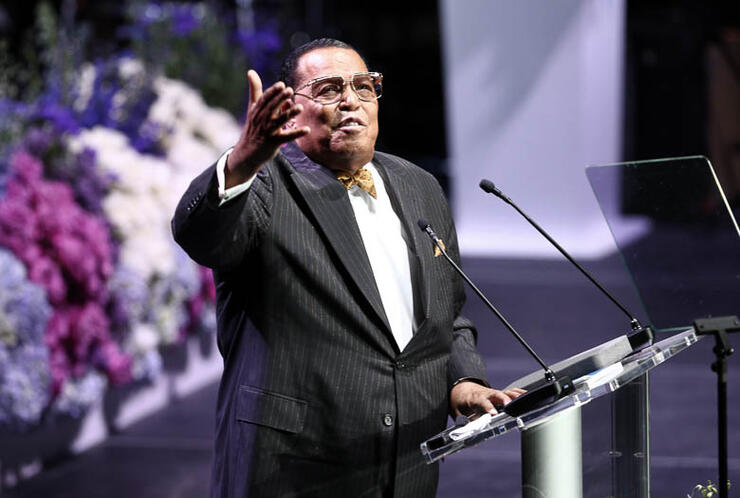 "He is the prophetic voice of all in the community." said Honorable Minister Louis Farrakhan, (National Representative of The Honorable Elijah Muhammad and The Nation of Islam) of the late rapper.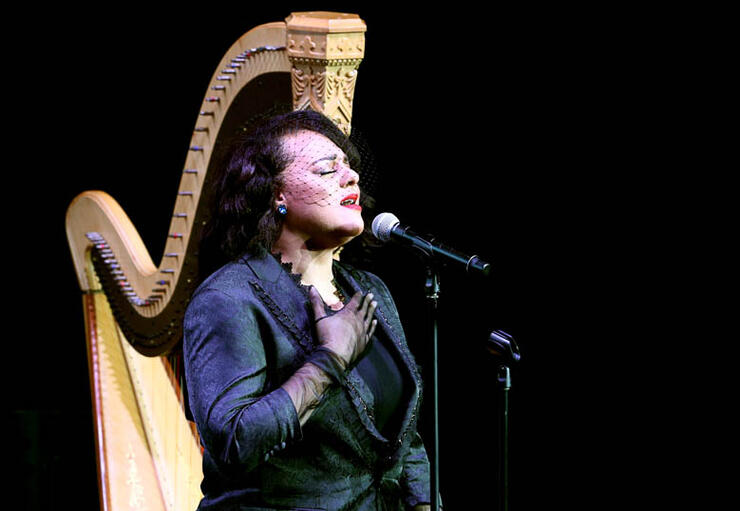 Marsha Ambrosius sang a beautiful rendition of Mariah Carey's "Fly Like A Bird" to honor him.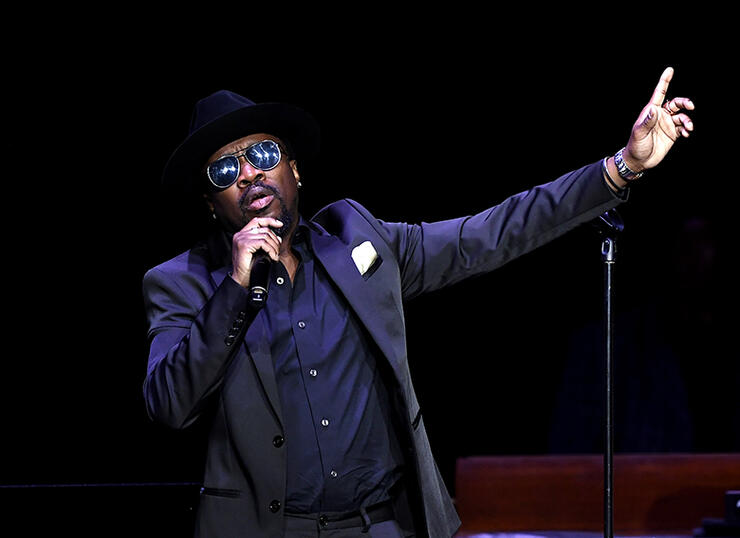 R&B singer, Anthony Hamilton sang, "Do You Feel Me" on stage as a tribute to Nipsey at his Celebration of Life ceremony.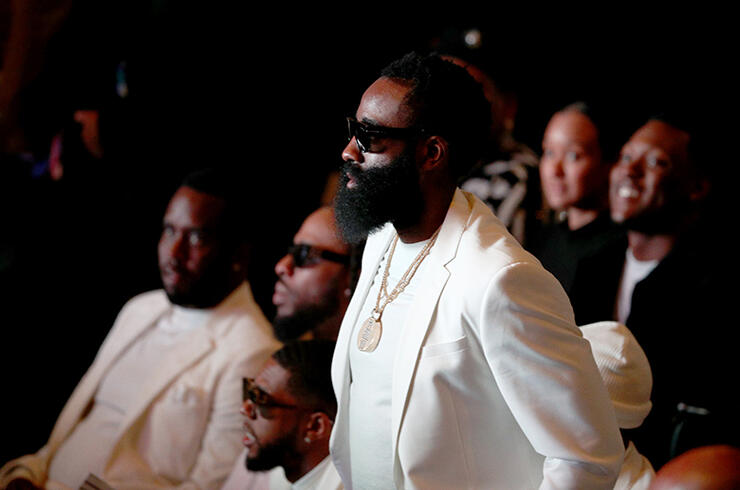 Houston Rockets player, James Harden was also there to pay his respects.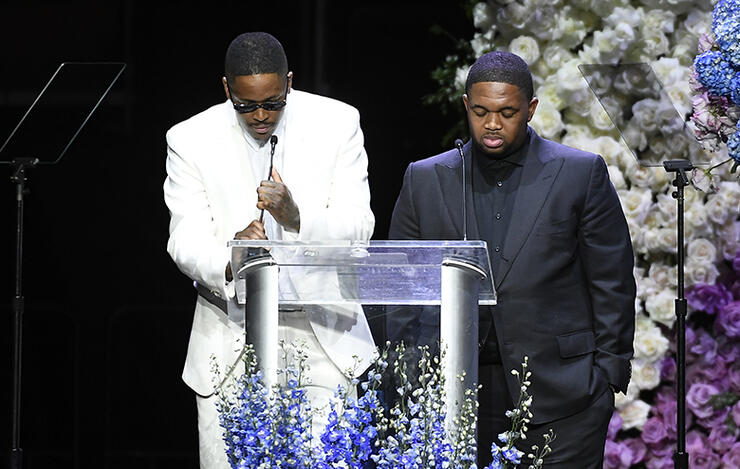 Rapper YG and DJ Mustard shared some heartfelt words to honor their friend.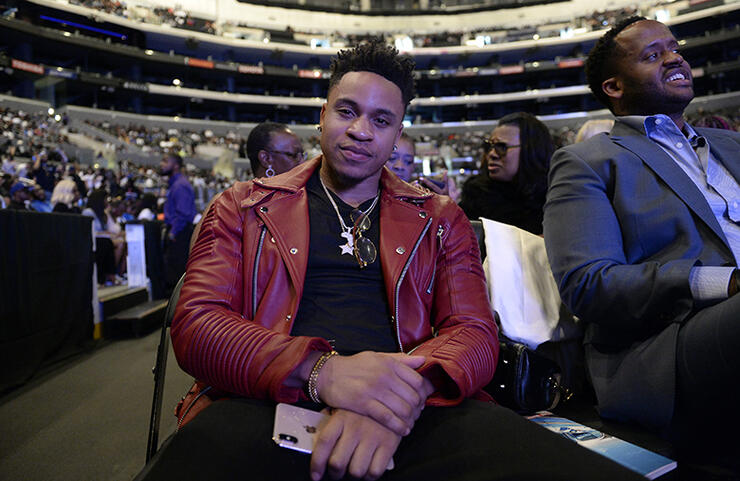 'Power' actor, Rotimi was among the celebrities that attended the service.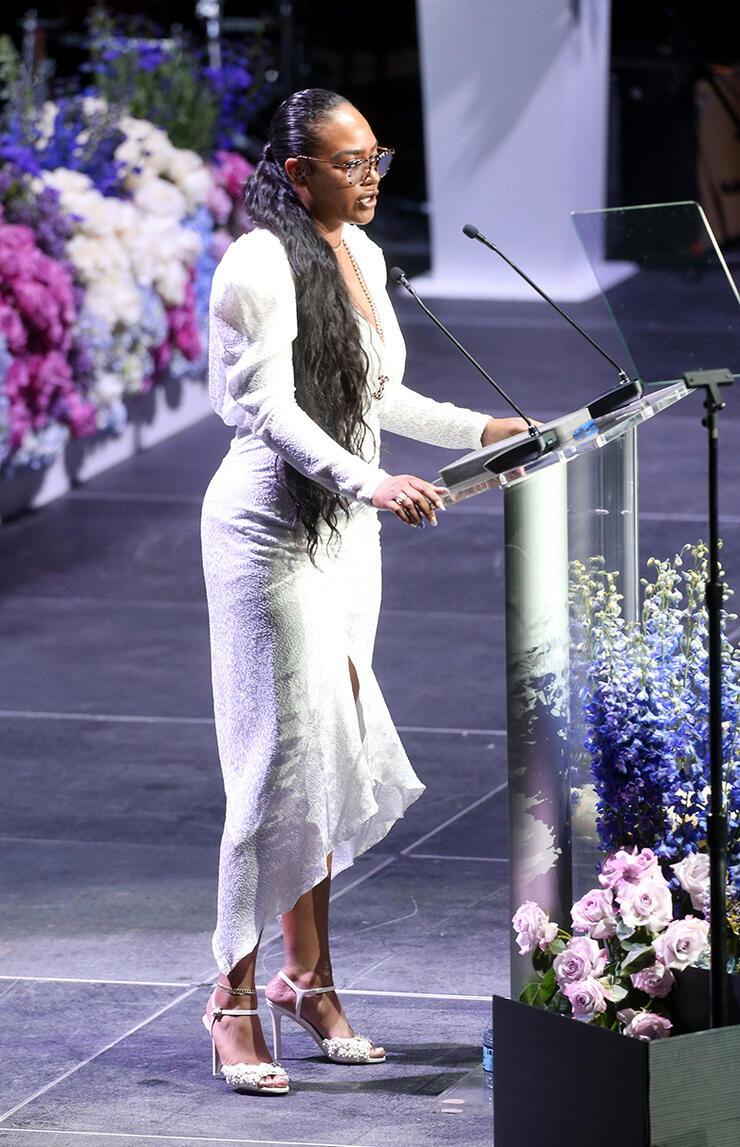 His sister, Samantha Smith shared touching words about her late brother's life, stating that, "Nip is immortalized, and now he is greater than ever. I am so proud of my bro."
Photos: Getty Images
Chat About Snoop Dogg, YG, Jhene Aiko & More Attend Nipsey Hussle's Memorial Service