Gwen Stefani And Blake Shelton Enjoy A Date Night — With Luke Bryan
By Katrina Nattress
April 15, 2019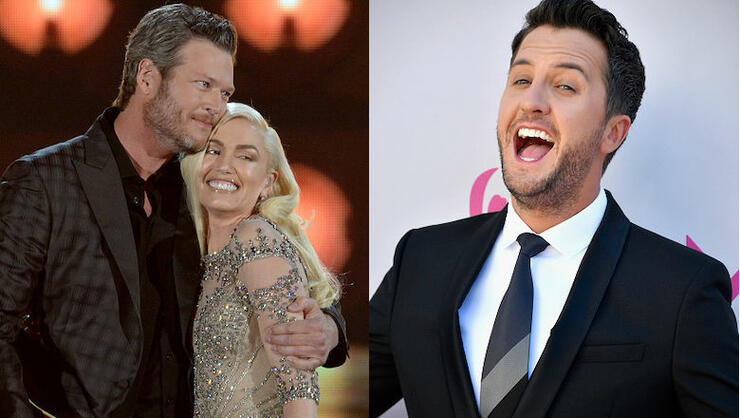 Gwen Stefani and Blake Shelton enjoyed a nice date night over the weekend that included a third wheel!
As documented by the No Doubt frontwoman in her Instagram story, the couple was joined by her country star beau's good friend Luke Bryan, and the trio hit the town in West Hollywood.
From the looks of the videos Gwen posted, the three had a blast hanging out. In one clip, the American Idol judge quips that the only reason why the paparazzi is snapping pictures of them is because Gwen's with them. In another, he and his The Voice pal get a little raunchy as they tease photographers.
"Got my balls out. Got my balls out! Take it!" Blake yells while exiting the car.
"One nut. Blake pulls one nut out," Luke laughs.
"OK, I'm not posting that," Gwen says, but clearly went against her word.
It's no surprise the couple would choose Luke as a date companion. Despite starring in competing shows, Blake and Luke have been buddies for quite some time. In fact, last year Luke said he would be "honored" to officiate Gwen and Blake's wedding.
"If Blake were smart, he would marry her before she goes to an optometrist," he joked. "Every time I meet Gwen, she's holding her phone way out here to read. I'm like, 'That's it, she can't see!'"
Music's power couple won't be tying the knot any time soon, though. Gwen is currently in the process of getting her marriage to Gavin Rossdale annulled through the Catholic church, so her future union with Blake can be recognized by the church.
Photo: Getty Images
Chat About Gwen Stefani And Blake Shelton Enjoy A Date Night — With Luke Bryan