Chrissy Teigen Slams Troll For Calling Her 'Chubby'
By Emily Lee
April 16, 2019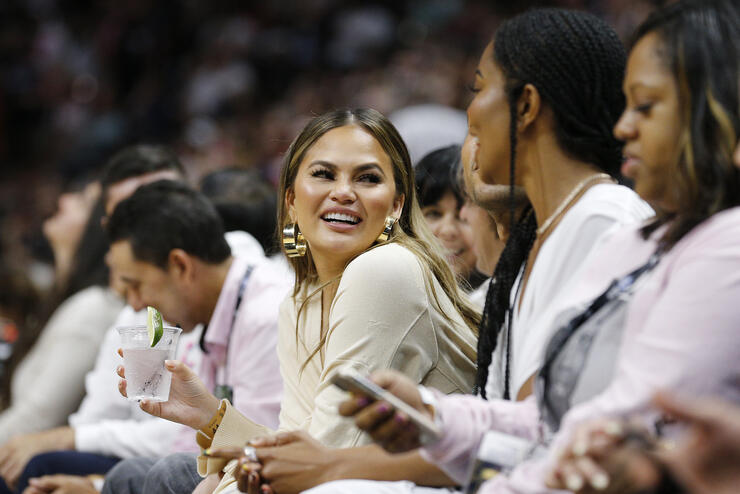 Don't mess with Chrissy Teigen. When a Twitter troll called the 33-year-old model/cook book author "chubby" on Monday (April 15), she had a perfectly savage comeback.
Congresswoman Nancy Pelosi shared a photo with Chrissy and her husband John Legend on Twitter, writing "So thrilled to be introducing [Chrissy] and [John] at the House Democratic Issues Conference tonight!" It wasn't long before the post was spammed with negative comments about Chrissy. One troll wrote "Tiegen got fat, holly zhit." The same troll continued to spam the post with comments like "Fatty Teigen" and "Chubby Teigen."
The troll caught Chrissy's attention when he replied to the post yet again, writing "Teigen likes to attack people, so i'm attacking her weight, chubby needs to get to the gym." She replied "I hate to say this but...you are not a small person? also I don't care about my weight sooooo this does not hurt."
Chrissy isn't one to back down from clapping back at body-shamers. Since welcoming her second child, Miles, she's been especially open about her fluctuating weight. Back in March, Chrissy candidly responded when a fan asked how she can eat like she does, saying she's "20 pounds heavier than I was before miles. He's 10 months old, I never lost the last bit because I just love food too much. Just coming to terms with my new normal, when I had this certain number for so long!"
She also spoke about body positivity in a recent interview with Good Housekeeping. "I think, in a way, we've forgotten what a regular body looks like. There are people out there who are struggling and I'm struggling, and it's okay to come to terms with that being okay, to realize that it's gonna be a bit of a journey," Chrissy said.
"It's all about trying to be happy with myself. Because I'm not blind: I see my body, I see the difference in shape, I see that I gained weight. But I also see with those same eyes that I have a beautiful baby boy, and this little girl that's relentless and amazing, and I am very happy," she continued. 
"This is a new thing that I can change within my mind, that I don't have to be swimsuit model anymore. I get to be a mommy, and I get to cook, and I get to meet incredible people, and I'm happy to be going through this transition," she said. 
So, to sum it all up, Chrissy isn't worried about what some random Twitter troll thinks of her. As Ariana Grande would say: thank u, next.
Photo: Getty
Chat About Chrissy Teigen Slams Troll For Calling Her 'Chubby'