15 Dances That Were Made Popular By Songs & Music Videos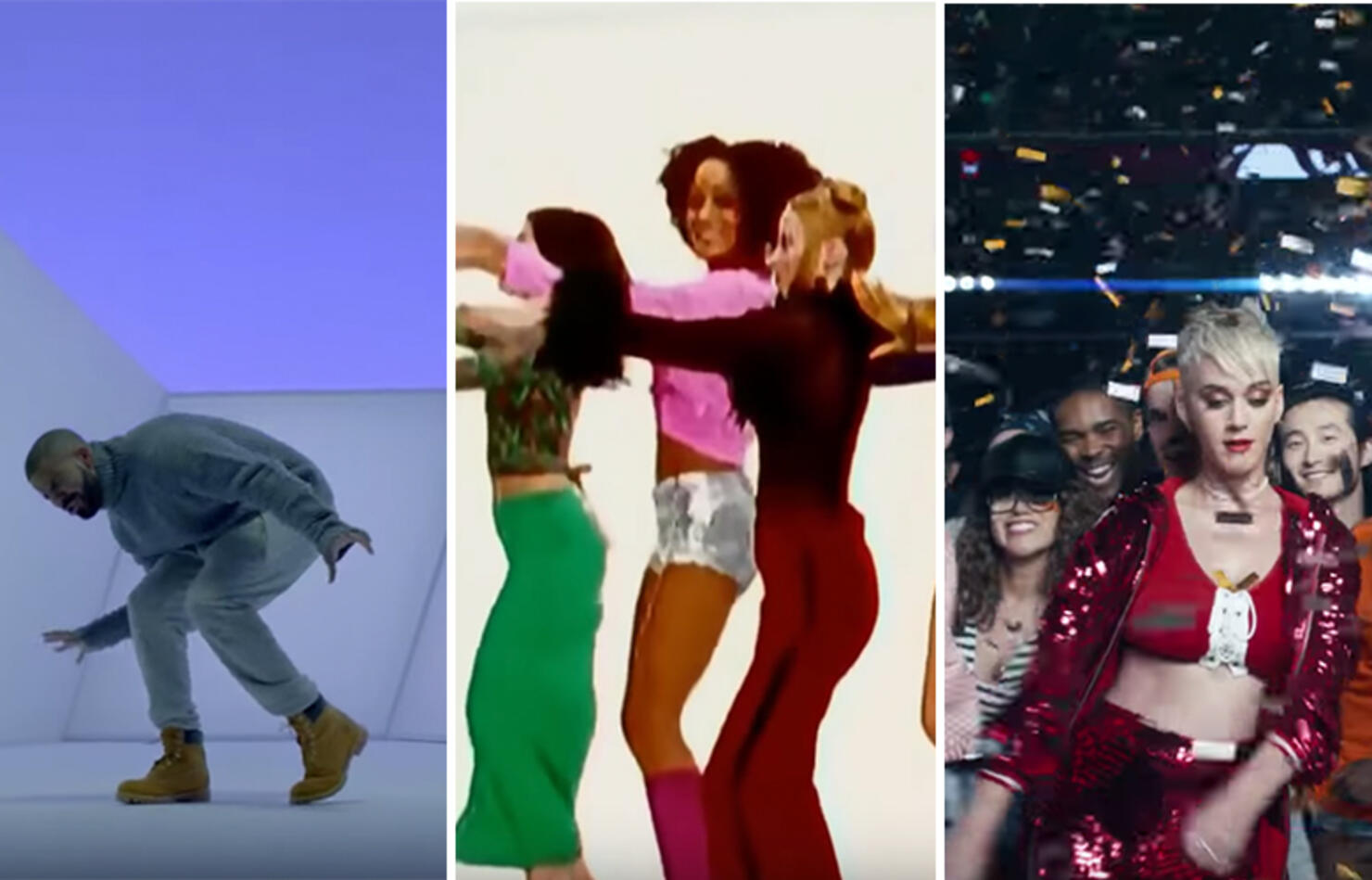 For decades, we've been obsessed with the songs and music videos that have given us some of the most iconic dances of all time.
Going as far back to classic party movies like "The Y.M.C.A," "The Cotton Eye Joe," and "The Macarena" (you KNOW you still rock these at every Sweet 16 and wedding you go to), from mid-'00s hits like "The Dougie" to "The Soulja Boy" to "Single Ladies," reaching as far as the newest moves, like two from Drake, "The Floss," and oh so many more, these dance moves, challenges, and viral videos have made people all over the world do one thing: Dance the hell out of every single song.
Check out the endless songs and music videos that inspired some of your go-to moves below. And honestly? Make a whole playlist with these tracks — your friends literally cannot help but bust 'em out, no matter what. It's just involuntary.
1. Los Del Rio's "Macarena" inspired "The Macarena"
LITERALLY THE MOST ICONIC LINE DANCE EVER, FIGHT ME.
2. Cali Swag District's "Teach Me How to Dougie" inspired "The Dougie"
"The Dougie" is no-doubt a go-to. Just walk into any — and we mean any — club when the track comes on.
3. Beyonce's "Single Ladies" inspired "The 'Single Ladies' Dance"
So iconic that Justin Timberlake even parodied it on "SNL."
4. Ayo & Teo's "Rolex" inspired "Rollie Dance"
That muscle memory: We bet you can still do the "Rolle, rollie, rollie, with a side of Ranch" as soon as this song comes on. The dance challenge went so viral that Ayo & Teo even made a dance tutorial video.
5. Soulja Boy's "Crank That (Soulja Boy)" inspired "The Soulja Boy"
Whether you call it "The Soulja Boy" or "Crank That," we just instinctively start cranking those invisible motorcycle handlebars from side-to-side the second this jam hits.
6. Drake's "In My Feelings" inspired "The Kiki, Do You Love Me" Dance
If people weren't straight jumping out of their cars to impress their friends and all of social media the second Drake's "Kiki, do you love me / Are you riding?" verse came on, they were doing the dance any way they could.
7. Drake's "Hotline Bling" inspired "The Hotline Bling"
Even before we (and he!) knew he was an actual dad, Drake gave us all the awkward dad dance moves in the "Hotline Bling" music vid, which were forever imitated.
Silento's "Whip/Nae Nae" would be NOTHING without the original, which we owe to WeAreToonz' "Drop That NaeNae" in 2013, which can be contributed all the way back to the '90s sitcom, "Martin."
9. Rednex's "The Cotton Eye Joe" inspired "The Cotton Eye Joe"
Like "The YMCA" and "The Macarena," "The Cotton Eye Joe" is one of those line dances where your body detaches from your mind and the next thing you know, you're out there fake-roping a cow with the rest of 'em.
10. PSY's "Gangnam Style" inspired "Gangnam Style"
It's arguable that PSY was the first K-pop act ever to make it so mainstream in the U.S. (years before faves like BTS, BIGBANG, BLACKPINK, Red Velvet, Girls' Generation and more had their takeover moment). And if you didn't do the "Gangnam Style Dance" (aka pretending to giddy-up on a pony), did you actually exist in 2010?
11. The Village People's "Y.M.C.A" inspired "The Y.M.C.A."
The real question here is which way do YOU make the "C"? To the right or the left? Your answer says EVERYTHING about you.
12. Freak Nasty's "Da Dip" inspired "The Dip"
I don't even care if this is old-school… are you even a person if you don't do the dip to "When you dip / I dip / We dip"?
13. "Lean Back" - Terror Squad feat. Fat Joe, Remy Ma inspired "Lean Back"
You HAVE to rock your shoulder back when Fat Joe commands on the chorus, "Lean back, lean back, lean back, lean back." It's a demand.
14. Unk's "Walk It Out" inspired "Walk It Out"
"Walk It Out" — and its subsequent dance move — is a surefire party starter, no matter what year it is.
15. Katy Perry's "Swish Swish" inspired "The Backpack Kid's" infamous "Floss Dance," during their performance on "Saturday Night Live"