Shawn Mendes, Beyonce & More Write About Time's Most Influential People
By Paris Close
April 17, 2019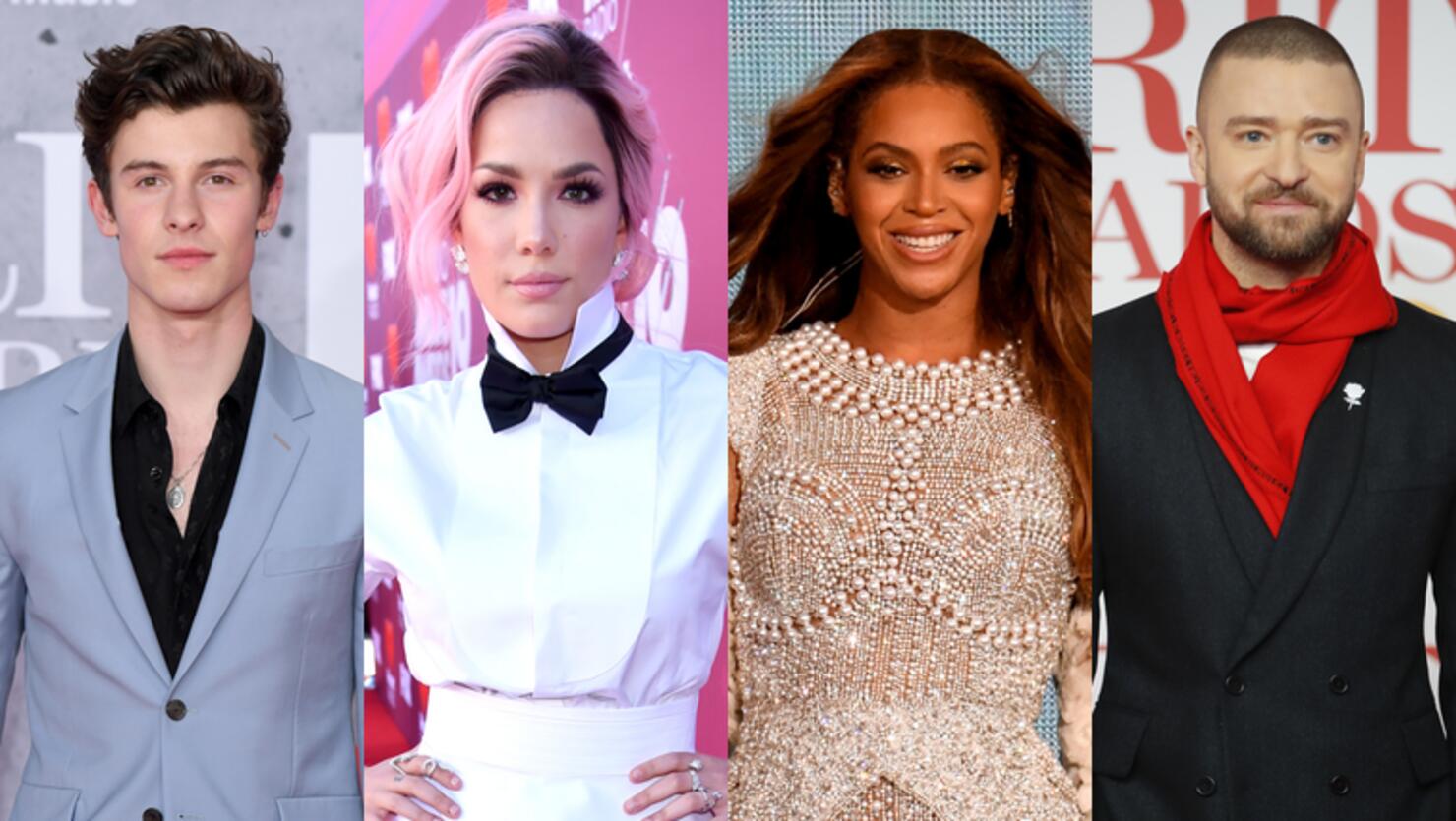 Taylor Swift, Emilia Clarke, Dwayne Johnson, Lady Gaga, Michelle Obama, Regina King, Ariana Grande, and BTS have been named one of Time's 100 most influential people in the world, according to the magazine.
On Wednesday (April 17), Time, which highlights honorees each year with a special piece written about them by fellow celebrities, unveiled its six cover stars for the prestigious issues, which includes singer-songwriter Swift, Killing Eve actress Sandra Oh, television host Gayle King, actor Dwayne Johnson, United States House of Representatives speaker Nancy Pelosi and Egyptian pro soccer athlete Mohamed Salah.
Among this year's honoree/entertainer pairings: Swift by Shawn Mendes; Khalid by Alicia Keys; BTS by Halsey; Michelle Obama by Beyonce; Grande by Troye Sivan; Ozuna by Daddy Yankee; Tiger Woods by Justin Timberlake and more.
See excerpts from what some entertainers wrote of the honorees below.
(Read all the Time's 100 honorees' pieces at TIME.com)
Taylor Swift by Shawn Mendes
I've been a Taylor Swift fan for as long as I can remember. But it wasn't until I met and got to know her that I understood how wonderful a person she truly is.
Taylor makes the job of creating music for millions of people look easy. It all comes from her—her belief in magic and love, and her ability to be as honest and raw as possible. She's the master of putting the perfect amount of thought into not overthinking, and that's why her music connects so well.
Khalid by Alicia Keys
Khalid is totally unique. He's a beautiful writer with the ability to take human concepts and make you understand and feel them. He has a full, powerful voice that is somehow unassuming and smooth at the same time. He's accessible—almost like you've met somebody like him before, although there's nobody else like him. He has his own style, and I think we're all hungry for individuality right now.
Michelle Obama by Beyonce
I'm honored to know such a brilliant black woman who's spoken about the sacrifice it takes to balance her passions while remaining a supportive partner and mother, and now a best-selling author with Becoming. She has continued to open herself up, even if it meant being criticized. She has continued to be a portrait of grace.
I am so grateful that my daughters and my son live in a world where Michelle Obama shines as a beacon of hope who inspires all of us to do better and to be better.
Ariana Grande by Troye Sivan
Through just about the craziest storms and whirlwinds I can imagine, Ariana Grande remains the most real person I've met. I've always thought the world is privy to actual, genuine emotion—be it heartbreak, empathy, generosity, resilience, strength—and I believe that's exactly why the world keeps falling deeper in love with Ariana. Wearing her heart on her sleeve and in her work, she oozes those emotions in abundance. Armed with a full comprehension of how the world consumes music today, she is an industry game changer.
BTS by Halsey
I have known 'the boys'—as I and other fans affectionately call them—for years and had the pleasure of traveling to Korea to hang with them on multiple occasions. Outwardly, they are polished and professional, but hours of laughter, secret handshakes and gifts exchanged show those around them that underneath this showstopping, neatly groomed movement are just some guys who love music, one another and their fans.
For BTS, world domination is just another 8-count in the contemporary dance of life. But if you think that's easy, you haven't seen the love and effort these young men put into each and every step.
Lady Gaga by Celine Dion
She's definitely one of the most inventive artists we've ever seen. Her artistic expression has no rules, no boundaries. When she first came on the scene with her outrageous style, she didn't care what the critics said. She marched to the beat of her own drum, knowing that her message of individuality was a way to express her inner strength. What makes her even more special, and such a powerful influence on society, is that she empowers her fans to adopt the very same values in their lives—to stand up for what they believe in, despite what others might think. By doing so, she gives her followers the strength and confidence to believe in themselves.
Ozuna by Daddy Yankee
I still clearly remember the chamaquito who came to my recording studio to ask me to be on a remix to his song "No Quiere Enamorarse." His name was Ozuna, and what got my attention was his tenacity, his sublime and unique voice, and his drive. He was fearless to ask a superstar to be part of his record. He gave me this vibe—I saw a reflection of myself in my beginnings. I could see he had the power to become a star.
Brie Larson by Tessa Thompson
Brie Larson is a warrior on- and offscreen. When she's not shattering records and stereotypes as Captain Marvel in Marvel Studios' first female-led superhero movie—which has made more than $1 billion at the global box office—she's fighting fiercely for gender equality, inclusivity and an end to sexual harassment in the workplace.
Regina King by Viola Davis
I grew up with all of the black sitcoms—Amen, Good Times, 227—and every once in a while, you saw an actor peek out from the comedy and the 30-minute shtick: something that separated them from the rest. That's what I saw in Brenda Jenkins, the character Regina King played on 227. She became every young black girl in America. I saw myself in her, and I saw an actor bring that to life.
Dwayne Johnson by Gal Gadot
Dwayne is someone who believes the sky is the limit and will go above and beyond to make sure he gives 100% every single day, whether he is at the gym, working with his charity (the Dwayne Johnson Rock Foundation), being with his family and friends, or working on a new project.
He is the true embodiment of the idea that people may forget what you said, people may forget what you did, but people will never forget how you made them feel. Dwayne always makes sure people feel their best when he is around.
Tiger Woods by Justin Timberlake
Last year, Tiger Woods and I spent time together, just the two of us, talking about being fathers. We discussed how we want our children to see us and how you balance your dedication to them with competitive drive. I told him about how my son, who just turned 4, has started to realize what I do. We bonded over the fact that we wanted our children to watch us at our best. Tiger told me that he hoped his children, who are 11 and 10, would one day see him win a major.
On April 14 in Augusta, Ga., they did just that when Tiger won his 15th career major—and first in 11 years—capping arguably the greatest comeback in sports history. What a dream come true. For Tiger. For all of us.
Lebron James by Warren Buffett
Early heroes will mold a person's future. LeBron has justified the adulation of millions and millions of young people, thanks to his ability to live up to enormous expectations on the basketball court, his business successes in Hollywood and media, and his new I Promise School for disadvantaged kids in his hometown of Akron, Ohio. That adulation will make a positive difference in their lives. And you know what else is exciting? As great as he has been so far—on and off the court—you're just seeing the start of LeBron.
Rami Malek by Robert Downey Jr.
The wild success of Bohemian Rhapsody was a group effort … literally. Queen entrusted Rami Malek with representing their legacy, the story of their lives, and the memory of their friend and bandmate. Somewhere during said crucible, he earned it. He developed the skill without which his many attributes as an artist might have been squelched—principled leadership. He's understated and kind, complicated and relatable; he's downright mercurial. Crucially, he's a good man evolving alongside his potential. As a fan and friend, that's what I'm particularly proud of.