Harry Styles Spotted At Blackpink's Concert At The Forum
By Hayden Brooks
April 18, 2019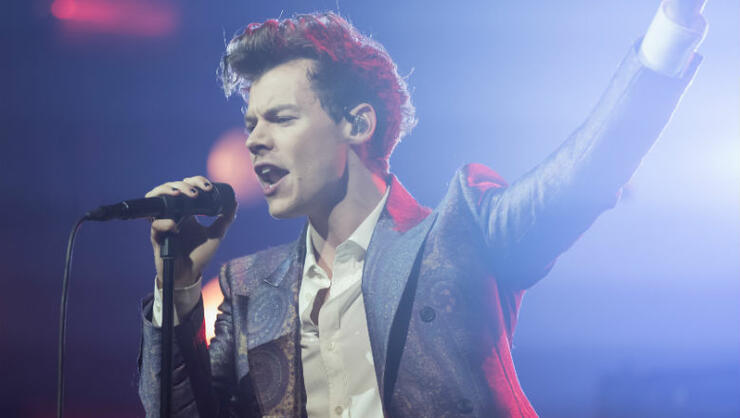 BLACKPINK's steady North American takeover has garnered a fan in none other than Harry Styles.
On Wednesday night (April 17), the former One Direction star was spotted at the K-pop sensation's kickoff show at The Forum as part of their "In Your Area World Tour." Wearing a gray beanie, the 25-year-old was seen sitting in the VIP section and watching performances by Jennie, Jisoo, Rosé, and Lisa. As Billboard pointed out, Styles is a quiet social media user, but he does follow Jennie's Instagram account. In addition to Styles, DJ Snake was also in attendance of the sold-out concert. Scroll on below to see Styles and Snake at BLACKPINK's show!
Just last week, the act made history by becoming the first female K-pop group to perform at Coachella, where they churned out hits like "DDU-DU DDU-DU," "Kill This Love," "Forever Young," and "Stay." To make their performance even more special, YouTube, for the first time ever, also broadcasted BLACKPINK's set live in Times Square.
"I have a few words to say," Rosé reportedly told the Indio crowd, before introducing the group's final songs. "Us coming all the way from South Korea, we didn't know what to expect, and obviously we — you guys and us — we're from totally different worlds. But tonight I think we've learned so deeply that music brings us as one. So I want to thank you guys tonight for sticking by to the end of the show," she added, acknowledging that some of the crowd may have been new fans or random people who just stopped and enjoyed their show. "You guys are awesome. And those of you who will be joining us at the concert next week, we'll see you soon."
Chat About Harry Styles Spotted At Blackpink's Concert At The Forum