Jason Bonham Retracts, Apologizes For "Untrue" Statements About Jimmy Page
By Andrew Magnotta @AndrewMagnotta
April 18, 2019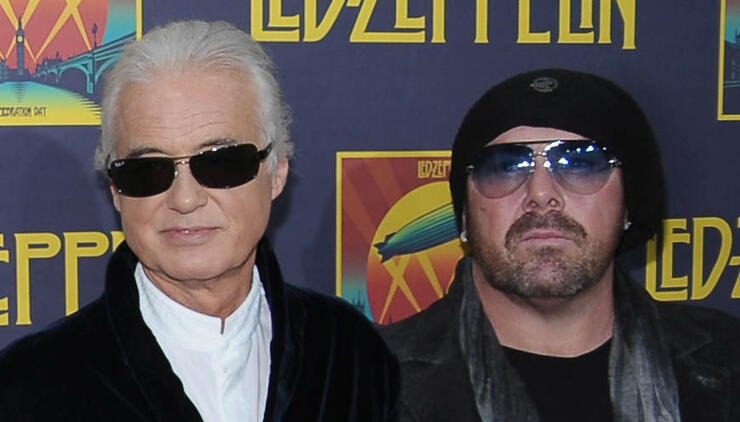 Jason Bonham is taking it all back.
The drummer and son of Led Zeppelin's John Bonham issued a statement Thursday via his official website apologizing for "untrue and derogatory statements" regarding his father's old band mate Jimmy Page.
Jason said in an interview last week that it was the iconic guitarist Page who turned him on to cocaine when he was just 16 years old. Page (and probably his lawyers) didn't find much humor in Jason's drug-addled anecdotes, prompting the younger Bonham to issue a retraction and formal apology to his longtime friend.
Read Jason's full statement below:
JIMMY PAGE OF LED ZEPPELIN — AN APOLOGY
On or about 9 April 2019 I, Jason Bonham, gave an interview on radio with Howard Stern (the Interview). In that interview I made certain untrue and derogatory statements concerning Mr. James Page (pka Jimmy Page) of the legendary band Led Zeppelin.
I unconditionally retract all derogatory and defamatory comments relating to Mr. J Page that I made in that interview. In particular it is wholly untrue that Mr. J Page offered me any illegal substances either when I was a minor or at all. I apologise to Mr. Page, unreservedly, for making these unfounded and untrue comments about him. Out of my long held respect for Mr. Page I will make no further comments on the Interview and I agree to make no further comments which Mr. Page might view as disparaging, either now or in the future.
After John Bonham's death in 1980, Jason was embraced by his father's old bandmates and played drums in Page's post-Led Zeppelin bands for many years. He related a number of stories to Stern which highlighted Page's supposed affinity for cocaine in the '80s.
Most troublingly, the since-recanted anecdotes suggested that Page's generosity with cocaine sparked Jason's own drug and alcohol abuse problem, which he finally beat in the early-2000s.
Jason has maintained a close relationship with the surviving members of Led Zeppelin over the years and famously filled his father's seat for the band's one-off reunion in 2007.
Photo: Getty Images
Chat About Jason Bonham Retracts, Apologizes For "Untrue" Statements About Jimmy Page