Kodak Black Reportedly Arrested At U.S. Border
By Peyton Blakemore
April 18, 2019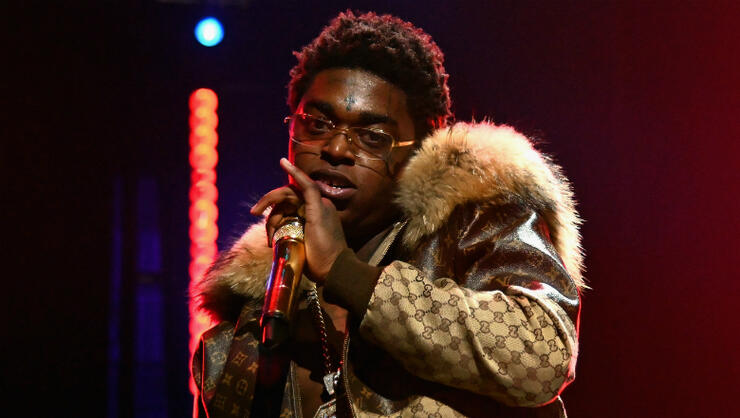 Kodak Black's mysterious absence from his concert on Wednesday night (April 17) has been explained.
According to TMZ, the 21-year-old rapper, whose team said he was M.I.A. following his last-minute concert cancellation, missed his Boston show on Wednesday because he was arrested on weapons and drugs charges at the U.S. Border.
Law enforcement sources told the entertainment news site, Kodak and three other people were stopped by U.S. Customs Agents when entering the U.S. from Canada. Customs Agents reportedly found a "Glock 9mm pistol," which was undeclared by anyone in the vehicle, during the stop, as well as marijuana. Kodak was subsequently arrested for felony criminal possession of a weapon and misdemeanor possession of marijuana.
There was also a second vehicle with three other individuals traveling with Kodak's team, TMZ reports. The driver of that car reportedly admitted to having two loaded handguns in his possession, and a third weapon, described as "AK-style handgun with a 30-round magazine," in the trunk. He also reportedly was in possession of marijuana and was thereafter booked for criminal possession of a weapon and possession of marijuana. The two other individuals in the care were booked for criminal possession of a weapon.
As of early Thursday morning, Kodak remained in police custody, being held on a $20,000 cash bond or $40,000 bond.
As fans know, Kodak was supposed to perform at The House of Blues in Boston Wednesday night, but never showed up. While fans waited for hours for Kodak to arrive, his team was forced to cancel the gig with no answers as to why. Several members of the rapper's team did, however, tell TMZ they were unable to get in touch with Kodak or those traveling with him, which can now be explained.
The confusion as to why Kodak wasn't at his Boston show caused mass chaos amongst concertgoers as they swarmed Kodak's trailer, which made it to the venue, screaming "f**k Kodak." Things were so intense, local authorities were forced to assist with clearing the area.
Photo: Getty Images
Chat About Kodak Black Reportedly Arrested At U.S. Border