Ciara Explains the Empowering Message Behind Her 'Beauty Marks' Album
By Nicole Mastrogiannis
April 19, 2019
Ciara is ready to share all of her Beauty Marks with the world. She is gearing up to release her seventh full-length studio album under her new label imprint, Beauty Marks Entertainment, and as Ciara explains, this is "a very special project."
Beauty Marks follows 2015's Jackie, and showcases eleven new songs, including her viral hit "Level Up," latest single "Thinkin Bout You" (co-written by Ester Dean), and features from artists including Macklemore, Kelly Rowland and Nigerian singer/songwriter Tekno. The record also includes the title track, which was co-written with Skylar Grey and one of the most meaningful tracks on the LP, according to Ciara — which is how the collection of songs got its name. Ciara explains to iHeartRadio:
"There's a title track on my album, titled 'Beauty Marks,' that I co-write with Skylar Gray, and she produced it as well, and it holds a great significance to me and my life, and just my journey, and the idea of how embracing your beauty marks; your scars as your beauty marks. At my company we say that we take on the idea of how all the scars that you get from the obstacles you face in life are actually your beauty marks. So, for me, that is a very real statement in every essence of what that means, and I mean that all the way from life scars, like at one point in time I was a single mom and I was trying to figure out life, and that could have been in a scar. In that moment it kind of felt like it was a scar, but ultimately it was a beautiful thing, because I gained wisdom form it, I grew from it. And also in ways down to having stretch marks on my body from my two babies. I gained 65 pounds my second pregnancy, 60 pounds my first pregnancy, and those scars or those marks, they're actually my beauty marks, is kind of how I look at it. So, Beauty Marks holds great significance to me and my life, and I'm exited to bring people on the journey with me, and hopefully people can take on the attitude of things they feel are their scars, or the not-so-perfect things are actually beautiful things, and finding your beauty in those moments, in your journey."
She adds, "My mission for my project is to inspire the world, to inject love, and make the world dance. That's all I want to do. So, there's a few slow songs, like two, but the rest of it, you're moving nonstop."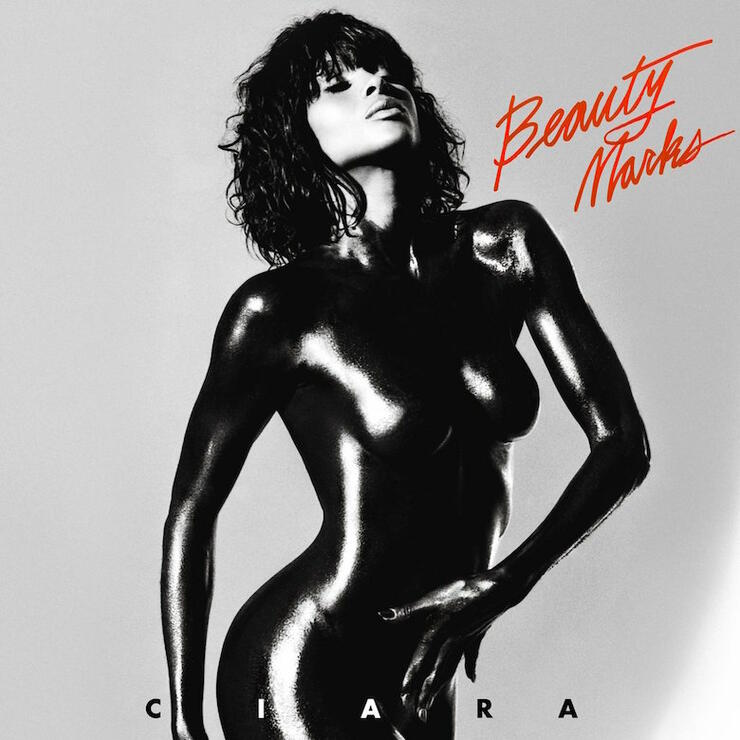 Speaking of "moving nonstop," there are a few songs off of Beauty Marks that will help with Ciara's mission, like girl power anthem "Girl Gang," which features the singer's gal pal Kelly Rowland. Ciara tells us of some of the songs she's most excited for fans to hear, "My song with me and my girl, Kelly, it's called 'Girl Gang.' It's a hashtag [#girlgang], it's a moment for us ladies — girl gang where you at? And then also my song with Macklemore, 'I Love Myself.' That was a very pivotal moment in my life, me understanding the power of self love, and that song reflects that. And Macklemore has a great perspective from a man, and a dad's perspective on that song."
On the cover of Beauty Marks, Ciara is covered in black body paint, which is something she has never done before for an album. She tells us:
"I work with this incredible photographer, her name's Sasha Sampsonova, and she put together a couple of really cool ideas, and I've never really done body paint that way for an album or artwork, or anything like that. It was exciting when I saw that photo come across as an option to do, and at first I was like, 'Hmm, I don't know if I really want to do that.' But then we went from one color, it was like more of a liquid-y gold, I believe it was something like that, and then we ended up going to black, which just kind of gave edge and a cool feeling to it, and so we went for it. I was freezing cold during the shoot, and that was very complicated to wash off, but it was worth it, and I'm really proud of it."
Fans can officially listen to Beauty Marks on May 10th.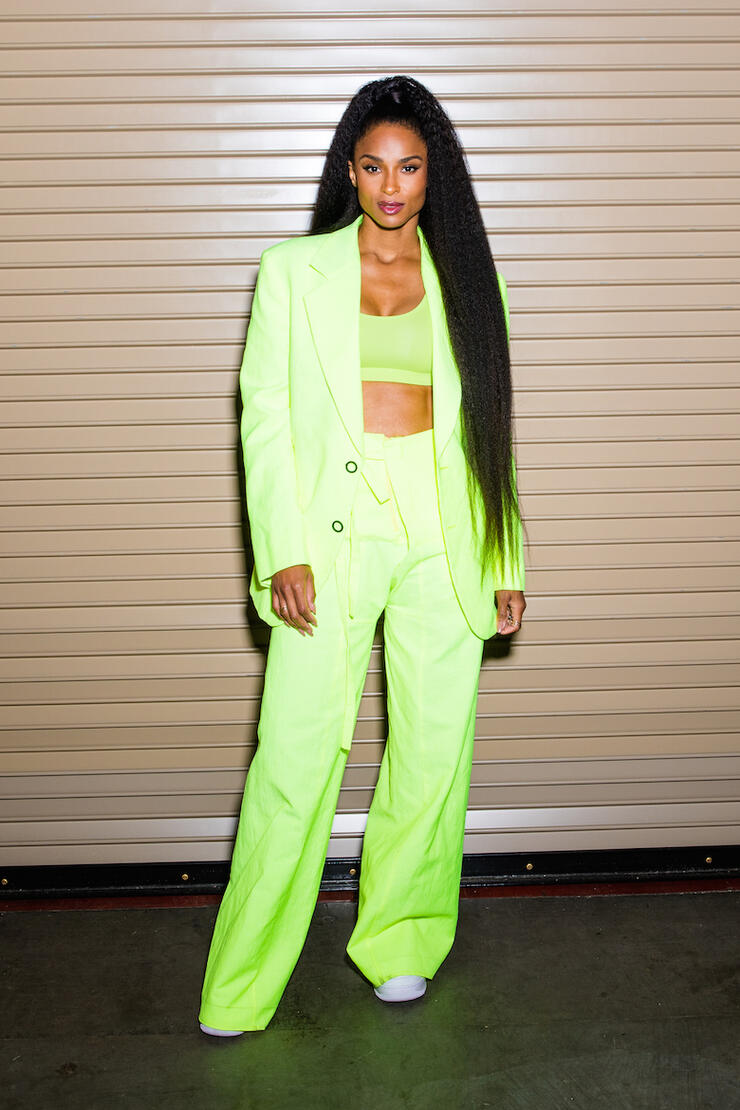 Chat About Ciara Explains the Empowering Message Behind Her 'Beauty Marks' Album